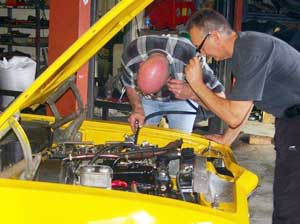 Another top weekend of racing at Lakeside
My mate Mal Ward arrived on Thursday night from Launceston in Tasmania to pit crew for us. He had coffee with the boys on Friday morning before he gave the Weber carbies a good tune up on our Cortina and the XU1 Torana of my mate Trevor Norris.
Mal is a self-confessed caveman. No mobile phone or computer. He tunes the Webers with a piece of heater hose. He gets plenty of onlookers when doing it at the track. No bloody late model computer shit for me he reckons. Have a look at the pic with the heater hose in his ear and the other end in the Weber ram tube on the Torana.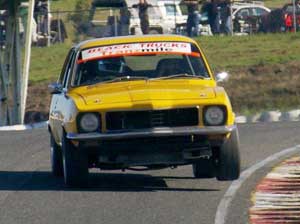 Allan qualified 8th in a 24 car field for Na, Nb and under 3 litre Nc cars. We had 4 x 10 lap races over the weekend. Race 1 Allan came 10th, race 2 he was 8th, race 3 he was 9th, race 4 he was 5th. Best lap time for the weekend was 64.9326 seconds. Our old white four door race car we sold to Dave Waddington (number 9) last year has some new gear fitted into it and is now keeping up with Allan. Some very close racing between Dave and Allan.
In the last race on Sunday Dave got in front of Allan on about lap 7 and Allan pasted Dave over the finish line and beat him. Allan's time for the 10 laps was 11.02.9129 and Dave's was 11.02.9229. There was only .01 (one hundredth) of a second between them. How bloody close is that.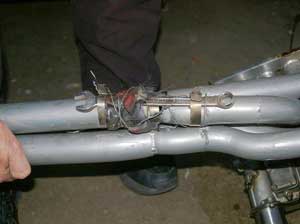 The yellow XU1 Torana with the wheel in the air is Trevor's car with son Troy driving.
After race 2 on Saturday we had to replace the water pump as the seal had failed and we lost half the radiator water. Then we found that our new extractors were broken in two places so I splinted it up with the aid of a spanner and some hose clamps. Pit crew Peter and Mal took care of both problems. Well done boys, thanks.
My mate Graham who drives the green MGA had to put a carby kit into one of the SU carbies while at the track as it was pouring fuel all over the engine. Mal gave him a hand to repair it.
Mike Sullivan, our head chef in the pit crew, supplied lunch on Sunday. Two hot chickens and salad. Well done mate. We used the bonnet of the race car for a table and he supplied an FPV tablecloth. Allan's partner, Alice, and her mum and dad came along to cheer him on.
That's it for now till the next race meeting Round 6 of the Black Truck Series in October. See ya!
Saundo