Story and pictures by Greg Bray.
Last year Chris and I did our bi-annual trip back to the UK to see the family. As always it happened to be in the month of September (funny that) so I could go just up the road to the Goodwood Revival with my brother.
Luckily for us, on the Sunday I spotted Bob Dance the famous Lotus mechanic. Bob, now in his 80's was in the pits working on Jim Clark's Lotus 25 as he has done since the 1960's. Bob was giving the car the once over in preparation for the period F1 race in the afternoon.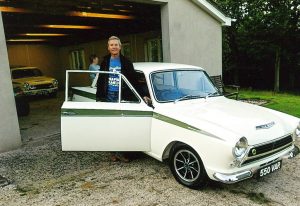 The Lotus 25 won easily against all the opposition of it's era, as it did in the 1963 F1 season giving Clark his 1st World Championship.
The point of my story is whilst we were staying with our Welsh Lotus friend Andy, he did what he usually does and drove me through many muddy Welsh lanes to visit one of his many Lotus friends. This time not too far away from Cardiff we turned up at William's property. William owns four Mk1 Lotus Cortina's.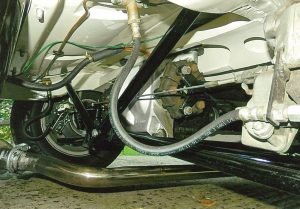 The pride and joy of his collection is Jim Clark's very own early road Cortina. Oh, to be an enthusiast with pots of money. He has the detailed proof, and apparently the car cost him as much as a very good house.
The very interesting part of this car for me being an Elan enthusiast was that Bob Dance had worked on the car in it's early days. He made a frame to hold the Elan diff, and fitted the whole Elan diff, drive-shafts, struts, discs and put them all in the back of this Cortina. Which would have made the handling of the car so much better with the Elan's independent lightweight suspension. But with Clark's excellent driving skills, he did very nicely with standard set-up on the track in his race Cortinas.
Also would you believe in this garage one of the other Cortinas had a "Best in Show" certificate, and the car had been restored by none other than our Derek Dean.