My mate Graham and I arrived at the track about 1100 on Friday in the rain. I jumped into the car and started it and we could hear a loud rattling noise. Not shaping up to be a good weekend.
Graham found that the alternator bracket was broken so we removed it and went back to my place and welded it up. Back to the track and fitted it and we are now ready to race.
We had 31 cars entered for the race meeting and ended up with 28 on the grid for the first race.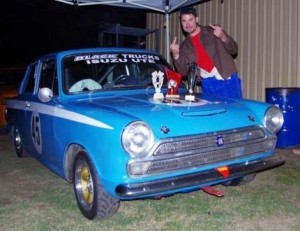 Group N were first out Saturday morning for qualifying and were brought in after one lap because the fog was too thick to race in. The racing was delayed about 30 minutes. Allan qualified 15th.
Race 1 he came 12th outright and second in class.
Race 2 he came 14th outright and second in class.
Race 3 he came 13th outright and third in class.
Race 4 he came 13th outright and second in class.
At the BBQ Saturday arvo Allan got three trophies for 2nd in class for Round 2, 1st in class for Round 3 and 4th outright in the 20 lap reverse grid endurance race in Round 3.
He had some very close racing with Claude Cicotelli in his Red EH Holden (car 82), Bob Stewart in the white Mk1 Cortina (car 26) and David Streat in the green XU1 (car 21).
Click on these YouTube video links of the weekend with the boys and gals in action:
www.youtube.com/watch?v=lwXXXFCD3H0
www.youtube.com/watch?v=FgyjPIG29LI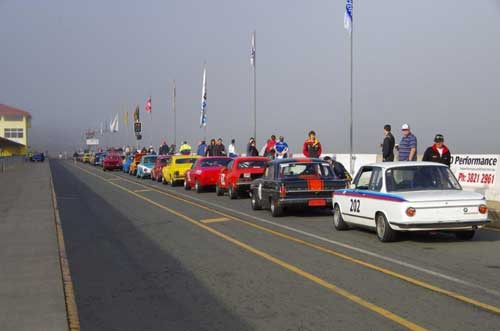 We got a tap in the back guard from a Datsun 1600. Nothing too serious. I have almost got it fixed.
Nadine Eggington was racing her Valiant Charger at her first Group N race meeting and came together with John Tupicoffs Jag in Race 3 on Sunday. Both are OK.
That's it for now until the next race meeting which is on the 12th July at Morgan Park, Warwick.
See ya
Saundo