EMR and Sunshine Coast Hinterland Day Run: Sunday 22 June 2014
by Patty Beecham
A beautiful crisp winter's morning, cold enough to make you stamp your feet with energy, and in the heavy patches of fog, we cruise through the sleeping city of Brisbane, on our way to a Lotus Club run breakfast at Birches Restaurant, on Mt Mee.
Then the voice started; slowly at first, monotonous, and then rising with pitch and urgency, as the kilometres slid under our blue Lotus Elise.
Slow, down.
Slow Down.
S l o w d o w n!
It was odd, really, as we don't have a GPS in the car.
Slow down! SLOW DOWN! Turns out it was MY voice! There have been times I've been forced to use my husband's "man-brake" handbrake (you'll find it between any man's legs, just grab and look scared!) but fortunately he took note and drove sensibly. (I may have made that last bit up.)
I should know to expect the Lotus Elise to bring out the youth in my husband, as he feels the road under his seat, the quick response to his slight tug of the wheel, the wind in his hairs. Sorry, hair. (Actually he had a beanie on, it was COLD out there!)
Another Lotus run, another fabulous day with Lotus mates, beginning with a quick meet up in Samford, maps distributed and some encouraging words, then we are off, in a blur of scarves and gloves and coats and roaring motors and beaming partners and the fog, the cold nose, the heater struggling to warm us on a 8 degree morning run. Over the mountain, past the cyclists, road works, winding our way through beautiful country, my hands too cold to bother to take any images.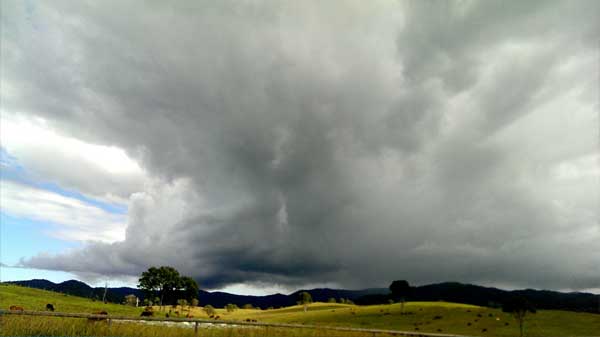 After a hearty breakfast at Birches Restaurant on the verandah (gas heaters hastily lit, brr!) we depart for stage two, saying goodbye to some cars and hello to newcomers Derek and Anita and their white MGB.
Once again that voice begins, slow down, SLOW DOWN, and then we are in Maleny making our way to Bellbird Café near Kenilworth, racing against the black storm cloud that finally explodes beside us, behind us, ahead of us, but not on us. Hurry up! HURRY UP! (Why, oh why don't we have the lid on?)
We all enjoyed a stretch of the legs as bellbirds competed with the coffee machine, a popular haunt for motorcycles and motoring tourists. Bellbird Creek Tea Café is nestled in the hinterland of the Sunshine Coast, 4km south of Kenilworth amongst the native flora and fauna.
This quaint little café style Tea House offers tranquillity and the peace of the bush, along with friendly service and great food. Try the fresh, hot scones!
The name of the café comes from the Bellbirds which reside in the area. There are also wallabies, king parrots, water birds and much more to see when you visit this little gem. It is a bird watchers' paradise.
Stage three sees us on our way to Noosaville, but not before getting lost through the many roundabouts in Cooroy. Chris Beecham to the rescue and once again we are a conga of pretty cars.
In Noosaville, Sirocco Restaurant sits on the river, a beacon on a lazy Sunday, but where to park? (Wherever you can, and good luck!)
A long, chatty lunch, with good food, wine, and company! A touch of adrenalin, a handful of relaxation and a dollop full of good friends… with great roads and stunning cars.
Thanks Clive and Gloria Wade who organised a fabulous trip.