Round 2 Black Trucks/Isuzu Ute Qld Cup Morgan Park Autumn Historics
We had coffee with the boys Friday morning before leaving for Warwick. Lunch at Errol Stratford's place and then out to the track to get our shed and timer for the car. Weighed the car with 30 litres of fuel in the tank and no driver (883kg) then with the driver (969kg). Bloody heavy old bus. Have to put the car on a diet and see what we can get it down to. My mate Stiffy Martin in Tassie has his two door race Cortina down to 825kg with no driver.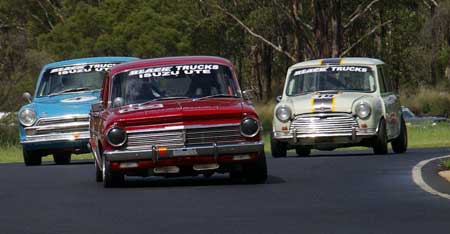 Saturday morning Allan qualified 4 in a field of 10 cars just before lunch. There were only 2 Cortinas in Group N. Bob Stewart and our car.
Race 1 was for Na-Nb and Under 2 litre Nc cars at about 1300 Saturday arvo. He came 3rd outright and 3rd in class. Car is going like a rocket.
Race 2 combined field of all 21 Group N Cars. Allan came 13th outright and 2nd in class.
Race 3 he was 12th outright and 1st in class.
Race 4 he was 11th outright and 3rd in class. Best lap time for the weekend was 1 minute 35.23 seconds. The best time last year was 1.35.03.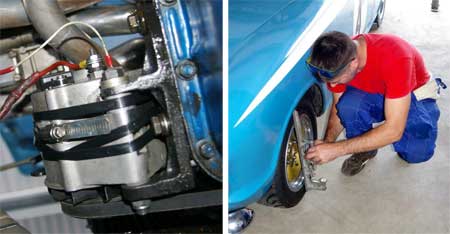 Not sure if he will be 2nd or 3rd in class for the overall weekend's racing. We will find out in the next week or so. He was 2nd in class for Round 1 at Lakeside 3 weeks ago behind Richard Anderson's EH Holden.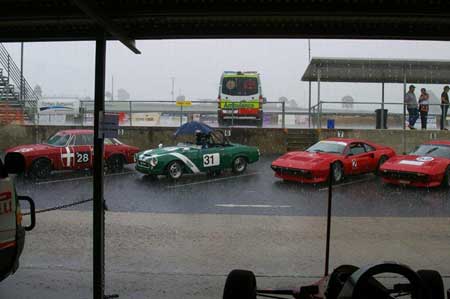 Sunday morning I was just checking everything about 30 minutes before Race 2 and noticed that we had broken the hose clamp strap that holds the alternator together. Off with the old one and on with a new item. No time to fiddle with it so on with some large cable ties. Worked like a beauty for the 3 races that day. Think I will leave it like that. Check out the pic.
We had 15mm of rain in about twenty minutes before Race 3. After the downpour there was a sports car race and then Group N went out on a greasy track. Cars sliding everywhere. Allan likes racing on a wet track. He was only 2 seconds off his best time in the wet and passed a few of the V8s.
He had some good close racing with Claude Ciccotelli (red EH Holden) Richard Anderson (grey EH Holden) Bruce Forsyth (white 2 litre BMW) and Ken Nelson (Mini Cooper S.)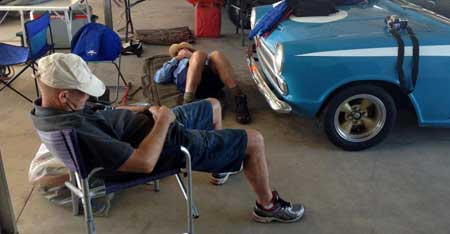 Allan snapped a good pic Saturday arvo of my mate Graham Palmer and I resting our eyes after a hard day pit crewing.
Our new Eligibility Officer, John Kingcott, went around measuring the camber on the front wheels of all the Group N cars. We had 3.5 degrees on the right front and 2.9 on the left. The maximum is now 5 degrees.
We had a phone call from Danny Smith as we left the track at 1600 on Sunday to go home. He was up from Newcastle (about a 1600km round trip) with his Mk1 Cortina with a Jap motor in it racing in regularity. The brake pads were buggered and we gave him a set of second hand EBC green pads from our white 4 door which we had just removed 2 weeks ago. He had P14 calipers and he had to grind the P16 pads into shape. We took him to Errol Stratford's place and let him use his gear to do the job. Hope he got home ok.
That's it for now until the next race meeting at Qld Raceway for Round 3 in 4 weeks' time.
Saundo