Another weekend of racing has come and gone at Queensland Raceway. Plenty of rain Friday, gone on Saturday but plenty of wind instead. Tents were flying everywhere.
Twenty cars entered for the weekend and eighteen turned up for qualifying on Saturday morning. Only two Nb cars turned up – Allan and Bob Stewart. Check Nat soft for results. Allan qualified 12 out of 18, Race 1 – 10th, Race 2 – 13th, Race 3 – 11th, Race 4 the 20 lap endurance reverse grid 4th. The second round in the endurance series will be in October at Qld Raceway.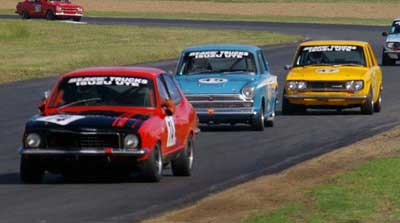 Allan is second outright with 215 points in the eight round series after two rounds. It will be interesting to see where he is after the allocation of points for this round.
I didn't take the tools or the jack out of the Falcon all weekend. The car never missed a beat. Allan picked up his trophy for second in class from the first round at Lakeside in March.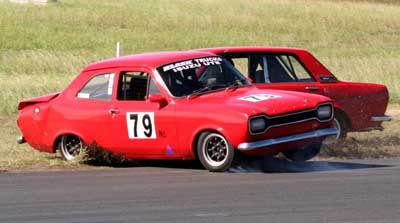 First race on the first lap on the second corner my mate Trevor Norris (Datsun 1600) and another mate Peter Wynn (Mk1 Escort) came together in a bad way after Peter hit some water on the side of the track. Both came out of it without a scratch but their cars were a bit bashed. Allan and Bruce Dummett in the red XU1 also hit the water. Some of the pics of the prang came from my mate John Kingcott's camera. Some very close racing between Allan and Jim Waugh in his red BMW 2002. It took four laps to get around Jim.
That is it for now, till the next race meeting on the 20th of June 2 Days of Thunder at Qld Raceway.