At the last race meeting at Lakeside in July the extractors cracked and almost fell to bits and the water pump burnt a seal and let heaps of water leak out.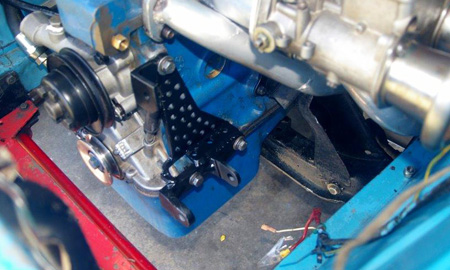 I have been doing some modifications on the extractors and the alternator bracket. I found a broken bolt in the block where the front alternator bracket bolts on so I got Craig Taylor from Precision Engines to drill out the bolt and put a Helicoil in the block.
While he was at it I got him to do the same at the top of the block so I could fit a modified Escort alternator bracket. I then removed the top alternator bracket that goes onto the water pump and bolted it to the modified alternator bracket.
I fitted a Mk2 Escort water pump with the bigger bearing and seal. I also removed the 4 inch harmonic balancer off the crank and fitted a 3 inch diameter one.This should slow the water pump down by 25% and we may not burn any more seals. I had Scotty from Scotts Rods cut the extractors and put slip joints in as per the pictures attached.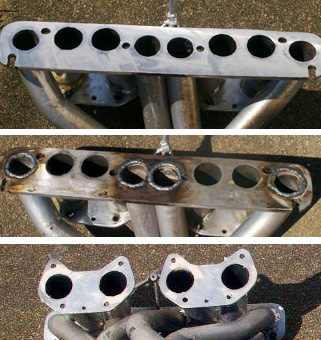 Out to the track by 0900. Peter Pit Crew helps Allan on with the Hans device. Allan does 4 laps then comes in and I notice water dripping from the front of the car. I ask him what the temp is and it is about 180 degrees. He turns the engine off and we lift the bonnet to find the bottom radiator hose about to blow off.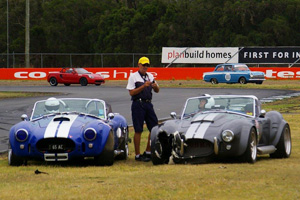 Some CLOWN forgot to tighten the clamp. Yep, that was me. Only excuse I have is old age. This could have had drastic results. A burnt engine and about $6,000 down the drain. Put a litre of water in, check all the nuts and bolts then out for another 4 laps. Everything is OK. The car is now ready for the Ipswich Classic on the 19/10/13 at Qld Raceway.
2 Cobras came together coming onto the straight. The cars were only doing practice so would hate to see what would happen if they were racing.
Till the next race meeting,
Saundo.