By Stephen Amos.
So I guess this all dates to a childhood buried in Wheels magazines, and a ride in a Lucalia Clubman owned by a friend. After that – if there was to be a sports car it was going to be a Lotus.
As one did in the day.. if you were interested in a topic you looked up the relevant club, and so it was that I attended a Lotus club run in 1991! It was there that I realised two things. Firstly that I barely fitted in a Lotus 7, and that Lotus Elans were pretty cool. It was also here that I met the ever patient and encouraging members of LCQ. There was much more thought, competing priorities and so on.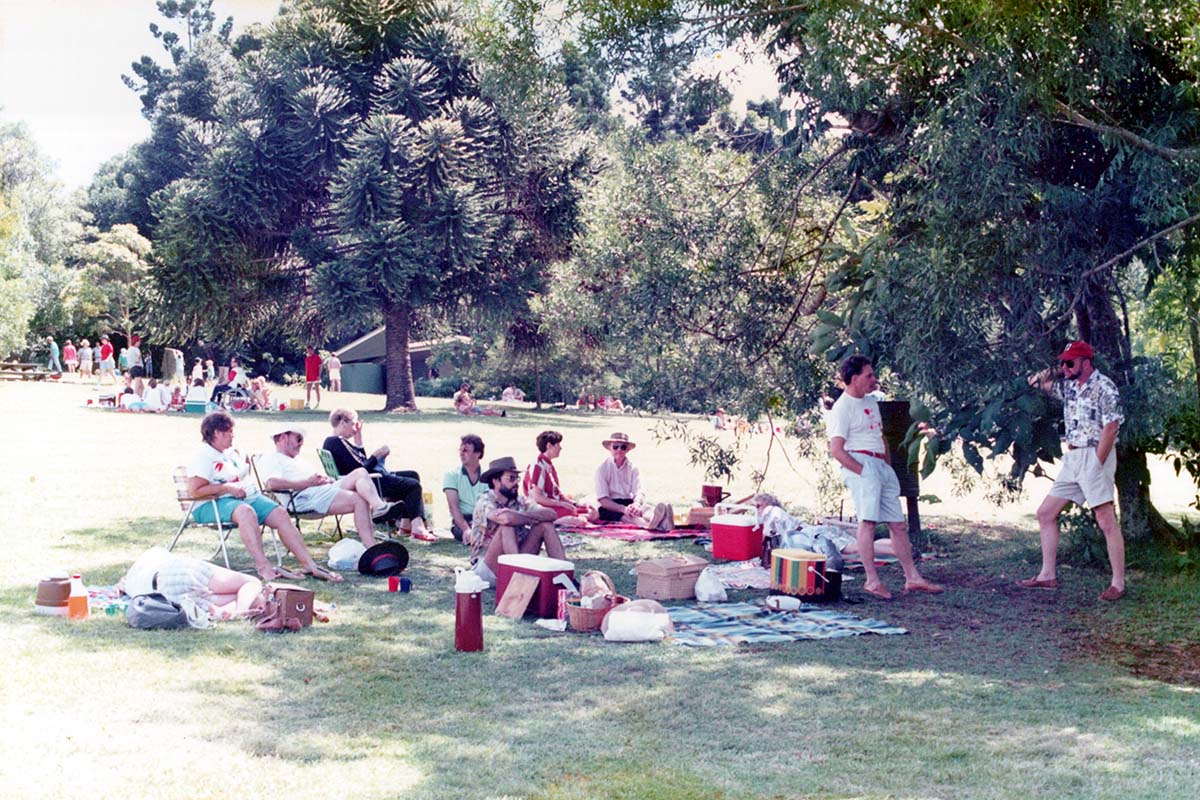 I think it was around 1998 that I started looking in earnest for an Elan. Remarkably in the days before the internet you talked to the club. You put your ears to the ground and phoned people. I know I talked to the NSW and VIC Lotus clubs, and I got around to SA. I think it was Mike Bennett who mentioned he knew of someone selling an Elan. A 1969 Series 4 in Gold Leaf Red.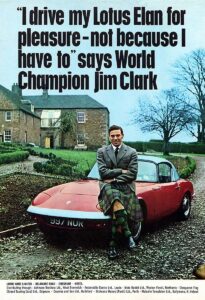 I phoned the gent who said he was the third owner, and had owned it since the early 1980s. The story was that it was bought by the owner of one of the main Ford Dealers in Adelaide. As was the way back then, he ordered the car and picked it up in the UK and drove it around for a bit before bringing it back. Allegedly he liked the colours of the Sprint and painted it up. He sold it to another chap in 1978 who by all reports enjoyed the car very much and sold it about 4 years later. The current owner hadn't driven it much. He'd done some work… engine rebuilds, soft-top replacements, but I think it was largely in the too hard basket which I would later come to understand. Nevertheless he assured me I could drive it back to Brisbane tomorrow no problems. He mailed me up four photographs of the car and I decided to go to Adelaide and see it.
Mike Bennett agreed to put me up for my one-night stay. I had a very memorable stay surrounded by cars like his Lotus 12 and an amazing drive around the Adelaide hills in his virtually identical Elan. I went to see the car. It looked pretty original. Only just over 40,000k since the speedo was converted on arrival to Australia. It was a bit tatty and tired but it had never had chooks living in it. It drove without stopping on the test drive (my first drive of an Elan) and I agreed to buy it. And so it was. Fortunately I decided to freight it to Brisbane.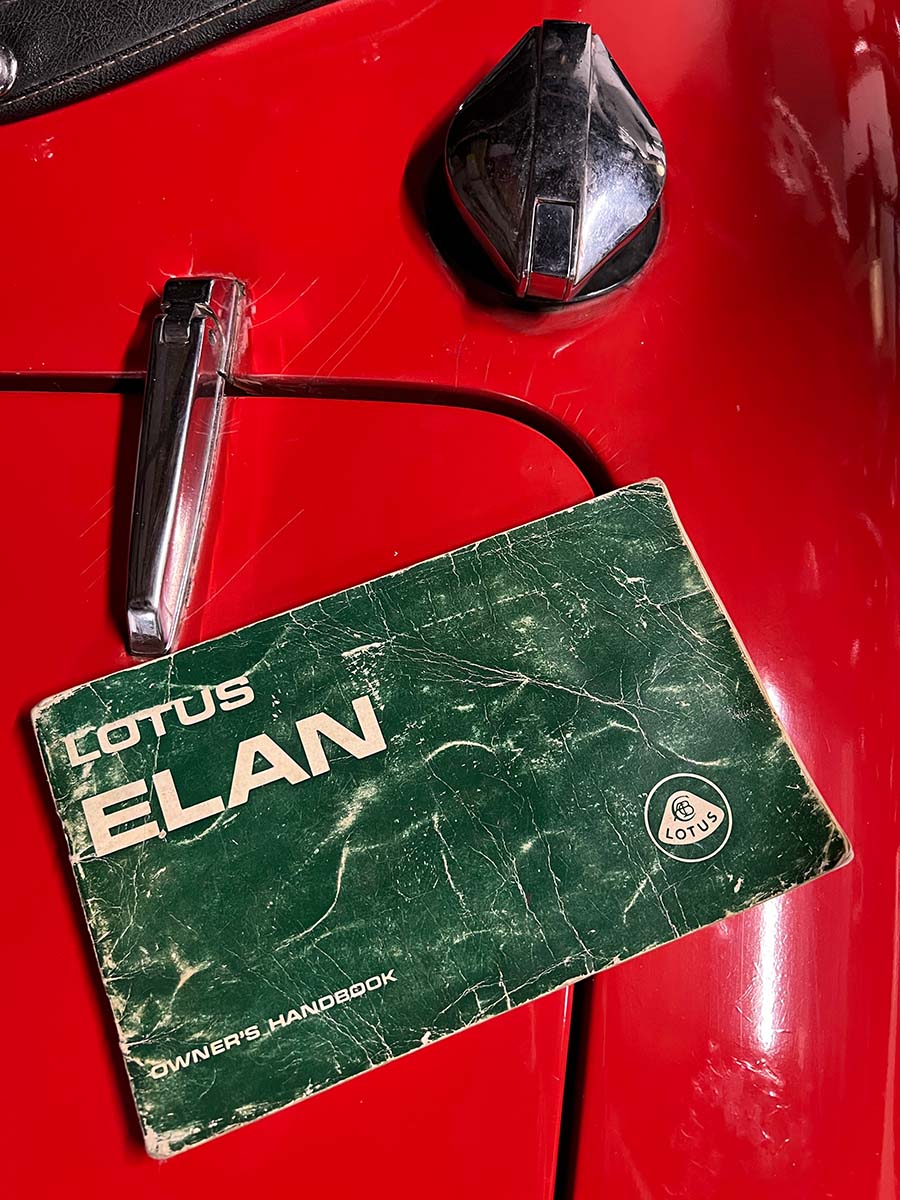 When I got it home I started driving it around. There were lots of minor problems but nothing that seemed insurmountable. And then one day, while cleaning I decided to hose in the strut towers. But no water came out. So I started cleaning and removing dirt. And then rust. And then finding the holes in the strut towers. I vaguely remember the frantic call to Craig who was remarkably still taking my calls, and so it was that a great journey began, for an IT worker who'd never done more than change the oil in a car.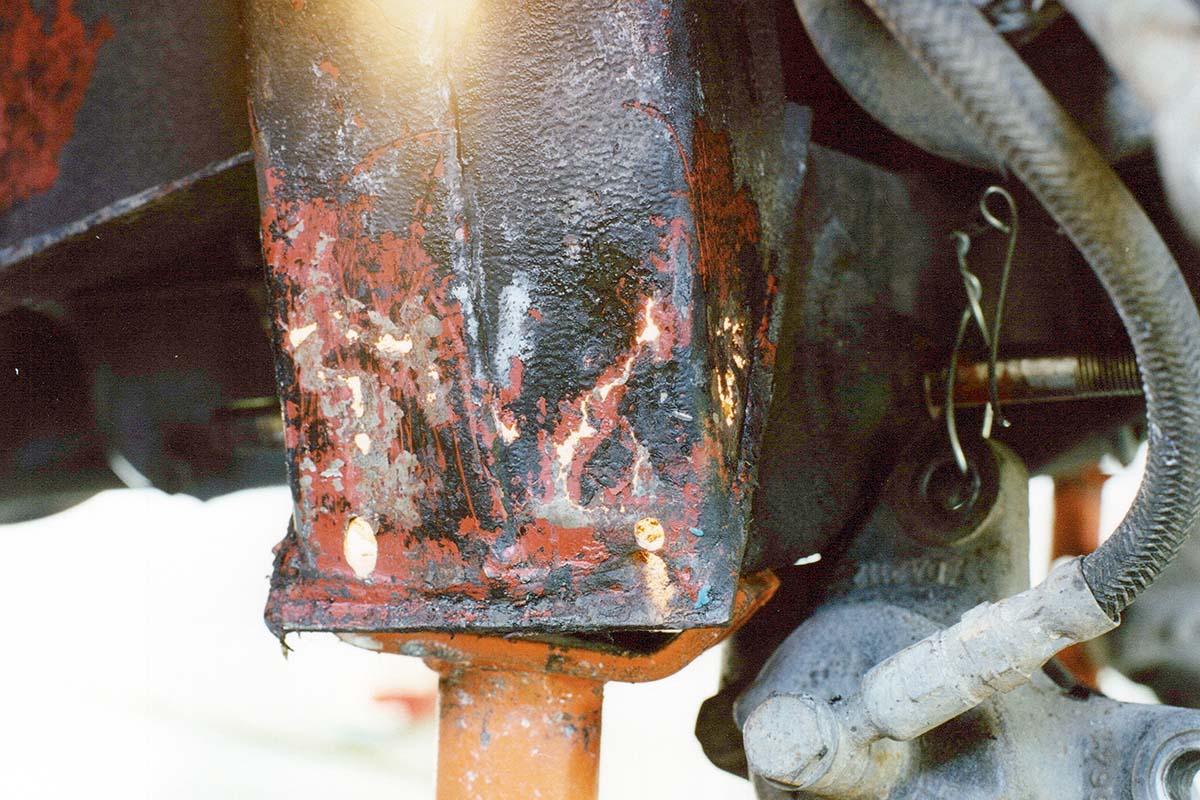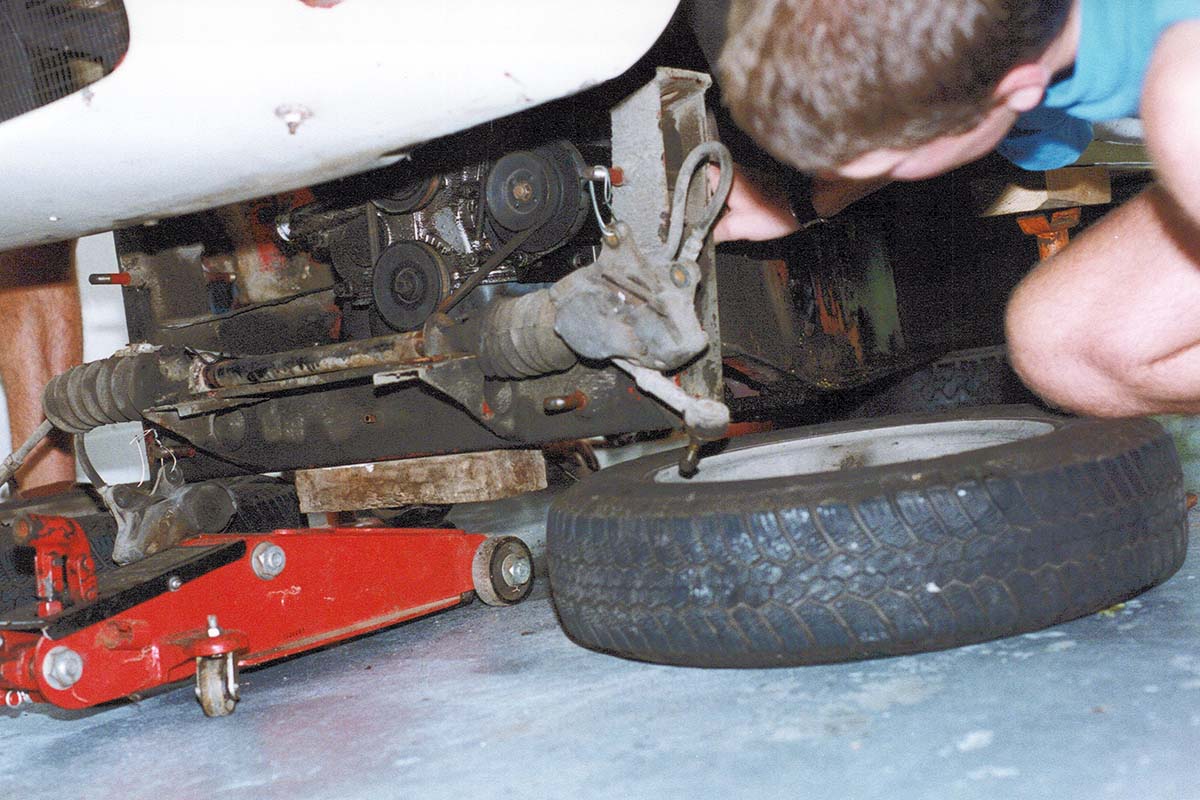 And so the body-off restoration started. This was going to be a big job, and it was on a timeline as this vehicle was going to be a wedding car. Frankly it's all a bit of a blur. I know I couldn't have done it without all the help. People in particular like Craig, Tony, Greg, and Steve Taylor (Elan Factory) – how they still talk to me I don't know. It was insane. The youngest owner of an old Lotus, and an IT person rebuilding an aged English car. Before YouTube even. After six months of total intensity, working mostly spare time, the car was finished just in time for the wedding. Luckily.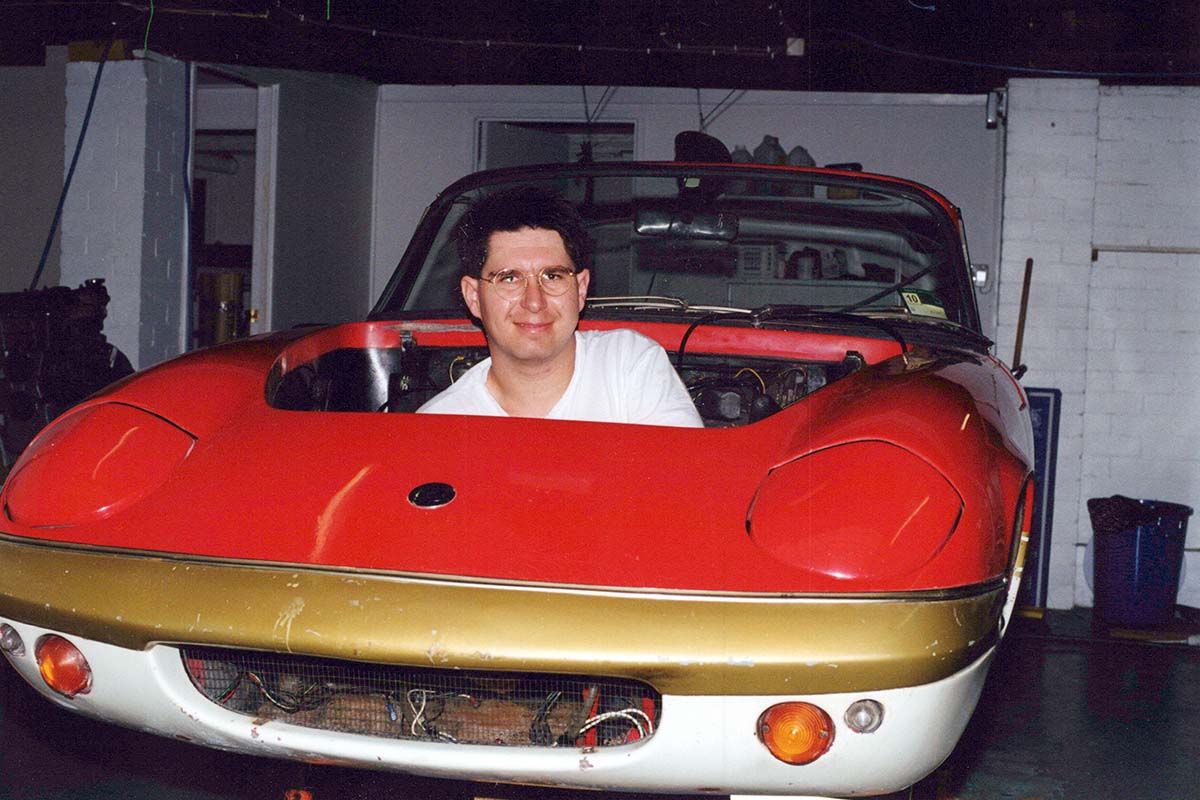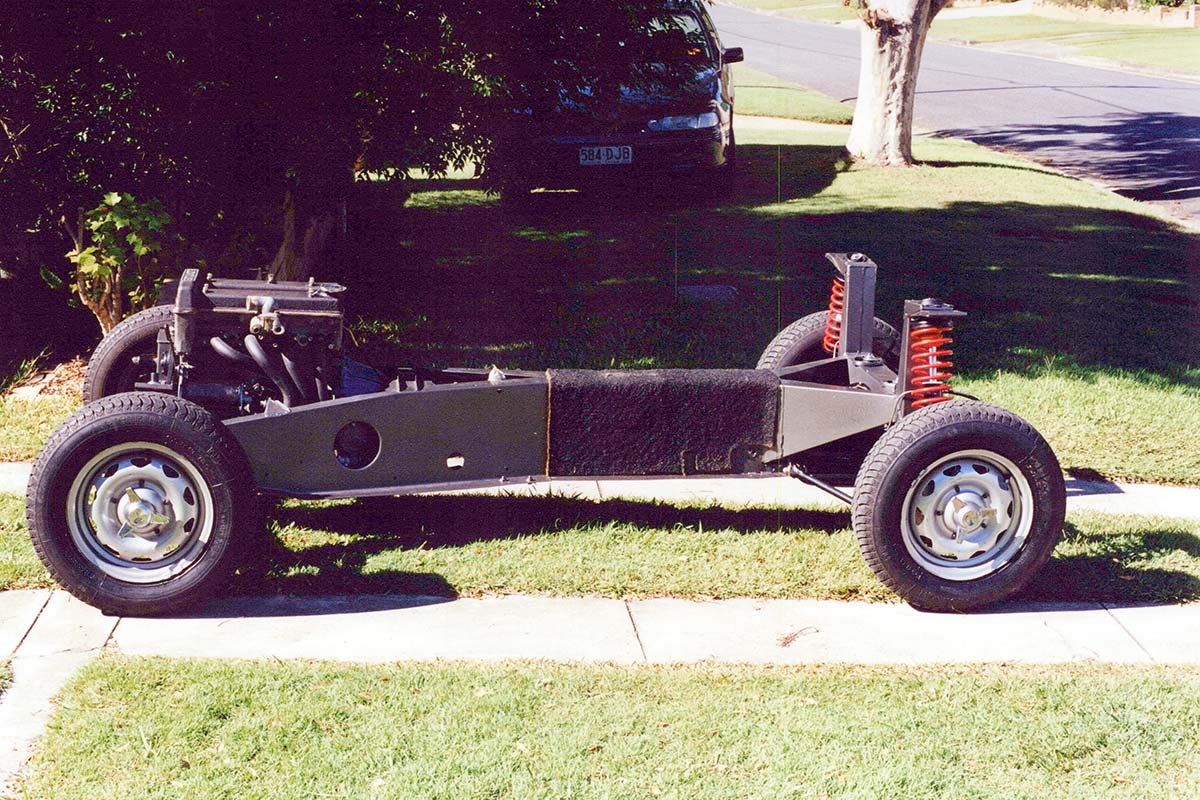 It was driven quite a bit for a few years. Had some very memorable experiences including to the Lotus meeting in Victoria. Unfortunately, I think I was actually a bit burnt out from the very stressful rebuild. Competing priorities. Young family etc, etc. According to my records it did about 1200km between 2005 and October last year. Most of those would have been done at the excellent Lotus 2011 event. So it sat, neglected but not forgotten.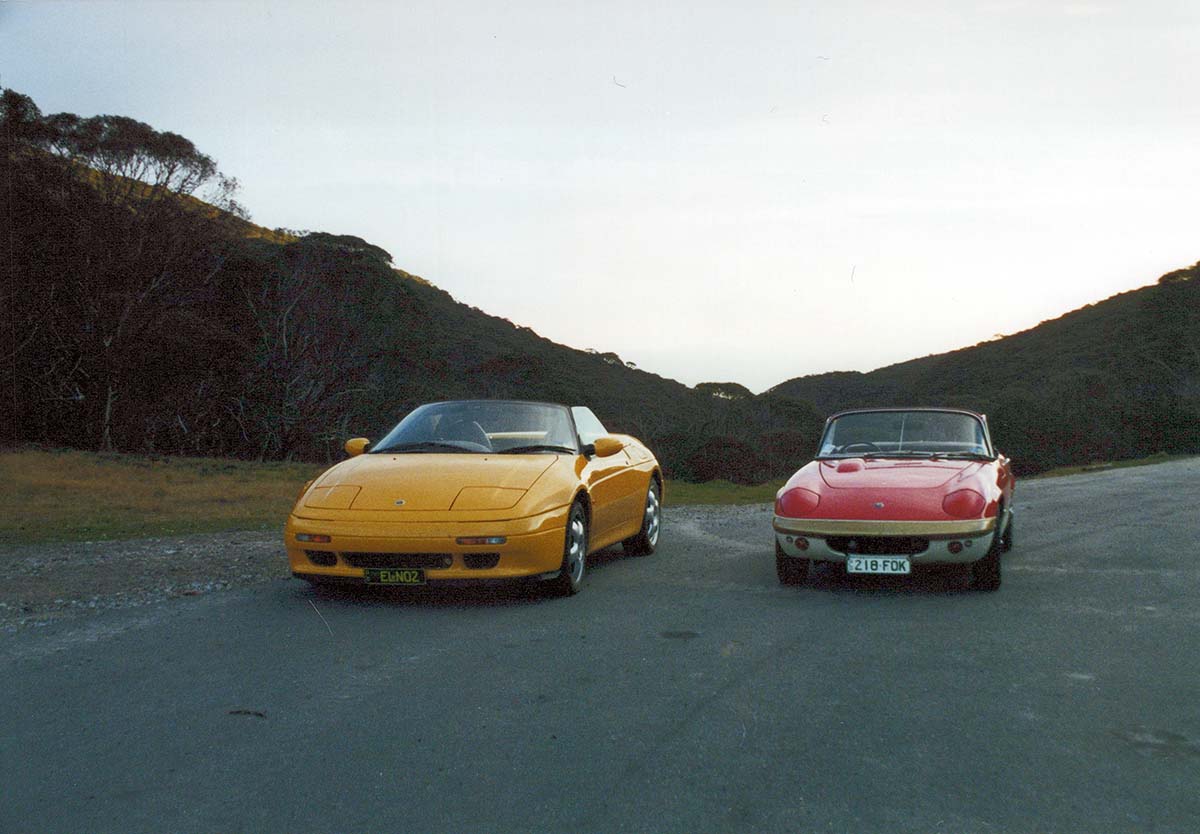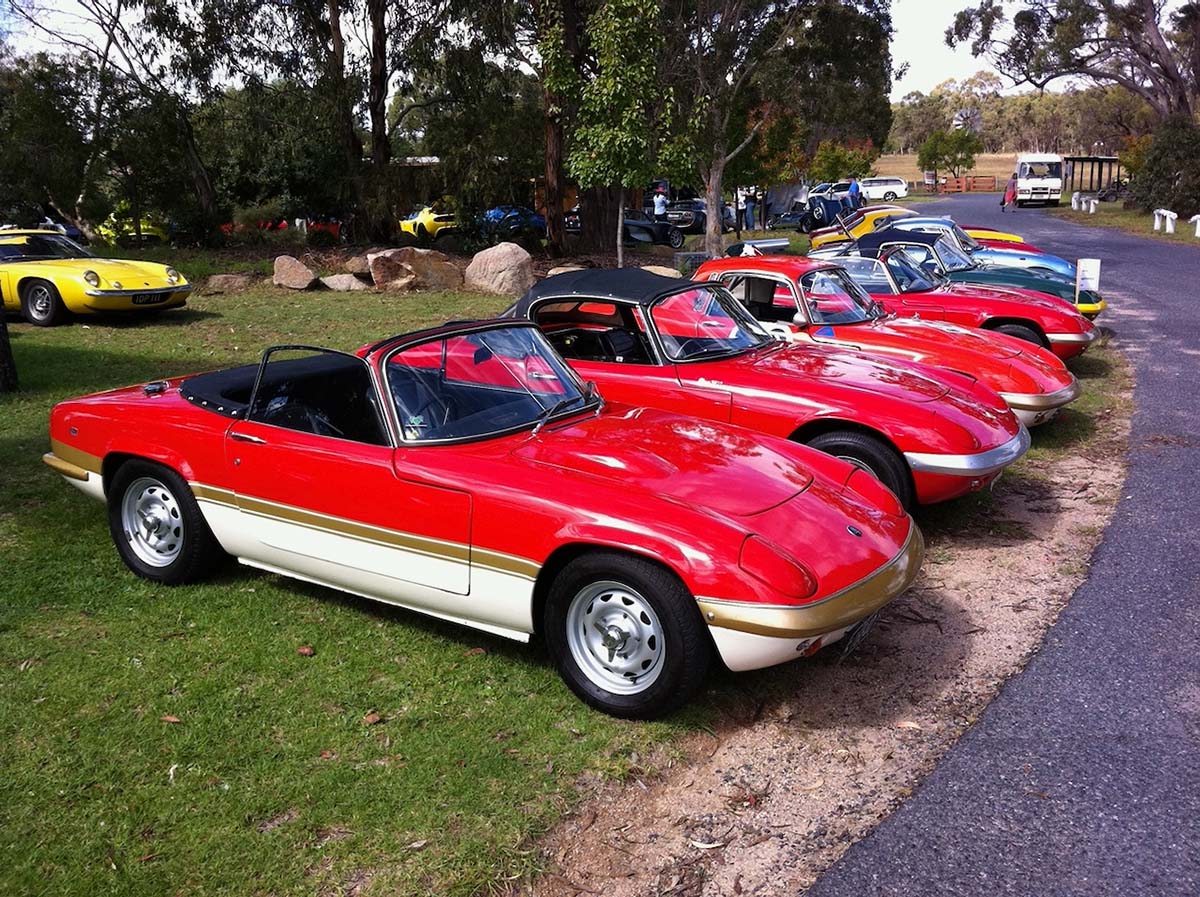 Jumping forward to 2021 – I think I knew it was time to dig it out from under the covers. I made a few little digs at it, starting a list of what absolutely had to be done. Batteries, tyres etc. I phoned Craig who didn't hang up on me. Things were looking up. I even decided to see if I could get some information about the car from Lotus. I wrote to them and their archivist was so helpful. It ended with a nice reply with the car's details, see below…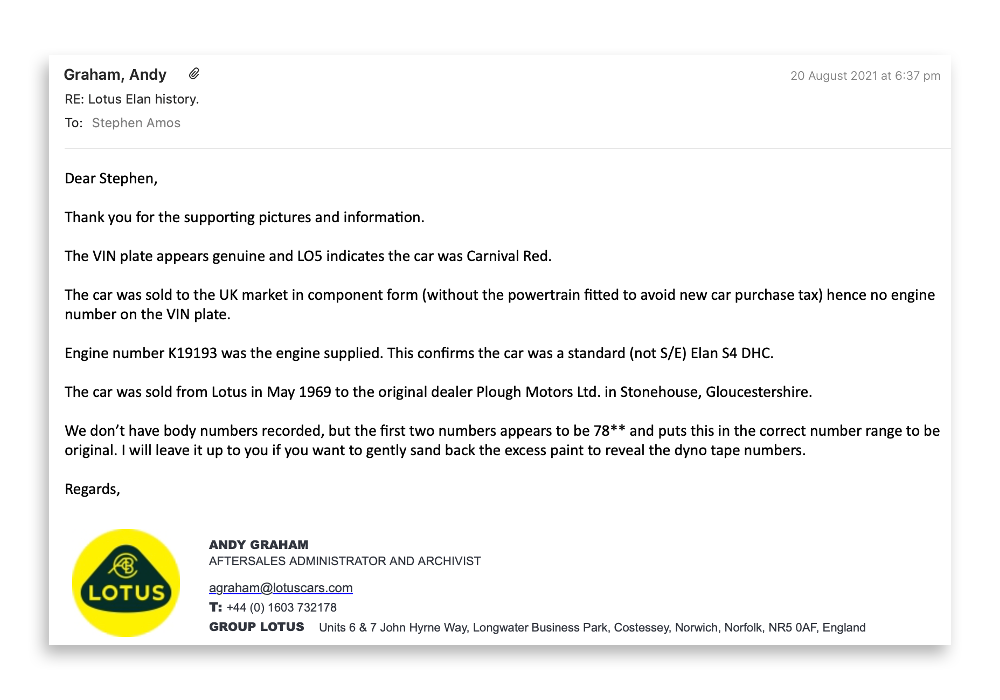 So I was pretty chuffed by that. 53 years on and all the bits are still bolted together! Every time I drive the car I'm literally stunned by its blend of performance, handling and ride. I've literally got no idea how they managed to assemble a bunch of mostly mundane parts into something so special. Something that's still so special. After 60 years no less.
I think my plan going forward is to make sure I keep driving it. I'd like to just tinker and fix the little things. I think the next big thing must be to freshen up the old paint. And I really think celebrating 60 years since Earls Court is a great idea. These cars need to be remembered. Hopefully we will see these cars being passed on and looked after by new owners in the coming years.