Allan and Alice fly in from Bowen on Friday night and Gus (son in law) and Diane (daughter) pick them up and drop them off at our place about 2300. Out of bed at 0430 have brekkie and off to Lakeside. Had real nice weather for the last week but is now hot as hell at 33C, not good for racing old cars.
Allan qualified 11th in a 24 car field. Race 1 he came 7th and the leading 3 cars keep racing after an yellow escort hit the fence and the red flag came out so they were black flagged and disqualified at the end of the race so he came 4th. The disqualified cars were not allowed to run in race 2 so Allan is on the second row of the grid. Looks real good with Craig Thomson's Lotus Cortina and Ken Nelson and Greg Wakefield's Mini Cooper S side by side on the grid. AHHHHH JUST LIKE THE OLD DAYS. Allan came 3rd. We broke the extractor pipe where it bolts onto the head so we rushed into the local SuperCheap store just before closing time and bought some gook to bind it up. Peter and Graham did all the repairs. Well done boys. My hands are too big to get in under the extractors and the alternator.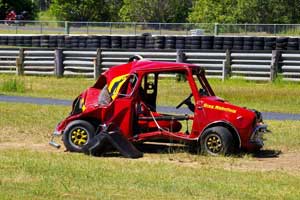 Race 3 Sunday morning and off they go with the rolling start and the red mini beats Allan at the drop of the flag. Allan gets in front of the mini and as they come onto the straight the mini loses control and hits the fence and bounces back onto the track, Ian in the Datsun 1600 T-bones the mini and Moose in the EH tosses it sideways and Gilley in the yellow Datsun 1600 does the same and they both come together. Not good at all. Greg Wakefield in the mini ended up with a few bruises and scratches but the car is buggered. Moose, Ian and Gilley are also OK. They re-run the race and Allan came 6th. He also came 6th in the last race.
We had half of the family there on the weekend, Allan and Alice, Diane and Gus with our grandson Ross, Leila my wife which was her first visit to a race track in 14 years, Peter, Graham and our Chief chef and lunch provider Mike Sullivan. Silver service at the race track, we had quite a few of the boys giving us a bit of stick about the red carpet service. Well done Mike, see you at the next one I hope.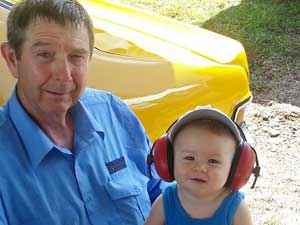 Saundo (Grumpy Grandad)