Jumped on the plane in Brisbane Qld on Wednesday 2/10/13 and the temperature is 30C then jump off the plane two and a half hours later and it is 8C in Launceston. On with the overalls and jumper for the next week till I get home on the following Wednesday where it is 36C back in Ipswich Qld.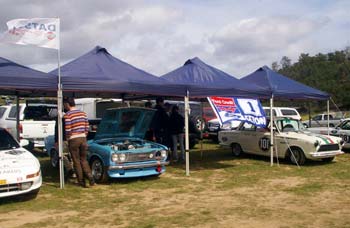 I stayed at Stiffy Martin's (Cortina 101) place in Launceston for the week. On Friday morning we drove down to Baskerville Race Track near Hobart for the weekend. They had just about set a new record number of entries for the weekend of about 125 cars and 25 motorbikes.
Friday night Eddy Wilson invited some of the lads over for a BBQ in Hobart. His new red Lotus and white GT Cortina were on display. What a top job he has done on both of them.
The weekend was dedicated to two local racers that had recently passed away Chris (Kit) Ellis and Max Bowen. Chris raced a Mini (green yellow 91) and there was a Mini only race on Sunday. Before the race all the Minis attending did a parade lap then they had a pipe band lead them down the track.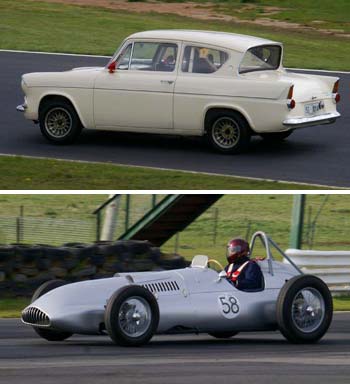 We parked up with Steve Rayner (gold Mk1 Escort 27) and Andrew Schmidt (blue Datsun 1600 16) at the track. Schmidty had the Datsun flag flying so we just had to crack out the Ford one which just happened to be twice the size.
All the usual boys were there: Mal Ward (Red Anglia 4), Martin Bulk (White Anglia 17), Eddy Wilson (White Anglia 100,) Max Freeland (Lotus Cortina 114), Ellis French (Green FJ Holden 14), Richard Gamble (Yellow Mk1 Escort), Russell Clark (white and red Cortina 65), Adrian Wilson (blue Mk1 Escort 76).
The wind was blowing a gale on Saturday and it lifted one of the tents, blowing it onto the track. The race was red flagged till it was removed.
There were about 29 Group N historic cars racing and amongst them was an orange Mk1 Escort 1300 number 19 driven by Lachlan Thomas. I checked it out and it does have the 1300cc motor in it. He was running mid field and giving the Holden XU1s a hard time. It goes like a rocket. He has sent me some in car footage which he put on YouTube of one of the races which I have attached: http://www.youtube.com/watch?v=OspUtUJVcGU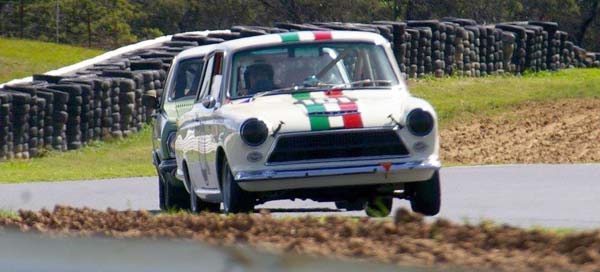 My mate Stiffy didn't have a real good weekend as he got hit in the rear end by a HR Holden in the 3rd race on Sunday. We were lucky that he had brought his mate Paul Waddingham down for the racing as he was the guy who did the panel and paint on the car, so he has picked up a bit of extra work.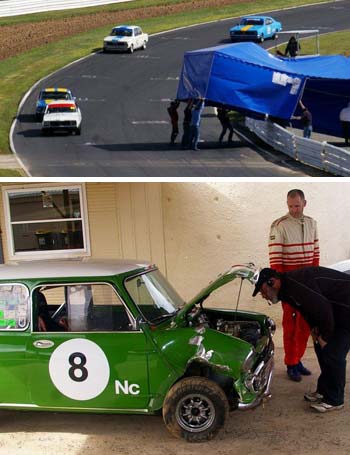 There were a couple of bingles over the weekend. Andrew Sluce (green Mini 17) hit the wall and so did Daryl Wilcox (blue Monaro34). There could have been more but I didn't see them.
Click here for some Escort racing: http://www.youtube.com/watch?v=OspUtUJVcGU
That's it for now. Till the next race meeting,
Saundo