Peking to Paris in a 1954 Austin Healey 100/4
By Giles Cooper
The Peking to Paris Rally is one of the most iconic motoring events in the world. The first one, in 1907, came from a challenge by the French newspaper, Le Matin, which stated "What needs to be proved today is that as long as a man has a car, he can do anything and go anywhere. Is there anyone who will undertake to travel this summer from Peking to Paris by automobile?"
As a result, five cars started on the 10th June 1907, and the 14,994km event was won 60 days later by Italian Prince Scipione Borghese driving a 7 litre Italia. This amazing event is usually considered the first true international motor rally, even though the winner's prize was only a magnum of champagne.
Resurrected in 1997, the 2019 event will officially be the 7th Peking to Paris, and two Australians, Ashton Roskill and myself, have been fortunate enough to secure an entry, despite it being oversubscribed 2 years before the start. This is the first part of the story of their preparation, and eventual participation in this amazing rally.
First of all, who are Ashton and Giles?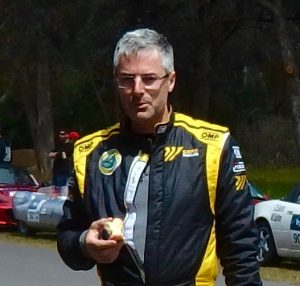 Ashton is a 52-year-old Sydney resident who works full time as a Management Consultant, and has a passion for cars, most of which are Lotus. He has competed in GOME rallies in Europe, raced motorcycles and rallied a Ford Escort. He also has a love for S1 Land Rovers and recently acquired a 1954 Austin-Healey 100/4 with a view to competing in a rally such as the Peking to Paris.
Although he was born in Australia, he grew up in England, only returning to live in Australia in 2003. Since then he has pursued his passion for cars, sprinting his Elise in the Combined Sports Cars Association Series since 2006, and more recently campaigning his Lotus Eleven in Targa High Country and Historic Regularity; he is also the current President of Club Lotus Australia.
I am a 69-year-old retiree, and recent survivor of throat cancer. I was born and educated in England, and emigrated to Melbourne in 1968, where I worked as a teacher. Shortly afterwards I started to work in the oilfields, and spent the next 40 years working and living all over the world, looking for oil. Motor racing has always been in my blood, and wherever possible I've competed in everything from karts to radio-controlled cars to Formula Ford. While living in Scotland I purchased my first Lotus in 2002 and attended a Lotus track day at Knockhill. There I met Ashton, who was also looking at shipping his Lotus Elise back to Australia. Since then we have remained friends and are active founding members of Aussie Elises, which caters to most modern Lotus.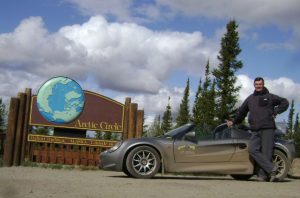 In 2012 I became the first (and so far, only) person ever to drive an Elise to the Alaskan Arctic Circle up the Ice Truckers Highway. I then spent the next 2½ years driving around the world in a Toyota Landcruiser. In late 2016, I was wondering what to do next when Ashton called and invited me to co-drive his Healey in the 2019 P2P. Milliseconds later, Team Healey was agreed, and we set to work. First thing settled was the delegation of work – since Ashton works full time. It was agreed that I would oversee the rebuild, while Ashton would largely finance it – at least until some sponsorship was obtained. This meant moving the car to Queensland.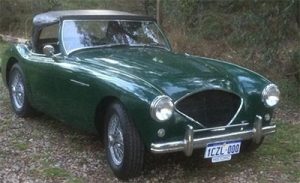 The car, chassis No. BN1-L/150638, was originally a LHD vehicle that lived some 40 years in California, so it was fortunately never exposed to the evils of English winter salted roads. It then lived in Western Australia where it was converted to RHD, until it was purchased in 2015 by Ashton, and brought to Sydney.
A lot of discussion has been held on how to prepare both ourselves and the car for such an event, but it was not until our entry for the P2P was officially accepted by the ERA in March 2017 that work began in earnest. I trailered the car home to Queensland and then spent April in the UK, making time to visit Austin Healey parts suppliers like AH Spares, Northern Healey Centre and Moss to work out what would be required. After returning home in early May, work started on the car and while I'll do a lot of the parts sourcing and minor fettling of the car, it was decided to farm out some of major chassis work to Classic Car Centre on the Gold Coast, where Mark Boldry has extensive experience with classic car restoration, especially on Austin Healeys.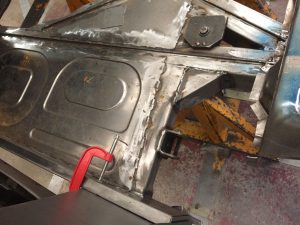 At the moment (May 2017), work is mostly focused on stripping the car down and working out what needs to be replaced or beefed up. The P2P rally is initially across Mongolia and Kazakhstan where there are few if any roads, – rough, rocky and sandy tracks and river crossings are every day occurrences and cars are stressed to the maximum. After that it is north to Moscow on poor quality roads, before dropping back down through Europe where conditions hopefully improve slightly. While the later 3000 Big Healey models had an excellent rallying record in the hands of people like Pat Moss and Rauno Aaltonen in the 1960s, the biggest issue is ground clearance, especially of the exhaust.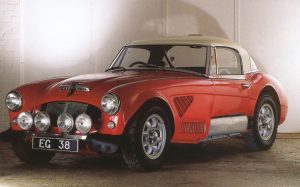 We will therefore be copying the factory cars and re-routing the exhaust down the side of the vehicle, instead of underneath it. This entails cutting into the passenger side of the car, shortening the door by some 10 inches, and locating the exhaust along the sill of the car, exiting behind the door. We will also be running high profile light truck tyres to increase ground clearance further – rally tyres are too soft a compound to survive the 14,000km.
Finally, everything on the car, from suspension to bodywork to electrics, must be capable of withstanding incessant pounding from poor roads, as well as water from river crossings and dust from Gobi Desert roads, so all of the suspension is to be rebuilt.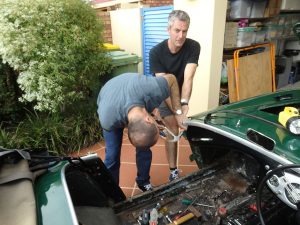 We also have to carry all our own spare parts, be prepared to camp for the first couple of weeks, and carry enough fuel to cover a full day of up to 650km – a challenge indeed. It is going to be an amazing adventure and we hope that you will share it with us as we prepare both the car and ourselves over the next 18 months. Then we tackle the event itself, starting in June 2019.
We have chosen two charities to support while we are doing this – Cancer Research and Beyond Blue, dedicated to helping people with depression, both for very personal reasons. Half of all funds we raise initially will go to these charities and once our costs are partially covered, 100% of any remaining amount raised will go to them.
We can be found on our blog here.
We will shortly have a Facebook site for day to day coverage and support. Welcome aboard Team Healey, for the adventure of a lifetime!