A Winter's Tale – the June Lakeside DTC
By Alex Molocznyk. Photos by Gloria Wade, Shane Murphy & Dick Reynolds.
For the first winter event of the club calendar South East Queensland weather deteriorated with temperatures plummeting into the balmy mid-twenties, totally cloudless skies and no detectable winds.
Undeterred by the conditions, forty-two starters included 16 Lotus, 8 Clubman (with Shane Murphy's Super 7 eligible for both Lotus and Clubman camps) and the remainder made up of an eclectic mix of Mazda MX5s and RX7s, Toyota MR2s, a Jaguar D-Type, Ford Fiesta, Focus and Escort, Subaru WRX and BRZ, Renault Clio and Megane together with a radical looking Westfield XTR2 and an extreme RCR Superlite Roadster.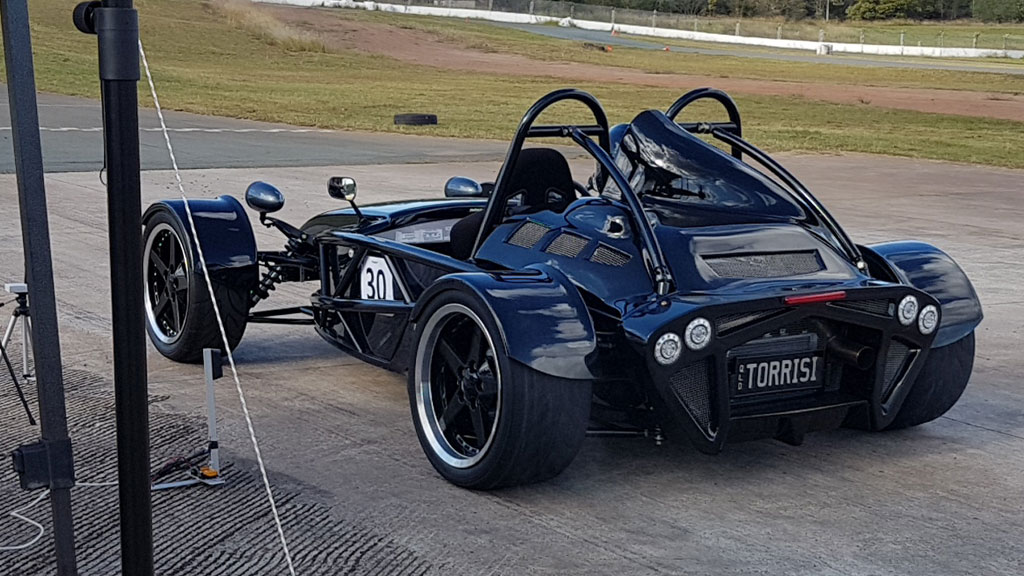 Paul Stokell had his Lotus Exige S still in livery from his outstanding result at Targa Tasmania. Porsche defector Phil Hart brought his shiny silver Elise recently acquired from WA. Phil's choice of the silver colour indicates he has not yet fully let go of his Porsche heritage regardless of his protestation that it was the only one available that ticked all his requirements. Following a long absence from any recent competition Clive finally overcame the ECU monster reared from the riceification of his lovely S1 Elise and entered the now ex Rover-engined car as an Elise HP. The jury is still out as to what HP stands for, trying a reach a decision between High Performance, Honda Powered or Horse Pooer. New member, Sion Bowen had his two week old beautiful black Elise 220 Sport. A nice touch is the factory plaque engraved with the maker's signature, authenticating its hand-made origins.
Second car onto circuit was an Escort rally car that spun on the first corner, took out a witch's hat on another, then continued somewhat erratically for two more corners. Fortunately, this did not set the tone for the day with most of the following drivers putting in clean runs – although there were some notable exceptions such as Liam, Daryl, Mal and Dick who all need to come up with a convincing story as to why they were always out of shape across the finish line.
Fastest time for the day (FTD) was won by Stephen Foss in his 2008 Westfield XTR2, set on run 6, his last of the day. Paul Stokell's Exige S showed his professional experience by setting the fastest times for the first two runs. Clint Watts ran a close second – within a second of Paul's times. On runs 3 and 4 the roles reversed with Clint running the faster by less than .05 secs on run 3 and .04 secs on run 4.
Paul did not run after the lunch break and Stephen Foss who was consistently reducing his times with each run managed to take the fastest time with a PB for run 6 from Clint by .05 secs. Stephen maintained his lead by .03 sec on run 6 and set FTD from Clint by .02 secs. Clint continued with fastest times for run 7 from Lindsay Close 2007 Exige S by .06 secs which was Lindsay's PB and for the last run 8 by .40 secs from Dick Reynolds who also ran his PB in the 1988 Caterham Super 7.
One second separates the overall first six places and 2 seconds over the top ten. Considering FTD was set by a race car it demonstrates how well the road registered cars compare. Dick Reynolds was delighted with his PB on the last run and job done, getting well inside the top ten. Liam Philp sharing the 2001 Caterham Super 7 with his dad Ken ran consistently third for six consecutive runs and both father and son finished in the top ten.
Top Ten
Stephen Foss
2008 Westfield XTR2
Clint Watts
2007 Lotus Exige S
Paul Stokell
2014 Lotus Exige S
Lindsay Close
2007 Lotus Exige S
Liam Philp
2001 Caterham Super 7
Dick Reynolds
1988 Caterham Super 7
Martin O'Brien
2013 Lotus Elise S
Paul Torrisi
2004 Lotus Elise 111R
William Ahlstrand
1986 Toyota MR2
Ken Philp
2001 Caterham Super 7
With the benefit of hindsight an analysis of the results shows a very close and hard fought competition. However, in reality the day was a relaxed event where the social side of the event blended with the friendly spirit of club competition. The success of the day was the result of the tireless work by Darryl Wilson organizing and seamlessly running the event together with the assistance of everybody that helped to set up and run the event including the ever revolving line of timekeepers alternating between competing and recording times.
Hon. Mention Outstanding Category Achievement
FTD 1988 Caterham Super 7 just outside of top ten – Jon Young
FTD 2011 RCR Superlite Rockstar – Con Torrisi
FTD 1998 Caterham Super 7 with shiniest guards – Daryl Wilson
FTD 1997 Lotus Elise HP Sauce – Clive Wade
FTD 2004 Lotus Exige – Alan Newitt
FTD 2011 Lotus Elise – Michael Blessas
FTD 1968 Lotus Super 7 – Shane Murphy
FTD 2012 Lotus Elise – Phil Hart
FTD 2008 Lotus Europa – Steve Lennox
FTD 2002 Lotus Elise – Mal Gray
FTD 2011 Lotus Elise – John Simmons
FTD 2017 Lotus Elise – Sion Bowen
FTD 2003 Lotus Elise – Alex Molocznyk
FTD 2005 Lotus Elise – George Row