By Giles Cooper.
Most Lotus have attracted a lot of attention over the years, and although the market for them may have been small, they often became well known even by the general public.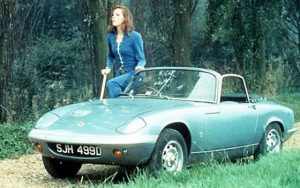 Whether it was Patrick McGoohan driving a Super 7 in the TV show Prisoner during the 1960s, or the luscious Emma Peel driving her Elan in The Avengers, the cars were always known and recognised by many who would not normally be interested.
Perhaps this was because being so small, quick and stylish compared to the other cars on the road at the time, they stood out; while the success of Lotus in F1 in the 60s and 70s, together with the popularity of Jim Clark, all kept the Lotus marque well up in the public eye. The ever-present (and readily available) Lotus Cortina also maintained the popularity of the marque with the public.
Then, in the 1980s, things went a bit quiet for Lotus. The Formula 1 team faded from the limelight, especially after the death of its founder Colin Chapman in 1982, and with only the Eclat, Excel and the Esprit, and later the S2 Elan, on the market, Lotus recognition rested largely with the James Bond underwater Esprit, and more recently the Esprit in movies like Pretty Woman in 1990 and Basic Instinct in 1992.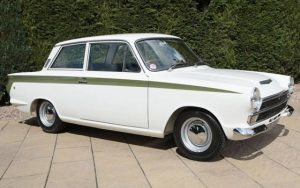 In 1996, everything changed dramatically for Lotus (and for the better) when the Elise Type 111 was released for sale, and within a very short time people realised what a ground-breaking and exciting car it was. Sales far exceeded expectations to the point where, by 1997, there was a 2-year wait list in order to get a new car. (I know, I had to wait that long for mine!) This was unheard of in the Lotus world. The ongoing success of the S1 then led to the S2, followed by the change from Rover to the Toyota engine to enable the car to go to America, and in the meantime the Exige followed, and special editions were released from time to time.
The little-known Project M120 was created in 1998 to try to build a hardtop Elise coupé, and the photo shows it to be an interesting design heavily based on the S1 Elise at the front. Unfortunately, the project was suspended. From 2000 to 2005, Lotus diversification continued as they produced the Vauxhall VX220 / Opel Speedster using a GM 2 litre engine, which helped to keep the company momentum going. Meanwhile the sporty Elise and the more track-focused Exige continued successfully, aided by considerable USA sales.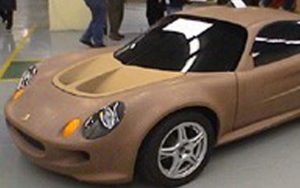 Then in late 2006, the Europa name from the 1960s was revived – it was actually heavily derived from the 1998 Elise Coupé / M120 Project. The addition of a fixed roof had greatly stiffened the chassis, allowing the high side sills to be lowered considerably, and the door sizes increased to make access easier and these design changes were carried through in the Europa. However, there was a problem – the Europa S as it became known, Type 121, was marketed as a GT car in the true sense of Grand Touring, but somehow it seemed to miss the mark. People either preferred the open top Elise, or the track focused Exige, and the new Europa seemed to fall in between. For some reason it just didn't sell. Maybe it was because it was based heavily on the Vauxhall VX 220 with its longer chassis and 2 litre turbo GM engine, but it just didn't take off. Originally 5,000 units were predicted to be sold in the USA alone, with many more in Europe and overseas. In the end, despite the introduction of an upmarket SE model, total manufacture was only 456 cars by the end of production in 2010, of which 50 were factory built to SE specifications. (2006 – 197, 2007 – 179, 2008 – 48, 2009 – 26, and 2010 – 6)
There is probably no valid reason why this model failed, but perhaps my own personal experience helps to explain it.
In early 2007, LCQ held their monthly meeting at Zupps in Mt Gravatt, who had just been appointed as the new Lotus dealer for Brisbane. In their showroom that evening was a newly arrived Lotus Europa S, and we pored over it. I sat in the car – and my only thought was "what's the point?" At 995 kg, it didn't have the no-frills lightweight approach of the Elise, nor did it have the sporting potential of the Exige. True, it boasted a more powerful engine with 195 hp, but at almost 1000 kg, it was full of heavy leather, carpeting, and other 'luxurious' features, and also had premium pricing. It was also perhaps still thought of as a Vauxhall in our purist Lotus minds? Most of us never really considered the car again, and they seemed to disappear from not only our consciousness but also from sight. How many have you seen on the road?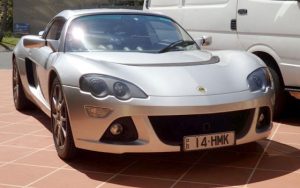 Meanwhile I continued to enjoy my S1 Elise, even taking it on a tour of the USA in 2012, where I enjoyed track time at Laguna Seca, went up Pikes Peak, and then, after touring many Lotus Clubs around the western USA, I even took it up the infamous Ice Trucker's Highway to the Arctic Circle – to date the only Lotus of any description to make it to the Alaskan Arctic Circle. But I digress…
During my Elise trip to America I realised I wanted to keep traveling around the world by car, and particularly to drive down to the bottom of South America. But to do so in an Elise was not only slightly impractical, at my age as I passed 65, was also getting a little uncomfortable, more so when camping in a small tent than when I was actually in the car. So, I sold my Elise, truly believing that was the end of my Lotus owning life. I sold all my tools, race-gear and spare parts. I then spent the next 2½ years driving most of the way round the world in the Toyota Landcruiser that had replaced the Elise, and loving every minute of it – Alaska again, Central America, South America all the way down to Ushuaia, then on to Europe, and Africa.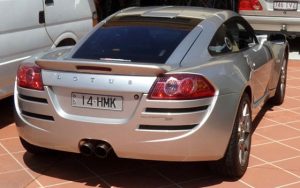 In March 2016, when I was in London with another Australian Lotus owner, we saw a Lotus Europa S at Bell & Colvill, and Winno said to me "There's a good car for you Giles – an old man's Lotus". I not only refuted his assessment of my age, but I was also still of the opinion that it wasn't really a Lotus, so discounted it. But the seed, as they say, was sown!
I realised that most of my friends around the world were linked to Lotus Clubs, and they were the people I wanted to keep in touch with. As I started asking questions about this 'unwanted Lotus', I was intrigued to find that only 456 had ever been built, and that they very rarely came up for sale because once people owned them, they saw what a great little car they were, and didn't want to sell them. I looked at a couple in the UK, and they usually had about 30-50,000 miles on them, were not always in very good condition (think snow and ice and salt!), and were selling for about £20,000, which price was now slowly increasing due to their rarity.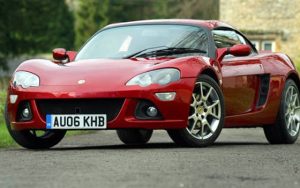 As I spent four months driving across Iceland and Canada on the way to returning home to Australia, I had the time to think more about the idea of buying a Lotus Europa, and through a current Queensland Europa owner, I located a low km car that "might be for sale". A few emails confirmed that the owner was in no hurry to sell and could wait till I got back here. Soon after I returned in August 2016 I inspected the car – a 2006 model, one owner, only 23,000km, and had never been out in the rain! By mid-September I was the proud owner, and the learning process truly began. As a coincidental aside, as far as we can work out, this car I have bought is actually exactly the same one that I sat in in Zupps showroom back in early 2007! The first owner bought the car new from Zupps, but only in late 2010 – the car had sat unused and unsold in Zupps for almost 4 years! And this was true of several of the other Australian delivered cars. They just couldn't sell them.
22 cars were apparently shipped to Australia at the beginning of 2007 – I have only tracked down about half of them so far. I am told that two of them have already been exported back to the UK because of their low mileage and comparatively pristine condition underneath due to our milder weather. That leaves just 20 cars in Australia, and it is unlikely that more, even second-hand, will come in because they are not on the list of approved imports into Australia, and they can only be brought in as 'Personal Imports', which means living overseas with the car for a minimum of 12 months before they can be relocated.
So, after all the bad press and unpopularity, what is the Lotus Europa S really like?
Are they that bad? Do they deserve to be forgotten? My experience is that I was expecting it to be similar to an Elise, but it is not – it is TOTALLY different, as I realised as soon as I drove it. Obviously, it is slightly more luxurious inside, even boasting air conditioning and electric windows, but it still looks 100% 'Elise layout' inside. But that is where the similarity ends. With 225hp on tap from the 2 litre turbo GM engine, there is a very welcome shove in the back as you accelerate. With a slightly longer wheelbase and track, and I guess also because of the bit of extra weight and more compliant suspension, the ride is totally different. Still very much the sublime and precise Lotus handling you would expect, but just somehow 'different'. As I start to explore the true capabilities of this 'forgotten Lotus', I am truly excited. I think I have found a gem.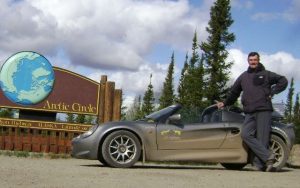 And as for the rarity and the design? Well, it may not be to everyone's taste, but they are so rarely seen that most people come up and ask "What is it?". They have never seen one before. People even ask if they can buy one new from a showroom, and I have to explain that they actually stopped producing them 7 years ago! Ironically, of the 20 remaining cars in Australia, 7 or maybe 8 of them appear to be in Queensland, and we regularly see 4 or 5 at our monthly meetings! But one thing is for sure – every owner of a Lotus Europa S seems to love their car, often because it IS different from all the other models. Maybe its initial unpopularity was just because Lotus marketed it incorrectly, aiming it at the GT market where it ran in competition to the Porsche Cayman and BMW Z4 Coupé. Maybe if it had been aimed at a different market, it would have sold better. Maybe my friend Winno was correct when he said to me in Bell & Colvill that "it is really just an old man's Elise"?
You know what – maybe he was correct. But I love the Lotus Europa S regardless.
However, I must also admit that I am now an old man! Maybe that is who Lotus should have aimed it at in the first place! And if it is owned by 'older' people, then there is hope for people who want to own one in the future – some might be coming up for sale before too long!
Is the Lotus Europa S truly 'the Forgotten Lotus'? I will leave you to decide.