By Allan Conway.
Have you ever purchased anything on e-bay?
Have you ever purchased a car on e-bay?
Have you ever purchased a car from the other side of the world on e-bay?
Now you are getting the idea!
Two or three years ago, we decided that another Lotus in the shed would be a good idea – keep the Seven, the Elan and the FJ company, so to speak. It was decided that as a rarity in Australia a Lotus 51 would be a suitable acquisition, there being none here at that time. Since then Paul Littler has imported his car, which he promptly on-sold to Daniel Bando in Sydney. At the time of writing this, Daniel is still to race this car.
We looked in the UK – there were a few available, mostly through dealers and VERY expensive. Then we found one that we liked, haggled with the dealer-owner over a period of some weeks, convinced him that his car was not as good as he thought it was (after a lot of looking at a particular model of car, you become somewhat expert on what is original, what should be where, etc.) and made a silly offer which we believed he accepted. We went to bed happy. We arose next morning to an email advising us that the seller had now received an email offer from a Japanese buyer who was prepared to pay the full asking price and unless we were prepared to increase our offer he was going to sell the car to the Japanese buyer. Back to square one!
As an aside at this stage, we should tell you that when we went to the 2012 Tasman Revival meeting at Sydney Motorsport Park there was a Japanese entrant with a Lotus 51. We approached him and asked if he knew of the car we had been so keen to purchase – his response was a shake of his head and the utterance "Many problems!". By this stage, a number of our friends (both in Australia and overseas) had become aware of our search and each day we would receive emails from various people with the inevitable web links and "Have you seen this one!" – many dead ends, many cars you just could not buy – twin cam engines, big wheels (both width and diameter), slick tyres, etc.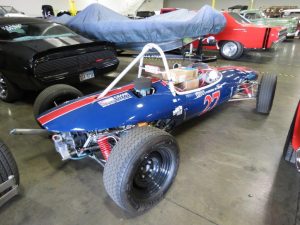 Then we found a car on e-bay in New York. A phone call to a friend in Los Angeles to see if he knew of the car resulted in a "hang up now and I will call xxxx". Now xxxx was the previous owner and restorer of the car and a friend of our friend. A short time later we received an email from our friend in LA and the message was "You must call xxxx". We didn't immediately, and the next day we received another email "You still haven't called xxxx". We then decided to call xxxx and had a long discussion with him about the car, it's historic life and its recent life. We were told that the car had been dry stored from approx. 1970 to 1997. It was driven off the race track into the shed and there it sat for 27 years. This explained the originality of the car which included the original seat, steering wheel and all of the Holbay racing modifications including the oil pump – four owners since 1968! The call ended with the suggestion that we should call the current owner in New York – xxxx having been talking to the current owner only recently and offering to give us his telephone number.
That call, and several others, resulted in the car being withdrawn from sale on e-bay. The fact that the original restorer appeared to be a friend of ours and that the owner of the car, knew of our friend in LA helped with this decision. Later, a complicated deal involving a drive of the car at Historic Phillip Island, a one week holiday at Noosa Heads and of course some US$ was struck for the sale of the car to us. In order to secure the deal, we had to offer something that other potential purchasers could not offer. We thought at last we have a car, and a good car at that. After the restoration, the car had won a number of concours events including Palos Verdes Concours d'Elegance and the Newport Beach Concours d'Elegance.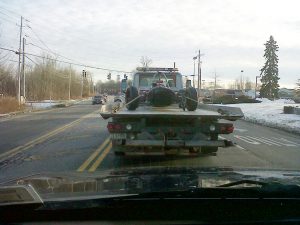 We set about arranging money transfers and transport – then the phone rang and it was a very despondent current owner from New York. He had decided to take the car for one last drive down his driveway and back and when he returned to the garage he had crashed into the petrol bowser on his driveway and torn the front left wheel off! He was taking this as an omen that meant he was not to sell the car and wanted to withdraw from the deal. Back to square one!
By now it was the end of the American race season, but strangely this year very few cars (of the type we were looking for) appeared for sale. We think the US economy was generally very depressed and nobody was selling, unless they absolutely had to, because the sale prices were very low.
Christmas was just around the corner (a week away) when the phone rang. It was the current owner from New York. He had reconsidered his decision of two months ago, 'not to sell because of a bad omen' and would we still be interested in purchasing the car – WOULD WE!
That day we had a Bill of Sale drawn up, the next day a money transfer was arranged (at US$1.06 to AUD$1.00) and quotes for road transfer to our friend on the West Coast of the US were sought. Being Christmas, nobody was interested. We had to wait until late January before we could get a decent price. Meanwhile, it snowed and it snowed and it snowed in New York.
When the semi-trailer (Pantech) arrived to collect the car, the driver took one look at the driveway (it is about 2 kilometres long, through heavy forest) and declared he could never get his rig up there and promptly drove away. The company that was arranging the transport then phoned me and advised that we would have to get the vehicle to the roadway and they would send another semi-trailer (Pantech) to load it there (remember this is now a three-wheeled car that has to get 2 kilometres down the driveway!).
The former New York owner had a suggestion that he would get the local flatbed tow truck operator to do the job. Yes, and he arrived, turned into the driveway, skidded in the snow and ice off the driveway demolishing a tree. It took three days to extricate the flat bed tow truck!
About this time, we started to think that buying cars from the other side of the world without your own physical presence was not a good idea. Every problem, no matter how minute, becomes magnified exponentially by a ratio involving the number of hours time difference and the number of kilometres distant.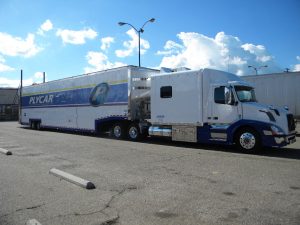 A few days passed and it kept snowing, but the local flatbed tow truck operator decided he would make another attempt to get the vehicle to a place where it could be loaded onto a semi-trailer (Pantech). "Bring the car to the local village" seemed a good idea, and then it can be loaded onto any transporter anytime. Sure enough, the freight company sent their best rig to collect our car and the loading was achieved without further drama – success at last.
Now, as we said, the freight company had sent their best rig for this job and we were given a computer web link that enabled us to track the truck's progress across the country. We did regularly, and it was an interesting tour of the US that the truck went on to travel from New York to Los Angeles – probably did twice the kilometres necessary, but we understand he collected and unloaded numerous valuable cars en route.
One morning we logged on to check the whereabouts of our delivery and proceeded to use the satellite function. We were able to actually see the tractor of the rig protruding from under an awning and the rear of the Pantech protruding from the other side. The rig was in a roadhouse filling with fuel on the other side of the world and we could see it!
A few days later (it took about 14 days from New York to LA) the phone rang and it was our friend from LA to say that this most impressive rig had arrived at his place. He could only talk about the cars that were being unloaded in his driveway (so that they could access our car) Ferrari, Bugatti, Cadillac were three but he never mentioned our car at all. The Pantech could fit 10 cars over two levels with a range of hydraulic lifters, etc.
During the period of the car's travel from New York to LA we had arranged an Import Permit and a shipping company to ship the car from LA to Brisbane. Our friend in LA duly delivered the car to them and the final stage was happening at last. We had a ship's name, a departure date and an estimated arrival date in Brisbane.
On the supposed departure date from LA we received an email from the shipping company to say that our container had been targeted by US Customs and would not be loaded as scheduled, but would have to await clearance by US Customs. It would appear that US Customs check to see who is EXPORTING drugs as well as importing them. Some weeks later our container was given a clean bill of health and released for shipment. A new ship, departure date and estimated arrival date in Brisbane were supplied.
Now I have learned from previous experience that you can track any ship in the world and proceeded to track the ship with our precious cargo on board. It went direct from LA to Sydney – great, next stop Brisbane. But when the ship departed Sydney it reached Sydney Heads and turned South – oh well, it must also be going to Melbourne.
Then it arrived in Port Phillip Bay and proceeded to sit off Phillip Island for a couple of days, what on earth are they doing? This must be costing somebody a lot of money. At last it moved up to the port for unloading/loading and then quickly departed. Down past Phillip Island and a turn to the East, soon they will turn North and head for Brisbane. But wait, they are heading out into the Tasman – keep watching to see what is going on and make sure that nobody is stealing this long-awaited car. The ship finally arrives in port, at Tauranga, New Zealand! What now, are they on the return journey to LA? After a day or so of watching the ship it moves away from Tauranga and hooray it heads west again. Is it bound for Brisbane at last?
A few days later, we received an email from the local shipping agent advising that I had to provide a copy of my passport (it's my car that is traveling, not me!) and some other documentation and then we could collect the car within 24 hours. We arrived at the said facility with our race car trailer where we were confronted by a VERY large tattooed gentleman with a BLOODY BIG forklift who told us he would go and get the car. We queried how he was going to move it and he indicated with the forklift! Panic – this is a 600kg fibreglass and tube steel car that is nearly 50 years old with a broken wheel and not used to being manhandled. After some explanation, he agreed that we could follow him into the shed and with a team of very enthusiastic helpers pushed and lifted the car to our trailer – whew!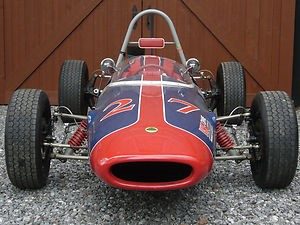 Homeward bound at last.
We then had to set about repairing the front left wheel. After some more drama purchasing a new lower arm that was different to the other one fitted, we eventually had to replace both of the front lower arms, one trunion and a small amount of work on the mountings. A new air filter was required, a new battery was required, but generally the car was in better condition than we imagined.
We then went about de-Americanising her e.g. we removed all of the advertising stickers, covered all of the braided lines, fitted the correct carburettor and tyres, ultimately gaining a CAMS log book.