Targa Tasmania this year was the largest tarmac rally ever held with over 350 cars taking part in what was the 25th anniversary running of the event. This is a mega meeting of car enthusiasts.
By John Barram. Photos by Andrew Graham.
There were five Lotus entered in Targa this year and I was lucky to be part of it. My mate Graham Vaughan (now resident in Tasmania) had completed seven Targas to date and asked me to co-drive with him this year in his S4 Lotus Elan.
Arriving in Launceston for the start, it was like a baby boomer's convention as some rude person said, with lots of car people obviously out for a good time with their cars. Not everyone had grey hair!! There were all sorts and shapes of cars. Ferraris, Lamborghinis, acres of Porsches old and new, Aston Martin DB4, as well as Alfas, Toranas and Datsuns, an Austin A30, and lots of modern cars such as BMW, Subarus and Mitsubishi EVOs.
Patrick Mewing from Queensland was having another run, with navigator Gezim Bashi, in his well modified Elan. Modern Lotus were represented by the 2013 Exige of Martin Duursma and Richard Woodhams from Sydney with backing from Simply Sports Cars. Brian and Kerryn Coates from Tasmania were driving their blue, 2003 Elise 111S and from Victoria was the red 2004 Elise owned and navigated by Victor Sweeney being driven by his son Mathew who had come from the USA for the event.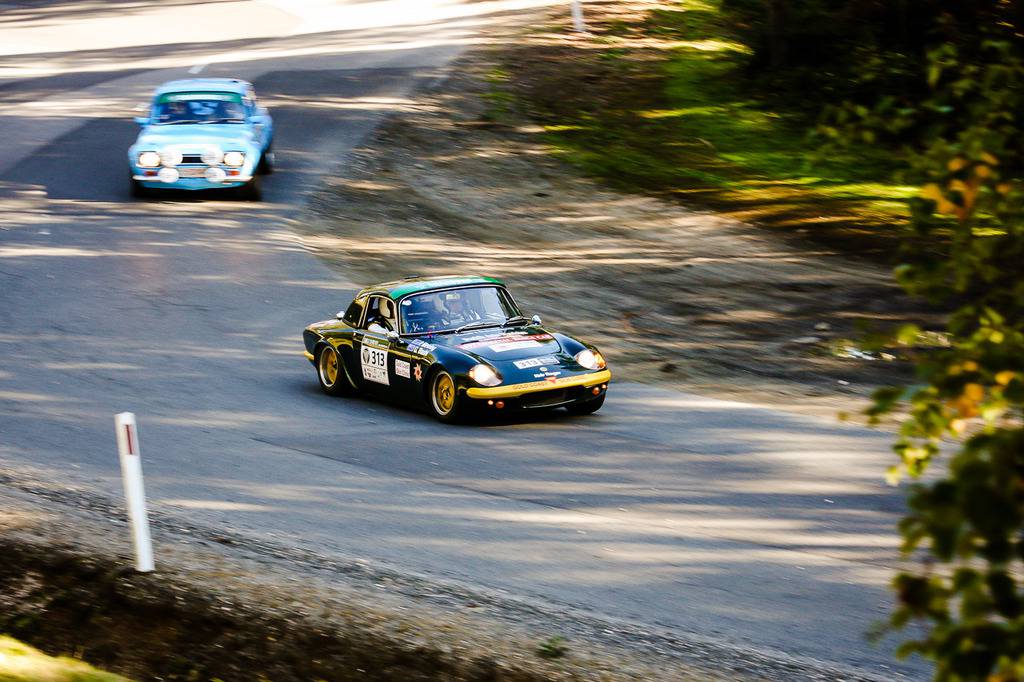 While Patrick was bravely taking on a strong field in the Classic class section, the rest of us ended up in the GT Sports Trophy class where you did not require a full roll cage and were limited to 130kph while competing. So we had four Lotus in 26 cars in our class. And to add to the interest Grahame has some good mates from the Brisbane Citroen scene, Alec Lowe and Lance Collins, who were running their incredible 1955 Citroen Light 15 also in our class.
It was important that we beat the Citroen!
After day one the Exige was running third in GT Sports and we were dead last. Patrick was also in third place in Classic, behind a Jensen CV8 and Aston Martin DB4.
Day two saw the Exige pushed back to fourth, we rose to only fifth last with the two Elises about mid field. Then half- way through the day Patrick had a failure in his drive shaft. So it was back to Launceston and some great help from local Lotus and small Ford people who got the tail shaft rebuilt and Patrick ready to go by next morning.
Day three saw the Exige regain third spot, we crept up to only ninth last, and over in Classic class, Patrick began the task of climbing back up the field. Then the Coates' 111S Elise had a failure with its through-out bearing so they could not use the clutch. Rather than miss a days competition sorting the problem Brian decided to continue the drive making clutch-less starts and gear-changes. And he continued that way till the end. What a hero!
The GT Sports class was in two sections, pre 1985 cars and later cars. So in the Elan our real competition was a TR4a, Triumph Stag, 427c.i. Ford Thunderbolt Coup, Datsun 280Z, Renault Alpine A 110 S, Alpha Spider, MGB roadster, Citroen Light 15, Lancia Beta Coupe S4, and a 1973 Porsche 911 Carrera RSR. What a collection! By this time we were third of these cars.
Day four saw the Exige retain third but there was less than two seconds between second and fourth. They had a good tussle on their hands. We retained third in our section and the two Elises were locked together at 13th and 14th. Patrick was flying now and cleaned two stages but the delay had left him well down the field. On day five Patrick cleaned another stage, the Exige retained third under tight competition, and we sneaked up to second of the older cars when the Lancia DNF'd. The Coates' soldiered on without clutch in 12th.
To this point we had enjoyed a dry Targa, a bit unusual. Day six saw wet and slippery added to what had so far been only narrow, twisty and bumpy roads lined by trees and cliffs and drop-offs! But by now the focus was on finishing the last day. Patrick had a close call with lightish contact with an Armco fence on his front guard. We tip-toed through the wet and made it to the finish still second behind the Porsche in the older cars. The Exige maintained third to the finish.
I particularly enjoyed being part of the Lotus presence at such a large and mixed event. There were a few other Lotus owners known to us competing in "other" cars with whom we kept in touch. But also an amazing number of Lotus owners and old acquaintances popped up during the event. It is that sort of an event. If you have a chance, do it!