Were we in Victoria? We might as well have been. A dark and rainy night led to only 5 cars starting for the combined May EMR and drive to the David Hack Classic.
By Clive Wade. Photos by Gloria Wade.
Those made of sturdy stuff, those without roofs, didn't come out to play. No, only those with roofs ventured out on Sunday, 1 May. Colin & Robyn's Elan was watertight, the 2 Elises of Barry and Clive/Gloria were water tightish, Steve's Europa S was certainly watertight, and Cameron's BMW was German, not an internal puddle to be seen, say no more. 7:30 start saw just 5 cars depart McDonalds, The Gap in steady rain. It wasn't surprising to see all members keeping within the speed limit, now sadly down to 70kmh virtually all the way up the hill. Still, there were bonuses, a relaxed drive, few bicycles, no motorbikes, and no queue at Mt Glorious Café.
After breakfast we made westward for Toowoomba, the 2 EMR'ers saying their goodbyes at Mt Glorious. Steve then left for home, and Barry waved goodbye at the Fernvale/Somerset Dam Rd intersection. Now the road from Mt Glorious to Somerset Dam is always a delight. Coming down the western side of the D'Agular Range is always a challenge, in places testing a Lotus' abilities even on a dry 60kmh limited road, so even more so in the wet. We took it easy, no harm coming to anyone, thus leaving a fallen tree to quietly rest on the road. Once past Esk the weather lightened, and by the time we were at Ravensbourne the day had cleared to fine.
And so we were soon at Toowoomba Airport for the David Hack Classic.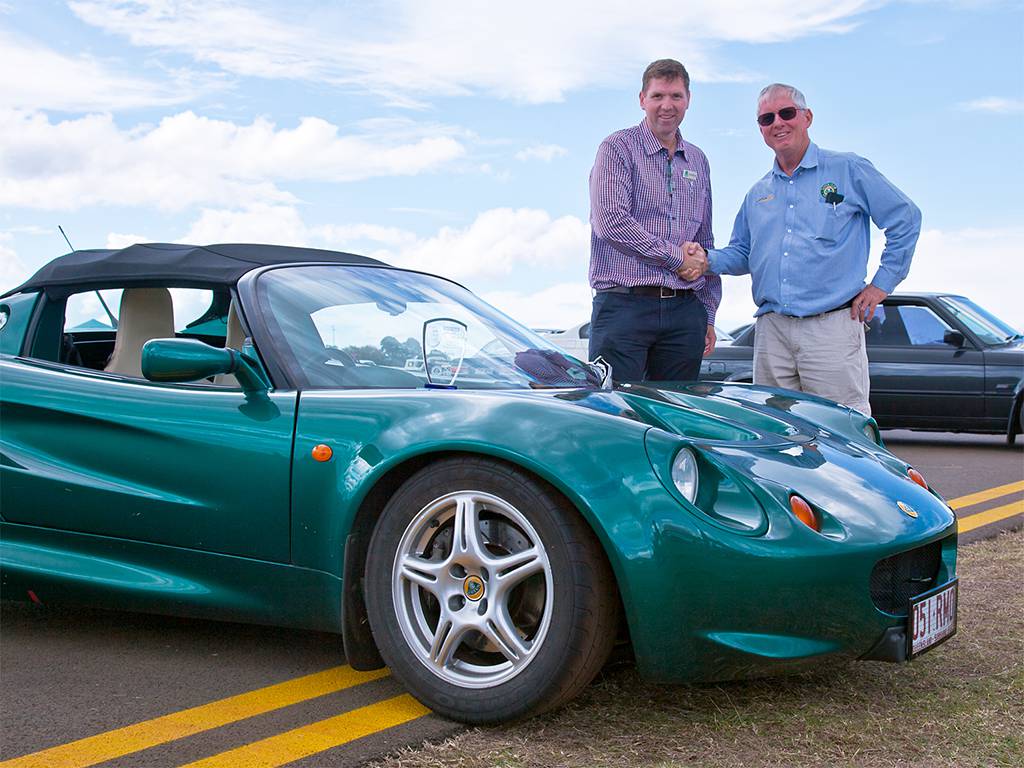 David Hack was a passionate young man whose life was cut tragically short by Non Hodgkins Lymphoma (Leukaemia). The loves of his life were cars and photography and he had the makings of a brilliant career as a motoring photojournalist, contributing to magazines such as Street Machines, Fast Fours, Wheels, and Performance Street Car Magazine. He had a number of successes with major photographic competitions and was an extremely talented young man. For his 28th Birthday, a huge "Birthday Bash" had been organized at Aerotec Hangar, Toowoomba Airport, but tragically he passed away two days before it was held. Subsequently, Rotary have held the event each year raising funds for numerous charities.
Our little group decided that as we were rather late for the 8:00am start we should park in the public parking. However, the organizers saw it quite differently, being led by Colin's beautiful BRG Elan, we were guided directly to the exhibition area. "Good-o," we said, a short stroll from the middle of all things going seemed far more appealing than a long and tedious trek from far outside the airfield, so we took their advice, parking up with other British beauties such as Morris Minor Utes, (real) Minis, MG's, Triumphs and such. Once the cars were locked up, we strolled off to enjoy the exhibits totally oblivious to any judging or such like on such a lovely sunny day.
Lots to see, plenty of well-presented cars ranging from the above mentioned and the always expected array of locally built treasures from the houses of Holden, Ford & Chrysler, to the rarer 1938 Bentrolux powered by a 6300cc Rolls Royce engine. The feature marque for 2016 was BMW. And BMW didn't disappoint, lots of BM's including Cameron's black 3 Series Coupe (we felt a little abandoned ). The odd one or two were even "plug & play" with 240v extension leads to suit.
Aeroplanes were also well represented ranging through from a venerable Tiger Moth, 3x T28's and a Spearman to an Aermacchi Jet Trainer. Along with a Chinese Nanchang and some Russian trainers of either Yak or Sukhoi origins, there was an almost continuous flying display. To add to it all, parked indoors were a Pitts Special, 2x Chipmunks and a huge variety of other flying memorabilia.
All up, there was plenty to fill a day.
Now strange things happen when you least expect it. Not only did we meet Alan Bent departing early in his lovely Esprit at only 10:30 am, we were also treated to another surprise or two. As I mentioned earlier, our plan was to park in the public parking lot, partaking as onlookers only. So you can imagine our surprise when (as we were driving out) a public announcement was made declaring "Best Modern Sports Car" is awarded to a certain 1997 Lotus Elise. A quick parking of the car was rewarded with a nice trophy and a local councilor requesting a photo opportunity. Then the second surprise; "Best Pre 1995 Sports Car" is awarded to another Lotus; the red Lotus Esprit.
What a lovely way to end a most enjoyable day out. So next year, we might just do it again. And with a little luck, there won't be any rain to deter the owners of soluble Lotuses.