Morgan Park Super Sprints B Series 2022
By Mal Gray (MPSS Novice)
Maybe I should have taken more notice of the signs, but what the heck, how can a little bit of rain affect us at Warwick (on the other side of the Great Dividing Range)?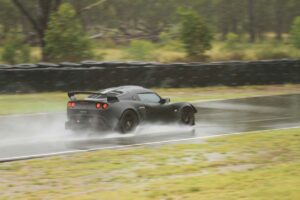 Trish and I had decided to make a long, long weekend of our first venture to Morgan Park for the QLD Super Sprints Series, so we set off early on Thursday and attempted to take the scenic route from the Sunshine Coast, via Kilcoy. Well… there was the first sign! The road was cut by flooding at Peachester, not very far from home. No probs, we'll skirt that and head down the highway to Caboolture. There was a little rain along the way, but nothing significant. We even enjoyed a leisurely amble through the Lockyer Valley. The forecast still wasn't too bad.
Being as keen as a bean, I arrived early at the track on Friday morning, was first to sign on and second car to be scrutineered. The rest of the crew (all experienced Morgan Parkers) casually wandered in and prepared for the afternoon practice session.
Gideon Street, with eyes as big as saucers, was puffing on the vapor thing, like there was no tomorrow, after his rather exciting, rally-driving journey, in his brand new V6 Exige. In the pits, there were tales of rising flood waters between Brisbane and Warwick as the extreme weather situation was unfolding in Gympie. At this stage, the showers in Warwick were only light and patchy. The track was still pretty wet and slippery by my standards. My well-worn semi-slicks were not looking like the most appropriate choice of rubber. As a newbie, I decided that I would sit out practice, (especially after seeing seasoned campaigner, Barry Mather have a couple of intimate encounters of the wrong rubber kind). I was hoping for a bit of relief from the rain on Saturday.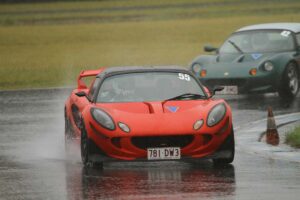 Day 1
Wrong! During the night, the rain had set in and a few Lotus had left for home, before the morning briefing on Saturday. Everything was otherwise full steam ahead, so I slowly accepted that my first Morgan Park experience was going to be a supervised large-scale skid-pan session. I was more than a little apprehensive and quite unsure whether my windscreen would fog up in the rain. I have HARDLY EVER driven my Lotus in the rain, let alone at speed on a track!
Session 1:
Our dwindling "not the fastest Lotus" group was eventually called to the marshalling area. I was determined to line up at the rear of the grid, to minimise my interaction with the rest of the group. It was raining. Windscreen wipers were at full speed. Lucky I had wiped some Rainex on the glass, so that at least I could see what I didn't want to hit!
I managed to complete the warm-up lap without incident. I almost completed the first lap of four, but accidentally followed Des Hill into the pits prematurely and scored a DNF. Oh well…, I'll chalk that up to inexperience. Damn, there is a lot to think about when you are new to this competition aquaplaning!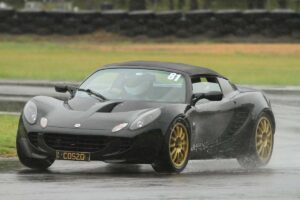 There were still a couple of other sessions to come. The quick Lotus Group was battling it out at great speed with seemingly very little fuss. Geoff Noble was leading the way as usual.
Session 2:
By now, only the hard-core (and one newbie) were still in the game, so we were merged into the one group. Again, I opted for the rear of the grid, after the warm-up lap. On the first lap at turn 2, I had an excursion onto the grass. Thankfully, with no one behind me, I was able to double declutch into reverse, while I was still rolling backwards, to execute a perfect three-point turn back onto the black stuff and continue on my way.
A couple of laps later, a silver flash appeared in my rear vision mirror. Geoff, followed by Matt, flashed past in a cloud of spray and disappeared into the distance.
Session 3:
Still raining. All Lotus got around OK. It was a real challenge to find drier parts to drive on. There were quite a few streams of water across the track. Clive Wade managed to avoid a rampaging, self-destructing BMW M3, who attempted an inside pass, at a very wet corner. By the time I arrived at the scene under yellow flag, there were bits of front and rear aerodynamics sitting in the middle of the track, adding to the excitement. I did four laps for a change and gave myself a pat on the back.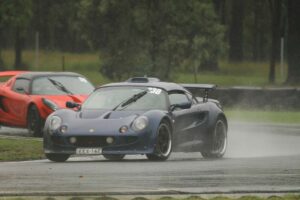 Day 2
Session 4
Still raining more. Those who left early probably knew what they were missing. I had another spin, only just reaching the grass and able to recover. I improved my session time by 40 secs, so "Look out Geoff, I'm coming thru!"
Session 5
There was a break in proceedings whilst a driver's meeting was held. The question was asked whether drivers wished to continue. Without any sign of a mass protest, laps resumed. My butterflies were trying frantically to escape.
By this time, Geoff and Matt were producing session times around 6:30. David, Clive and Garry were hovering around 7:00. I was back with the guard's van at around 7:30 but having the time of my life. I also had my fastest lap for the weekend at 1:50.
Session 6
More of the same, but I finished a lap early again and scored a duck for the session.
Overall it was a terrific weekend, despite the weather. Due to road closures, we delayed our return by a day. Even then, we had to skirt well to the south of Brisbane, to avoid flooded roads in the western suburbs.
I can't wait to return and hopefully run around in the dry. Maybe I need a pit crew with lap board!
Good luck with the repairs Baz.
Who said that towing cars backwards on trailers was a good idea?
Overall results can be found at:
2022 Qld Super Sprint Series B R1, Aus Timing, Australia – Official Event Results, MYLAPS Speedhive