Some Personal Recollections of Les Mellor.
By Mike Goodfellow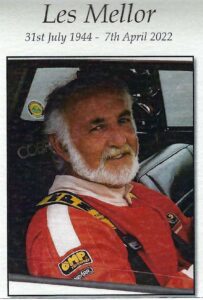 My earliest recollection of Les is having a conversation with him about motor sport in the early noughties. He suggested that I should try to join the sprint series at Morgan Park and I did. Thank you Les, you nudged me into motor sport.
From time to time Les helped me with things.
I decided to take the Plus 2 to Adelaide to run in Classic Adelaide. Les made me a trailer to transport the Plus 2.
I was advised that the M100 Elan engine mounts needed replacing. Les suggested an organisation in Brisbane that could renovate them for me.
Les absolutely loved his Lotus Cortina. "The Corty" as I recall he called it. He drove it with great enthusiasm particularly in motorsport of course. I think it would be fair to say that motor cars and motorsport were the essence on his life.
His enthusiasm for motorsport started early. Alongside his first job servicing trucks he built a go kart which he tested around the oval of the school adjacent to his workplace. This enterprise came to an end when the school's headmaster had words with the owner of the motor works Les was working at.
To me Les was very much his own person. This was perhaps exemplified by his reaction to the offer of free beer to anyone that attended the Club Lotus Australia AGM (in Sydney of course). This was before Lotus Club Qld was formed, and Club Lotus Australia included Queensland. His words, delivered in his cutting humour style, were not well received in some quarters and eventually Les severed his connection with the club.
Not so long after this, Lotus Club Queensland was formed. His comments on the free beer reflected many member's thoughts perhaps?
To me Les was:
A person with a strong commitment to doing things. Not just motor cars as I found out at the Celebration Of His Life. Jean (his wife) had arranged for a most impressive woollen tapestry that Les had made to be displayed. A revelation to me.
At the same time he was someone happy to help other people – particularly where assistance was needed in relation to motor vehicles!
I have good memories of Les and am happy to help reinforce the positive approach Jean took in celebrating his life.