By Greg Bray. Photos By Trapnell Creations.
It is great to be back participating at Morgan Park Sprints after a two year break for me due to ill health.
Pleased to say I have just completed the second round of A Series Sprints at Warwick in my single seater 1969 Lotus 61 Formula Ford. Because I'm in a single seater I now have to participate in the A Series. As Warwick District Car Club decided to put all single seaters in A Series together. If you wantcompetition with similar cars, that's where you have to be now. I regret therefore not seeing our B Series members and being able to watch the Elise / Exige guys dicing out on the track, as I had been able to do for many years whilst Sprinting in my green Lotus Europa.
Im the only Lotus Formula Ford at Warwick of course, and in the oldest FF. (surprisingly not the oldest driver) I'm up against five other drivers all in different makes of FF's.
Great bunch of friends now, all helping each other out. Usually a couple of Formula 3 cars join our Sprint group to make up our group out on track together.
The only other cars there worth mentioning in my opinion in series A are some grunty Cobra Replica's, a GT40 Replica, and a very nice Radical look alike with Suzuki Hayabusa power unit, rocker arm suspension 1300cc 180bhp and very fast.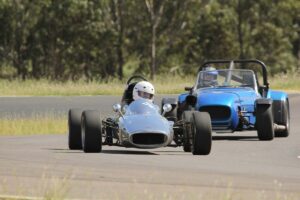 There was a Lotus 18 replica, but the oldest part of it was the Lotus badge.
Ken Gray, a local welder/ fabricator and friend of mine runs his V2 motorcycle engined single seater in A Series. He fabricated and made everything himself. Looks like a mini Lotus 22 to me. He is put in a group with Clubmans and gives them a 'run for their money'.
I felt a lot more comfortable driving in this second round this past weekend, as I was a bit rusty in Feb's Sprints. This was reflected in my times, as April's results we FF's were all very close.
I will have to miss the 3rd round at Warwick as it coincides with the Lotus Grand Tour (not to be missed) but back for the 4th round in Aug'.
For those who might be interested how I found my Lotus Formula Ford. I bought it in pieces all boxed up whilst on holiday in Wales UK. Staying with our friends there who are absolute Lotus 'nut cases'. Friend Andy told me he knew of a good project for me kept just up the Valley. The car was shipped over from America where it had been raced from new. Finally involved in a big accident at Road America track and totally dismantled. Placed in boxes and left like that for years. Sold to a Welsh man on line who had it delivered to Wales. He never got on with the rebuild either. I ended up buying it in it's boxes just because it was a Lotus, I knew nothing about F.F's. I finally got the boxes over here in 2008.
I loved a project I must admit. I totally restored everything mechanical, gave the chassis to Ken Gray for repair, he did an excellent job for me. I did all the fibreglass repairs, made moulds for the front bodywork, then gave it to the painter.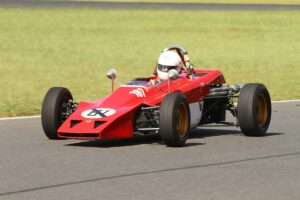 The car had been black, not too nice we thought, so changed it to Red and White (Gold Leaf colours) I was very pleased with the finished car.
My first race was at Morgan Park in 2010. Where for some years I did 4 Sprint meetings a year and 3 Historic Car Races a year all at Warwick. A few Hill Climbs at Noosa and the odd race at Lakeside.
In the early days, I found because it had raced in America the car was massively over geared, because America only do rolling starts. So l had to lower all the gear ratio's to be competitive. Also, even though l had a custom built Aluminium radiator, the more laps l did the hotter it got, which would have been OK for a UK car. In America they got over that problem by cutting off the front nose of the body back by 8″ to increase air flow. I didn't want to do that so I fitted two Naca ducts in the front to increase air flow to the radiator, which totally fixed the problem.