What a weekend, what was a supposed to be a 3-day event ended up being 1 due to the unseasonal rain event or flood in some places.
Lotus Club Queensland was represented by three entrants, Zaid Latif in his orange Exige, Jon Young in a green Caterham and myself in a black Caterham.
With the amount of rain that had occurred over the previous 2 days the track was damp and the track temperature was going to be low it didn't hold well for quick times. Zaid was in the Production Sports Car class 1600 to 2000. He had competition from a MX5 and a few MG's. The MX5 was leading Zaid over the first two runs until the third run where a slight adjustment in tyre pressure by Zaid gave him the lead and a class record for the event doing a 49.30s.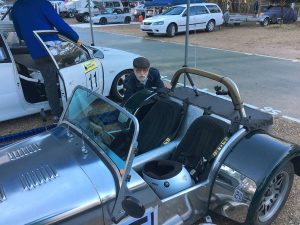 Jon Young was in the Marque Sports up to 1600 and had the usual tough competition with the fast Westfield and Amaroo Clubmans of Brian Petit and Ainsley Fitzgerald. Jon, as always, was Mr Consistent with his best run of 53.65s. His runs were very tidy which I think is a result of being very relaxed in the pits prior to having a run – the normal mix of smokes and cans of energy drinks!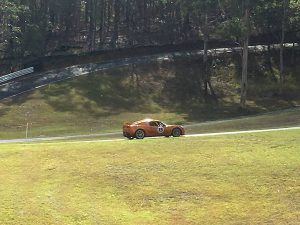 My class Marque Sports 1600 and over was the toughest of them all, I only had myself to compete with. Now some may say why is it the toughest. Well, in order to win the class you need to register a time which could be a problem if you go too hard on the first run. I was able to register my best time of 48.69s which is around 1.4s off my PB so considering the track conditions and not having Dick or Liam to push me harder I was very happy with the result.
It would be great if more of the Lotus members would compete at Mt Cotton as it is a lot of fun and great mateship.