It started back in 2013 when I signed Blanche and I up for the Lotus 2015 event.
We had an idea of what the SA team was in for, having been committee members for the Lotus 2013 event, and I was not envious of their upcoming workload.
Well, two years flew by – we moved house six times and interstate thrice! As the time flew by we learned of the various activities awaiting us; building the anticipation of a track day at Mallala, great food, a little wine (!?), a fun-packed Ladies Day and of course, catching up with good friends.
With the event due to start on Friday I stuffed the car (forever amazing myself with new and interesting places to pack things into the car) with all the required garb; helmet, race suit etc. and departed on Wednesday morning.
Leaving the Sunshine Coast around 8am and a fun drive through MaMa Creek I made my way into Toowoomba consuming some much needed but sub-optimal coffee (how can an order for a double ristretto flat white turn into a long black?) then onwards to Goondiwindi. I had a spot of lunch and met up with Martin (Scrubby) in his not so inconspicuous chrome orange Elise S3. From there we ensured we had hotels booked and headed off to our first overnight stay in Dubbo – hotels required booking as it was school holidays and Dubbo has a zoo, most hotels were booked out!
It was a fairly uneventful drive right up until a 'roo decided it wanted to dart across the road and give the side of Martin's car a Glasgow kiss – we stopped and inspected some minor fibreglass damage, peeled a bit of fur off, slapped on some race tape and continued onwards. We trundled into Dubbo slightly weary, a little bruised and hit the town for a well-deserved steak. 950km traveled.
Day two saw a bright and early start with some great coffee and breakfast at 'Press Coffee' and a slightly shorter drive ahead – luckily it wasn't as eventful as yesterday's drive. We cruised through Cobar stopping for a quick lunch and on-boarding of yet more fuel. Slightly interesting to note that the 3.5L Supercharged V6 in the Exige is quite frugal when cruising, returning around 8.8L/100k.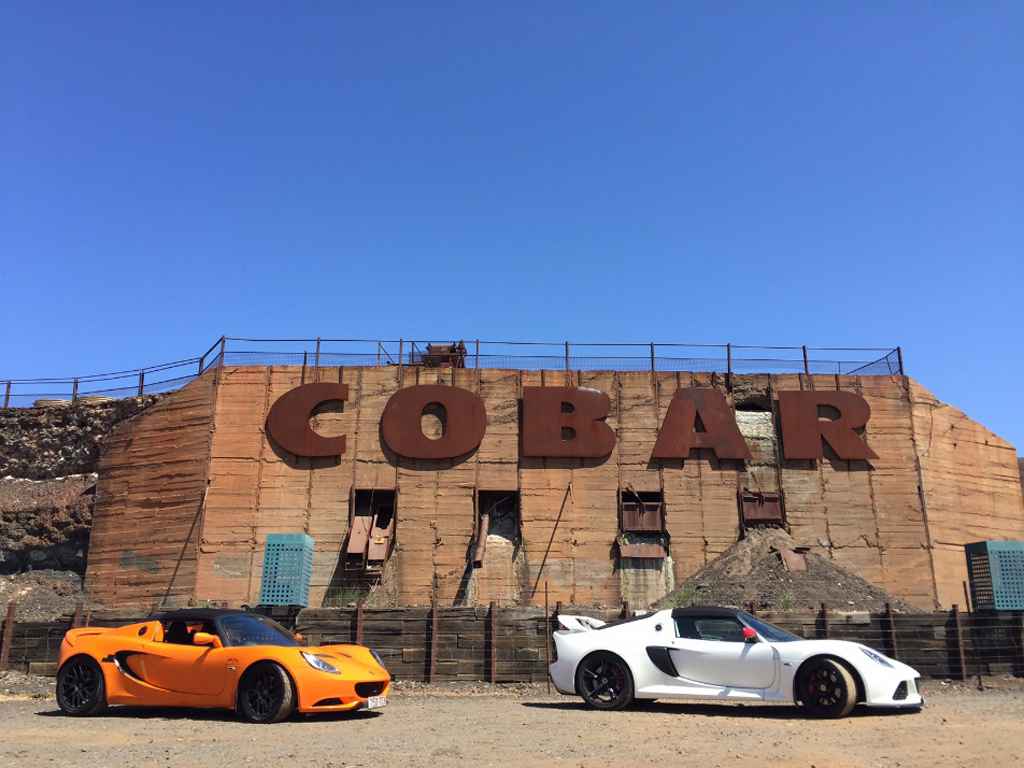 We arrived in Broken Hill in the afternoon and went about finding a motel for the evening – we happened across Colin & Robyn from the Gold Coast with a beautiful British racing green and yellow striped Elan S4 in tow – I stopped for a quick chat before heading to the motel and inspecting the many thousands of bugs now adorning the front of my car.
It's the first time I have visited Broken Hill and I was surprised to find quite a large scree pile so close to the town. BHP have used this to erect a memorial to miners who lost their lives, it was surprising to see so many back to the early days of the 'Broken Hill Proprietary' company. Day's kilometres: 750.
The final days drive to Tanunda promised to be mercifully short and we took the opportunity to make a slight detour through Clare. En route we had a quick bite to eat in Jamestown and a short dirt road trip through undulating fields of wheat that appeared to be sprouting wind turbines!
Our arrival into the Weintel Resort was met with a hearty welcome from friends, new and old. The car was unpacked (again, surprising myself how much I managed to pack in) and I did something I've never done at a Lotus event since I bought my first Lotus in 2007. I washed it! I'm sure Colin Chapman would have been proud with the amount of weight I was able to shed in accumulated bugs!
The festivities kicked off with a few drinks with old mates while I waited for Blanche to arrive. Thanks go to Randal H. for transporting my better half from Adelaide to Lotus HQ. The evening saw us wafting off a few mosquitoes while dining outside with a bunch of good mates.
On Saturday Syd, Ashton, Caroline, Hartley (all from NSW) Blanche and I took a spirited drive through rolling hills, long straights and tight twisties to arrive at the Birdwood National Motor Museum for the Concours d'Elegance.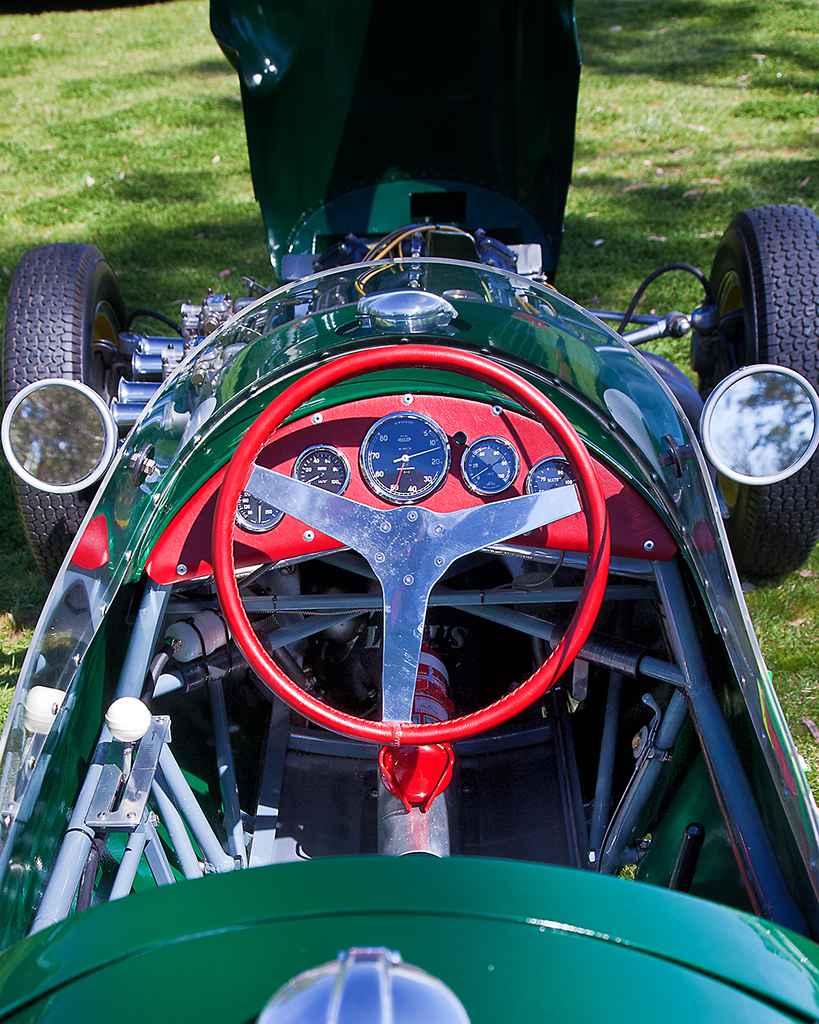 The museum was quite a pleasing collection of motor vehicles – some terrible British cars through to some quite tasty examples from all over the world … of course the display outside looked fantastic, and somewhat like a box of smarties had been upended! It was great to see so many fine examples of the Lotus marque, from the immaculate Type 12 through to the newest Type 112.
Following the concours we added Rob and Suzie to our merry band and headed out to Smith & Shaw then Rockford tasting a few local grape juices along with afternoon tea at Maggie Beer, then heading back to the hotel to prepare for the evening – the charity auction!
It was great fun; seeing friends bid against each other in order to win out on the most desirable goodies while knowing the takings were going to a great cause, the Country Fire Service Foundation.
I ended up with a Team Classic Lotus umbrella, some quirky hand drawn prints from the Lotus print shop, courtesy of Richard Parramint (more stuff to try and fit into the car) and Blanche won a wine rack – thankfully the wine rack will be posted!
We were careful not to be over exuberant as on Sunday we were heading off to Mallala for the track day, while those not wishing to deplete the oil reserves a little more were heading to a much more congenial 'magical mystery tour'. I can only regale you of the track activities leaving my better half to the latter activity.
It has been said that enjoying a super-sprint is 20% 'on-track' fun and 80% hanging out in the pits with your mates, talking cars, watching cars race and generally having a ball – to which this event didn't disappoint despite the 34 deg C heat and flies that just wouldn't quit trying to lick your eyeballs!
It turns out Mallala is quite a fun track, some very tricky sections to get right and of course I didn't master them but I laid down an extremely satisfying 1:17.9! To say I was very pleased at this result could be a slight understatement.
The day wasn't fun for all though, Martin buzzed his engine leading to a need of a trailer ride back to HQ and Joe (Honda Elise) also needing his trailer with a suspected melted piston. Ashton, Syd, Martin and I rallied around and found a trailer (thanks Winno) and after a little to and fro, got his car back to HQ where it remained until it could get shipped up to Sydney for further diagnosis – fingers crossed it's not terminal.
The evening then saw the girls get sparkly and the boys kitted out in their most dapper wear, for the gala dinner. We were hustled onto coaches and promptly arrived at Yalumba vineyard for canapés and sparkling pop while we regaled each other with the days of fun we'd had. We promptly escaped the mosquitoes (is this normal for this time of year?) into the grand dining room, perfectly laid out and looking splendid, to claim our seats while extremely tasty food, prepared by Ellie Beer, was served with equally tasty matching wines from the Yalumba cellars.
Richard Parramint, ex Lotus employee and guest of honour, treated us to tales of mischief from his time working with Colin Chapman, and more recently with Danny Bahahahahhar (typo? 😉 and Team Classic Lotus. For the trophy-giving I was a little pensive; I knew I'd set a fairly good time in my class but didn't know if it would be good enough to take a place – unfortunately a few non-Lotus 2015 attendees were included in the timing so it wasn't to be … ah well, next time. We wiled away the evening chatting with friends and generally having a ball before being whisked back to the hotel – I must admit to being somewhat squiffy from overindulgence of 'adult cordial!'
The following morning saw many depart early for the long drive back home, I found even more new and interesting places to stow things into the car now I had a passenger, and we bid our farewells to friends new and old.
We visited a few vineyards (how could we not!) and started our long trip back to the Sunshine Coast. By the time we got home (4960 kilometres total trip) the car was covered in so many bugs it was starting to smell a bit fetid, a liberal application of 'Bug Off' was applied to the radiators, and I once again lost a few kilos!
So it's now up to Club Lotus Victoria to put their best foot forward in 2017 and organise us a fun filled weekend. Of course, organising the event is only part of the equation, the friends and families who attend is what makes a successful, fun-packed event and Lotus 2015 was no exception – roll on 2017!