It's not often we have an LCQ member in Porsche's Race Division winning Le Mans and playing "a valuable role in helping Porsche to their second consecutive Manufacturers' title".
From an original article by: Speedcafe.com© on Sunday 20th November, 2016.
Audi left the pinnacle of sports car racing with a quinella while Mark Webber retired from racing with a podium finish in the final round of the World Endurance Championship in Bahrain.
Amid a tumultuous finish and an emotion-drenched day, the #2 Porsche 919 Hybrid of Marc Lieb, Romain Dumas and Neel Jani collected the Driver's Championship after finishing three laps down in sixth place.
Audi ended its dominant 18-year run in the sport in a manner fitting of their thirteen Le Mans 24-hour wins and two WEC manufacturer crowns. The Six Hour race saw respected Audi team boss Wolfgang Ullrich tearful before and after the chequered flag.
Webber jumped into the #1 919 Hybrid Porsche at the one-hour mark and soon drove it from fourth to third position, where it stayed for the majority of the race.
Porsche set up a fitting farewell for Webber, who now becomes an international ambassador for the German marque, by putting him behind the wheel for the final stint.
The #2 919 Porsche went into the event knowing it had to finish fifth or better to guarantee the drivers' title, but things came unstuck early when a collision with a slower car punctured the left rear tyre and badly damaged the surrounding bodywork, forcing it into the pits.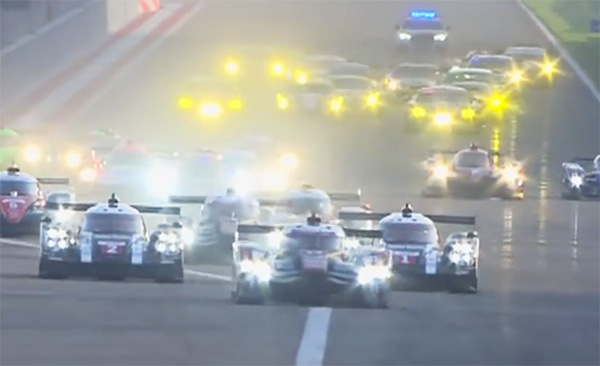 Despite the misfortune, the car went on to finish sixth and that was enough to grab Porsche a second consecutive Drivers' championship and bookend their manufacturers' title which they clinched in China two weeks ago.
"It has been a fantastic team effort," said Lieb of the driver's title.
"It has been up and down, but the reliability has been the key with the hard work in the garage."
The win was another milestone for Australian engineer Jeromy Moore, who helped Webber's team to the driver's championship last year and the #2 Porsche to a Le Mans 24-hour victory in June.
Moore, who learnt his craft through more 10 years with Triple Eight Race Engineering's V8 Supercar team in Brisbane, also played a valuable role in helping Porsche to their second consecutive Manufacturers' title.
The #6 Toyota of Mike Conway, Stephane Sarrazin and Kamui Kobayashi needed to win the race to give themselves a shot at the drivers' title, but they were never in the hunt and came in fifth.
Speedcafe interviews with Jeromy Moore:
RESULT: Bahrain 6 Hour
1
8
Run
P1
Audi Sport Team Joest
DI GRASSI Lucas
Audi R18
M
201
1:47.413
1:41.511
191.9
7
2
7
Run
P1
Audi Sport Team Joest
FÄSSLER Marcel
Audi R18
M
201
16.419
1:44.550
1:42.634
189.8
6
3
1
Run
P1
Porsche Team
WEBBER Mark
Porsche 919 Hybrid
M
201
1:17.001
1:45.120
1:42.401
190.3
6