Historic meeting at Baskerville, Tasmania
Story by Grahame Vaughan, photos Garry Saunderson.
Thursday the 29th of September was a cold and wet day as we headed south from Launceston to the Baskerville Raceway, about 30km north of Hobart, for practice prior to the Annual Historic Meeting.
The meeting was over four days starting that day. An incentive was free practice on Thursday with official practice on Friday morning followed by the more serious stuff on Saturday and Sunday.
Baskerville Raceway deserves a few words.
Started on an enthusiastic farmer's property in 1958, it has evolved into a terrific small track of a tad over 2km. Alan Jones is quoted as saying it's the best small track in oz and I can`t quarrel with that assessment.
Interestingly old fashioned, with good undulations and a sharp left hander on the crest add to a drive that brings the driver as opposed to horsepower into contention. Reminded me of the old Amaroo Park circuit.
A major feature of this event is the local support with crowds up to 5,000 coming to watch, as the track is effectively at the bottom of a small valley giving all watchers an uninterrupted view of the entire race activity.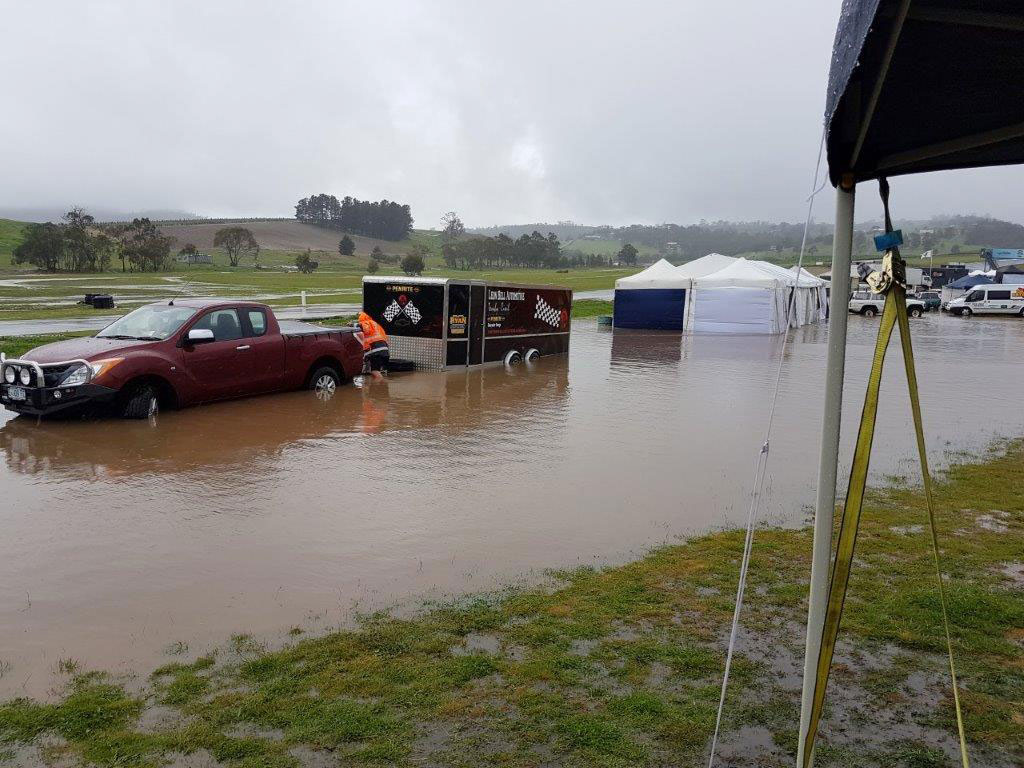 Frankly, I had trouble recalling the last time I had driven around a race track with the wipers flat chat; for that matter some years since last time on any track!
So, things went well enough on Thursday but overnight Anne and I were aware of heavy rain and drove through much water over the road to Friday's runs to find at least a foot of water right across the track leading to the day being cancelled – another first!
I confess a smug smile as I had driven the Elan to the meeting, as all the trailers and the trailer park were well under water, leading to a lot of bad words being heard by owners.
Apart from my Elan there were the Series 4 Sevens of Michael Byrne and the newly acquired similar car of Wayne Clark, though his is a dedicated racer as opposed to sports car of Michael's, so they didn't compete against each other. Chris Martin ran his Westfield Replica Eleven to round off the cars with both him and me in different Regularity events.
This Historic Meeting has the usual range of cars with many Group N and the newer classes also like Winton; motorbikes – quite a highlight in the wet.
Maybe good luck or just judgement but I had booked a marquee and brought a closed car so the weather was much less of a problem for myself.
Several Regularities were a shambles as drivers were lulled into nominating dry times only to run in a sudden downpour with nobody getting points. Well, it is for fun anyway.
The Sunday remained dry so the open cars were far happier. The mood and feel of the meeting is like Queensland with a mostly relaxed, friendly atmosphere and folk out to help not hinder.
The future. A well run meeting and the best news last. The locals have raised a fortune themselves and will resurface the full track starting at Christmas. So next year will be a ripper.
Feel free to call me should you need more info prior to coming. As many as a third of the 200 starters come over the ditch, most from Victoria, possibly one soul from Western Australia as I understand.
There are good digs only 15 minutes away and often a part subsidy of sorts for mainland cars.
Overall a pleasing 4 days, each different, and the Elan driven both ways and on the track went beautifully.
I would like to acknowledge the enthusiasm of "Saundo" to come to this meeting each year and his excellent photos.
Come and play!