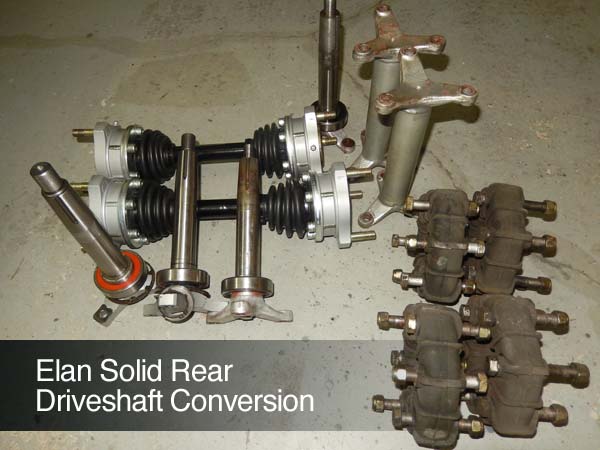 By Greg Bray
After 40 years of Elan ownership and being happy with the standard doughnut driveshafts, I began to think in the last year or two it would be nice not to have to worry about coupling failure. Not so much about the failure, because if you check for cracks often enough, you'll be OK, but it was about the pain of having to change them every seven years or so.
So I looked at all the different modern style C.V. joint shafts available, and ordered mine from Elantrikbits. They were about the most expensive, but with my Elan, as my good wife would say, 'money no object'.
Another possible failure point is the hub shafts, which can break between wheel flange and outer bearing therefore letting go of the wheel. So I bought two Tony Thompson Racing outer shafts which won't break. The most common failure used to be the early diff output shafts, but most have been replaced now. I fitted my Elan with Sprint ones with mount stiffening bracket many years ago.
Back to my new drive shafts, my Koni shock absorber stroke was now too long for the C.V. joints. So I dismantled them and machined up two spacers 1¼" long and put one each side to limit that stroke, so she's OK now.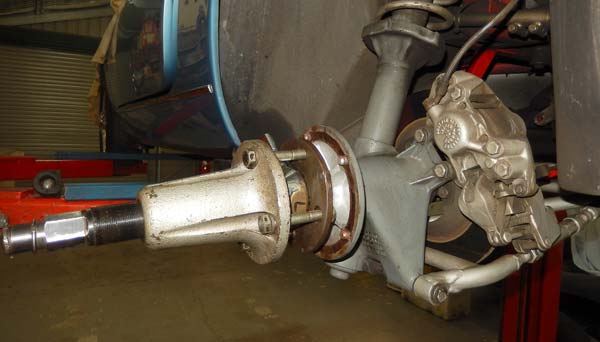 The top Lotocone mounts need to be changed whenever you have reason to remove the rear suspension legs.
Diff mounts are another thing that slowly collapse and lower the diff onto the chassis.
Also with new outer shafts or wheel drive flanges you must lap-in the flange to the shaft to ensure a good mounting fit.
This was just a little job I fitted in over Christmas for myself. It's early days yet, but I haven't felt any adverse effect of the rear loss of roll bar effect, but I don't actually drive the car the same as I did when I was only in my 20's.