Preparation, Packing and the Road Trips
An exposé into the trials and tribulations of those adventurous Queenslanders who braved the highways and motored to Beechworth. A test of endurance, preparedness and mechanical skill.
Concours d'Elegance
Story by Craig Wilson, photos by Gloria Wade and Shane Murphy.
In keeping with the whole of the weekend events, the Concours was organized with precision. As we all arrived, models were grouped and lines of cars straightened.
It is great to see so many owners, many of whom had driven from far and wide across the country, present their cars in Concours mode. It is a credit to everyone that they are not only using their Lotus as a great sports car, but are making a big effort in preservation of models, new or older.
All models were judged on cleanliness, general condition of areas like exterior, paint, interior, engine bay, boot, suspension and running gear. Originality was another section that with many Lotus, new or old is the big divide in scores. As Clive put it, as soon as the judges see a Honda engine it's down to 450 possible instead of 500 points. It is also a challenge with some of the older models to get the lost and hard to find parts.
So, Queensland scored well with John Barram taking out the class with his spotless and most original 7 and grand champion overall went to Andrew Bode with his immaculate New Europa. From a judge's point of view, it was great to see Andrews's car score so well amongst lots of newer cars and two other new Europas. The presentation and general condition was first class.
Congratulations to all the winners and we are now all looking forward to Lotus 2019 in Queensland.
Beechworth District Historical Tour
By Suzanne de Kleyn
After waking up to glorious weather I was excited to get going on our bus trip and do some exploring. I was very keen to find out more about the things that were a blur as we zipped past them in the Lotus.
First off, a local guide got on the bus and took us around various points of interest in the town of Beechworth and gave us the rich history of the places around us. For a first-time visitor, not particularly knowledgeable about the goldrush part of our history it was very informative. I had no idea that the Beechworth Historial Precinct in walking distance from our hotel included the courthouse where Ned Kelly was on trial before being sent to Melbourne, the lock up he was held in and also the most well preserved law library in Australia.
After dropping off our Beechworth tour guide, we were off again. Through charming Chiltern and lovely countryside to Rutherglen where we stopped for coffee at a coffee van in a park and collected our next Rutherglen tour guide. By this stage, we were hanging out for a caffeine fix and appreciated the opportunity to get out and stretch our legs in a nice spot. Gloria Wade was thankfully snapping photos madly.
Then we were off again! Next stop was the family owned and operated Jones Winery. Another nice spot with a small gallery on site also and the group was able to learn more about the history of the vineyard, participate in a tasting and make some purchases if they wanted to. Despite a text from the track asking me if I was "stocking up on booze", I refrained.
Then on the road again with more informative commentary by our local guide who took us to the water tower the town has made into a wine bottle to reflect all the wineries in the area and a State Gold Battery. The Battery was erected in 1908 to crush quartz recovered from quartz reefs in Rutherglen District to recover the gold. After watching a short video to show how it worked, we dropped tour guide no 2 off and then we headed to lunch.
By this stage, we were famished. Lunch was on the deck at the Pickled Sisters Cafe at the Cofield's Winery. OMG! It was a feast I don't think anyone was expecting. When we arrived, there was a selection of hot and cold canapés. This was followed by many main dishes for us to share at our table. Plates of steak, pork belly and salmon, bowls of various salads and roast potatoes, an assortment of pickles and relishes as well as baskets of fresh bread. Seconds and thirds were available for those who wanted it and could fit it in, but I was stuffed. I did give a few seconds thought to what Marto was eating at the track and surmised it was probably a pie. Oh well.?
Then after a lovely day, it was back on the bus so we could sink into a food coma and nap on the way back to Beechworth.
Navigator's Take on the Lotus 2017 Touring Event
By Sandy Smith
From the outset, Tony and I were looking forward to participating in the Touring Event (Rally) having recently organised a club rally to Binna Burra, we were keen to see how it was usually done.
Armed with the carefully prepared instructions included in the Lotus 2017 book issued on registration we set off. It was a casual arrangement with people leaving or not at their leisure. As we left Beechworth and headed back the way we came the night before from the Albury airport. I was feeling a little apprehensive when an orange Elise pulled over and started following us! – the Blind leading the Blind if you ask me.
The instructions provided were followed meticulously with warnings provided before each turn with regular reminders as needed re the speed limit. We left the orange Elise behind in the first little town Yackandandah and a couple of Lotus drivers passed us on the way up as we followed the winding road which gradually climbed through the green pastures of the highlands on the way to Mt Bright.
We stopped at the General Store come post office, community library for some refreshments heartened to see many Lotus drivers there already, most of whom must have taken a different route or left a lot earlier than we did. Lotus cars went in all directions after this. Some headed up to Mt Bright, others were off to Bright or Melbourne and a few of us followed the designated route down through Stanley.
Coming into Stanley the picturesque Autumn colours were well worth the drive.
The second leg of the journey through State Reserve and along the Great Alpine Road were highlights. I found the instructions easy enough to follow and we managed to complete the course without getting lost, having an argument or a speeding ticket!
LOTD at Winton Raceway
By Martin O'Brien
The day started much like any other… well technically yes, as far as days go, but I was far more excited than most mornings. It was track day! Lotus 2017 Lotus Only Track Day (LOTD) no less! Blessed by fine weather, not only was it at a new track, which I love, but also a track day run by the team at SSC and Race Solutions – always a safe bet for an awesome event.
The car was prepped as much as it could be after driving down from Brisbane in "Granny Spec", as the young folk like to call it – meaning standard geometry set up for the road. I did decide to whip out a couple of front camber shims each side the night before just to help reduce understeer a tad. No excuses. Run what you brung as they say.
With the usually, but not unnoticed, efficiency of the organisers the formalities were over in a flash, leaving plenty of time to indulge in a coffee or snack prior to qualifying. I mean have a natter to and catch up with old acquaintances.
Sessions are seen off in quick succession but not so hurried that there isn't plenty of time for some off-track banter. The number of times the question "how was that?" posed, only to be answered "#%$&ing awesome!" was paled in count only by the smiles on dials, as it were.
Now folks, I readily confess to being a bit of a muppet when it comes to all this race stuff. It is of no consequence here at a LOTD. Everyone is nothing but enthusiastic and supportive of you joining in on the fun. Gentlemanly (term used loosely) advice, assistance and courtesy abound.
I enjoyed driving the Winton track too. It is tricky in parts, which is where I enjoy the challenge, but also has a few long straights to regain one's faculties and take a breather. These were where I felt like I was in an episode of Star Trek, just when everyone else hit warp speed and you were stuck with Impulse drive. C'mon Scotty – surely, she canna take any more!
Qualifying, practice and races 1 and 2 all flew by in the blink of an eye. To most anyway – I came in a little later. Okay let's call it as we see it – last! If I was ever to win the reverse grid handicap race format, here was my chance – race 3. The handicap, being calculated on previous race times, would stand me in advantage as I should theoretically get faster as the
day progressed, whereas the Winton regulars would be running consistent times out of the gate. Sandbagging aside.
In the excitement, I don't quite remember all the handicaps except that the driver directly behind was Leigh at 22 seconds (not enough head start I thought), and the last out of the gate was Mark O'Conner at 88 seconds (nowhere near enough head start), with the rest of the field dispersed fairly equally within that range.
Racing! I got away clean and within a lap or two settled into the same view I had seen all day. Empty track. Only this time I wanted to keep it that way and keep my mirrors clear of traffic too. Lap after lap I was keeping it on the black stuff and trying to not do anything silly, or spectacular for that matter.
Not sure what lap we were on out of the allocated 9 laps when there he was, a small white dot in the distance. That bloody Mark O. I knew it wouldn't be long before he was large, if not fleeting, image in all my mirrors. How bloody wide is that car?
Okay time to dump the sandbags!
Wait… I didn't load any. Damn it! I will just have to pray to the podium gods to watch over me. I kept telling myself to just be consistent, don't panic, and remember what Mark O told you. Hang on, he is the one rapidly approaching on you now, don't listen to him. Ha-ha. Unbeknownst to me it was the last lap, and as we came to the esses I held slim hopes. Wait, what is that? The chequered flag. No surely not.
All the above aside folks, it was a great day at the track. Thanks Mark O, Mark A, Dave, Damo and Leigh (in no particular order) for your patience and a great day. Thanks to all those smiling faces. The Queensland contingent, having driven well all around, now driving (or trailering) home the same way they arrived. Always a success. To the many of us never having been to Winton before and setting PBs. Ha.
I, like many others, enjoy the off-track banter and watching the rest of the Lotus brethren pace the track just as much as being on it myself. It's what makes this little community great. Shane, becoming addicted to the track and racking up the silverware.
If, as I believe life is measured by fond memories, I have just had more than my measure. I can't thank the Lotus 2017 and LOTD organisers and many, many participants from all corners of our great land enough.
Until Lotus 2019 or the next LOTD, just drive.
Breakfast at Ruffy's Produce Store
By Simon Messenger. Photos by Cheetah Suchayanon, Jeanne & Peter Murray and Gloria Wade
The weather Gods looked kindly upon us on this day, unlike on the Friday and Tuesday at either end of the wonderful Lotus 2017 biennial the previous weekend (big thanks to the Committee).
Your scribe was lucky enough to be offered a ride in Peter McConnell's Europa S in exchange for my first time EMR navigation duties, which was made easy by "the best instructions we have ever had", or so said Lee Suryn at our destination in Ruffy (more on that later).
Some new members joined us for the first time at Eltham, one of the two meeting points. So, a big welcome goes out to Shane and Sue Bowden (BRG and Lotus Yellow stripe/wheels Caterham 7) and Nigel and Denise Robertson (Pearl White 1984 Lotus Excel).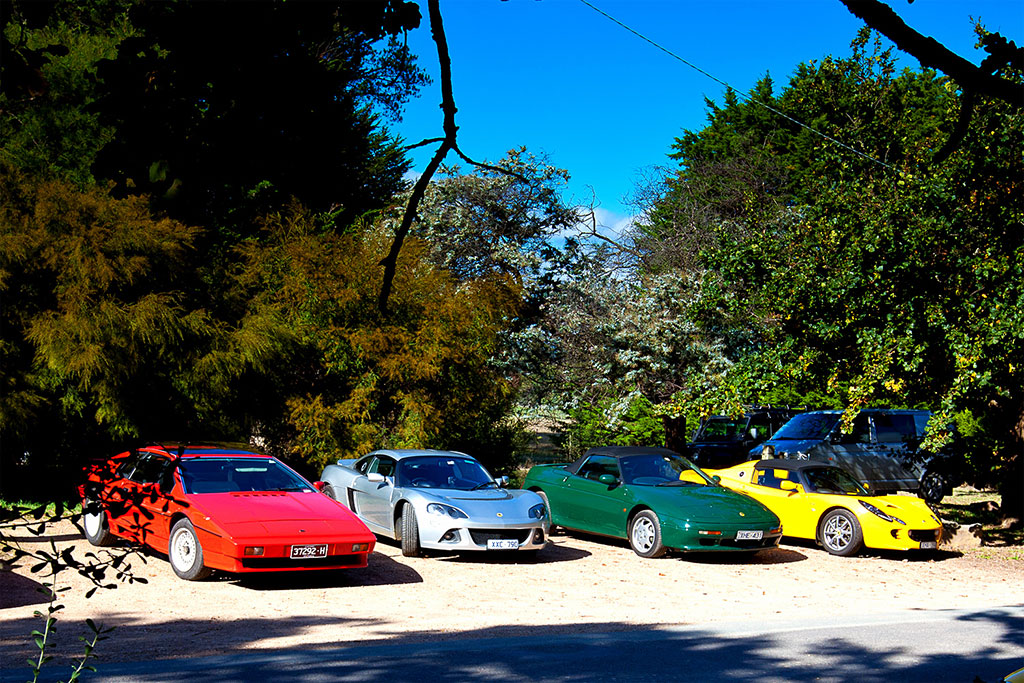 We set out very close to our target departure time of 8.30am and headed north through Eltham with the leafy green Edendale Community Environment Farm on our right, and then onwards and northwards through Diamond Creek (looks like a good place for a tree change), along Ironbark Road and then up to the edge of Yan Yean Reservoir, although its crystal clear waters were not glimpsed by yours truly on account of one's diligent attention to the "the best instructions we have ever had" and to the whistle of the turbo of the modern Europa.
At Whittlesea we almost convinced ourselves that we had taken a wrong turn, but a not so quick re-programming of the Tom Tom for a destination of Flowerdale proved that we were indeed on the same route as about 500 mad keen cyclists pedaling uphill on the long and winding road to nowhere. The left turn to the road to Broadford and Strath Creek was a welcome relief to dodging the two abreast lycra-clad ex-golfers. But why were the yellow and green Elan M100's of Peter and Sandra Hill and John Harrison heading in the opposite direction? Was there a blocked road, or a problem with the "the best instructions we have ever had"? Surely not. So we pressed on and the colourfully named King Parrot Creek Road soon led us to the Goulburn Valley Highway whereupon a right turn saw us head south east towards Yea, until a sharp left turn onto the unclassified Ghin Ghin Road for the final 48km.
Now the fun started in earnest, as the latter road, and then the Highlands Road, have a 100km/h limit for much of the way with little or few safety barriers and directional arrows to guide the spirited Euro fighter pilot in the right direction. The familiar yellow of Peter Murray's Elite came into view on Highlands Road, so we followed the man who knows the way blindfolded to the Ruffy Produce Store.
Upon arrival, most of the crew who started at the alternative start at Bayswater had already arrived and our Europa was parked in between the red Esprit of Marcus Sezonov and the green M100 of Ian Simmons and Sonia Goubran. The wayward M100 of Peter Hill arrived shortly after, but where was John Harrison? He had stopped along the way, but still arrived in plenty of time for coffee and brunch.
The store/café was already entertaining a small number of non-Lotus club members who probably wondered what was going on but soon engaged with our group. We sat down to await our pre-arranged bacon and eggs brunch with hot drink. Talk on table 7 soon turned to the "the best instructions we have ever had" and a compliment was duly paid by Lee Suryn to the author Peter Murray. It was also good to finally meet our youngest EMR participant, Henry Simonis, who had been enjoying the ride in the back of his parents' black Evora S.
Unfortunately, as we were leaving the café for the drive home, an observant non-member alerted us to the fact that Peter Hill had sustained a puncture to his offside rear tyre. He was duly advised of the situation, which thankfully was easily remedied by deployment of the on-board skinny spare.
Then to my grateful surprise, Peter McConnell graciously offered me my first drive in a Europa! Having started the car and psyched myself up for it, we headed home, with me at the helm, after a very enjoyable EMR. However, the 60km limit through extensive roadworks on the road to Yea put the kybosh on any hijinx on the highway.
Editors' Postscript:
As Clive Wade had left his Elise in Wangaratta after Lotus 2017 he joined Peter Murray in the Elite. In days of yore Clive used to gently chide Jeanne Murray for her regular use of her Lotus hot water bottle to keep warm during winter runs. Jeanne decided to stir the possum with Clive by presenting him with said water bottle as he was about to get into the Elite.
Presentation Dinner