By Vyvyan Black
While scanning an old edition of 'Lotus World' LCV Member, Guy Stevens, came across a write up of Lotus 1983 in Queensland. Check out the article (full text below), written by Anne Blackwood, who is still connected with Lotus Club Australia. The magazine layouts back then were pretty haphazard and the article was broken up over three different pages.
Meanwhile, this year's event, Lotus 2019 also in Queensland, will mark the 36th anniversary. Make sure you get along, it should be as much fun as the 1983 version!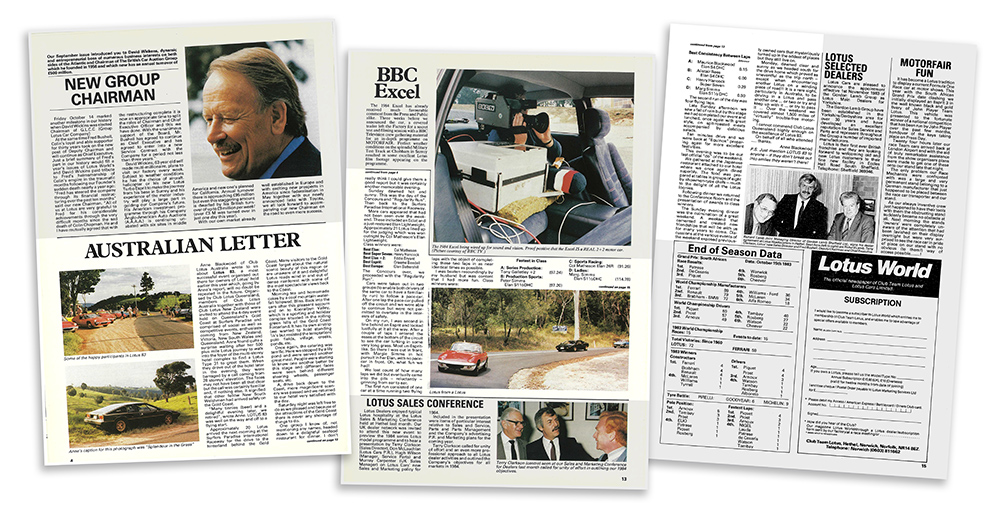 Lotus 83 – "Australian Letter"

Anne Blackwood of Club Lotus Australia wrote to us about Lotus 83, a most successful event organised out there for owners of Lotus' (sic) held earlier this year which, going by Anne's report, will no doubt be repeated in the future.

Organised by Club Lotus Queensland, members of Club Lotus Australia together with those of Club Lotus New Zealand were invited to attend the 4-day event held on Queensland's Gold Coast at Surfers Paradise and comprised of social as well as competitive events, enthusiasts coming from New Zealand, Victoria, New South Wales and Queensland.

Anne found quite a surprise waiting after her 500 plus mile Lotus journey to walk into the foyer of the multi-storey hotel complex to find a Lotus Type 31 to greet them. When they drove out of the hotel later in the evening, they were barraged by a call coming from 28 storey's elevation. The faces may not have been all that clear but the call was certainly familiar and, if nothing else, it signified that other fellow New South Welshmen had arrived safely on the Gold Coast.

"Many tinnies (beer) and a delightful evening later, we retired", wrote Anne. LOTUS 83 was well on the way and off to a flying start.

Approximately 20 Lotus arrived the next morning at the Surfers Paradise International Raceway for the drive to the hinterland behind the Gold Coast. Many visitors to the Gold Coast forget about the natural scenic beauty of this region or are unaware of it and delightful roads wind in and out of dense rainforest with some of the most spectacular views back to the Coast.

Morning tea and homemade cakes by a cool mountain waterfall followed. Bliss. Back into the cars after this pleasant sojourn and on to Kooralbyn Valley, which is a sporting and holiday complex situated in the rolling green hills of the Gold Coast hinterland. It has its own airstrip (we wanted to hold standing 1/4's but resisted the temptation) polo fields, village, creeks, ponds, etc.

Once again, the catering was terrific. Here we stopped by a lily pond and were served another great meal. People were starting to know one another better by this stage and different faces were seen behind different steering wheels, passenger seats, etc.

A drive back down to the Coast, more magnificent scenery was passed and we returned to our hotel very satisfied with the day.

Saturday night was left free to do as we pleased and because of the attractions of the Gold Coast there is never any shortage of things to do.

One group I know of, not mentioning any names, headed down to a delightful seafood restaurant for dinner. I don't really think I could give them a good report but it was certainly another memorable evening.

Sunday dawned hot and sunny. This was the day of the Concours and "Regularity Run". Then back to the Surfers Paradise International raceway.

More cars appeared that had not been seen over the weekend. These included an Eclat and a just-restored Elan Lightweight. Approximately 21 Lotus lined up for the judging which was won outright by Col Matheson's Elan Lightweight.

| | |
| --- | --- |
| Best Elan: | Col Matheson |
| Best Super Seven: | Henry Hancock |
| Best Elan +2: | Eddie Bryant |
| Best Esprit: | Graeme Beedell |
| Best Europa: | Glen Battershill |

The Concours over, we proceeded with the "Regularity Run".

Cars were taken out in two groups (to enable both drivers of the same car to have a familiarity run) to follow a pace-car. After one lap the pace-car pulled off the circuit and we were able to continue but were not permitted to overtake in the interests of safety.

On my run, I was second in line behind an Esprit and looked lustfully at it all the way. After a couple of laps I entered the esses at the bottom of the circuit to see the car lurking in some very long grass. Most un-Esprit-like. So there I was out in front, with Margie Simms in hot pursuit in her Elan, with no pace-car in front. Oh, what fun we had!

We lost count of how many laps we did but eventually came into the pits – reluctantly – grinning from ear to ear.

The first run consisted of one car at a time running two flying laps with the object of completing these two laps in as near identical times as possible.

I was beaten resoundingly by my husband but was content that I had more fun.

| | | | |
| --- | --- | --- | --- |
| Class | Driver | Vehicle | Time |
| A: Series Production | Tony Galletly | Elan +2 | 97.24 |
| B: Production Sports | Peter Simms | Elan S1 1/2 DHC | 97.20 |
| C: Sports Racing | Col Matheson | Elan 26R | 91.26 |
| D: Ladies | Marg. Simms | S1 1/2 DHC | 114.78 |
| Class | Driver | Vehicle | Time |
| A: Series Production | Maurice Blackwood | Elan S4 DHC | 0.15 |
| B: Production Sports | Alistair Rees | Elan S4 DHC | 0.00 |
| C: Sports Racing | Henry Hancock | Super Seven | 0.29 |
| D: Ladies | Marg Simms | Elan S1 1/2 DHC | 0.90 |

The second run of the day was four flying laps.

Late Sunday afternoon we saw a fall of rain but by this stage we had completed our event and lunched, once again with great style, on spit-roasted meats accompanied by delicious salads.

Ten minutes drive and we were back at "Equinox" preparing again for more excellent festivities.

This evening was to be our last official "do" of the weekend.

We gathered at the Japanese restaurant attached to our hotel where we once again dined superbly. The food was prepared at tables in groups of eight by showmen-type chefs – much to the delight of all the Lotus loonies.

Following dinner we returned to the Conference Room and the presentation of awards to class winners.

The Sunday evening dinner was the culmination of a great weekend. A weekend that cemented and created new friendships that will be with us for many years to come. Discussions at the various events of the weekend exposed previously owned cars that mysteriously turned up in the oddest of places but they still live on.

Monday dawned clear and sunny as we headed south for the drive home which proved as uneventful as the trip north – except when encountering another Lotus on a winding piece of road! It is a rare sight, particularly in Australia, to be driving in a Lotus and pass another one … or try to pass it … Over the weekend we covered almost 1,500 miles of "virtually" trouble-free motoring.

I cannot commend Club Lotus Queensland highly enough on the excellence of Lotus 83.

On behalf of all who attended… thanks.
Anne Blackwood

P.S. Just mention LOTUS 83 to anyone – if they don't break out into smiles they weren't there!