By Alan Conway.
In November, 2016 we sold our Gemini Mk3a Formula Junior to a gentleman from England. Over the following months we became good friends over the internet with regular emails and photo exchanges as he went through a total professional restoration process.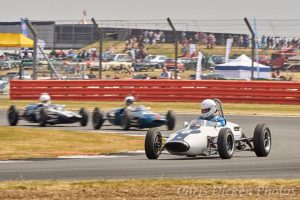 Early in 2018, I wrote to him reminding him that the finale of the Formula Junior 60th Anniversary World Tour was to take place at the Silverstone Classic on 22 July, 2018 and that the Gemini had it's first ever recorded race at Silverstone on 29 April, 1961.
The response was that his niece was getting married on that July weekend and "divorce has been mentioned, if I do not attend the wedding!" I replied with all the correct commiserations but added the following at the end of the email: "PS: My driving capabilities are available!".
His response was almost instantaneous, "Alan, that could be arranged!"
And so it was that on Thursday 19 July I found myself at Silverstone preparing for 'free' practice that cost GBP100. It was to be two twenty minute sessions. In preparation for this I had printed off a map of the circuit and studied it numerous times, plus I had been using my grandson's X-Box simulator in an attempt to learn the layout. Sadly it was an old version and only covered what is now called "The National Circuit" – a very small part of the total six kilometres. When I drove out of pit lane it was all foreign to me. An incredibly difficult circuit to learn – it is just about completely flat, with grandstands on both sides of the track almost the entire length. There are no discerning features anywhere to tell you where you are.
In the morning session I think I did five laps at about half pace, just feeling my way. The car felt wonderful – brand new. In the afternoon session, I pushed a little harder (ran off the track twice!) but on the last lap there was an engine miss. I reported this to the mechanic who was present to care for the car and the owner's interests. The rest of Thursday afternoon and evening were spent checking anything that could cause a miss – mostly electrical, but also fuel float levels, etc. The car received a thorough going over, but nothing was found.
Now on this particular weekend England was in the midst of it's recent heatwave. On the Monday I flew out of Birmingham they recorded the highest temperature ever recorded in London, – 39.2 degrees.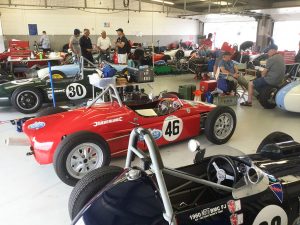 On Friday we had a midday qualifying session and it was hot. This time I went out of pit lane knowing where the first two turns went and what the lines were, but after that I was lost. I completed three laps at a reasonable pace, didn't run off or wide anywhere and was now feeling comfortable in the car – time for a qualifying lap. The car initially responded well, but suddenly when I accelerated out of one corner the car just died. Now there are fifty-four cars on track, some of whom are very competitive and I have a car that will not respond to the accelerator. Pump it a bit, down some gears – ah well, that is the end of this session, and suddenly it sprang to life as if nothing ever happened. I completed one more lap with this continuing regularly and then for safety sake decided the pits were the best place to be. I was worried that someone would follow me into a corner and when I should be accelerating out, the car would die and they would run into my rear. In the laps I had completed, I did qualify and was placed third last on the grid of fifty-four cars. The mechanic repeated the Thursday afternoon and evening's checking process to no avail.
Our one race on Saturday was again at midday and again it was hot. They were using rolling starts, something new to England, and a lot of the Formula Junior drivers were nervous about it. Next to me at the back of the grid was a nineteen year old lad who normally drove Formula Ford and had been to Silverstone many times. I swear that he passed five cars before I even knew the race had started. I think he finished eleventh from fifty-two on the grid! I completed three laps, even managing to pass a couple of cars before the miss returned. This time I recognised what was causing the problem – fuel vaporisation! I had the problem in the Lotus Seven when driving in a hot Brisbane January. Back to pit lane and report to the mechanic who seemed reluctant to accept my diagnosis and again started to go through the same checking process from Thursday and Friday.
Now at this stage, I need to tell you of some changes that have been made to the Gemini in the restoration process. Firstly, the lower panels at the rear of the car have been reinstated. The car has run most of it's life in Australia without these panels. Secondly the floor pan has been extended beyond the firewall to the front of the sump. In my opinion there is now very little or no air circulation in the engine compartment. The exhaust manifold has not had any treatment to alleviate heat build up.
After not finding anything in his checking process, the mechanic conceded that maybe heat was a problem and made a small aluminium tray (just large enough to fit under the Webers) to the bottom of which he applied asbestos tape. This was then wired into place between the exhaust manifold and the Webers.
The Sunday race was late morning and again it was hot. They do not use progressive grids and again I had the nineteen year old alongside me, but this time when he accelerated, I accelerated and yes we did pass a number of cars in the first one hundred metres – tactics! Again after three or four laps the car started to give problems and I decided it was safer in the pits.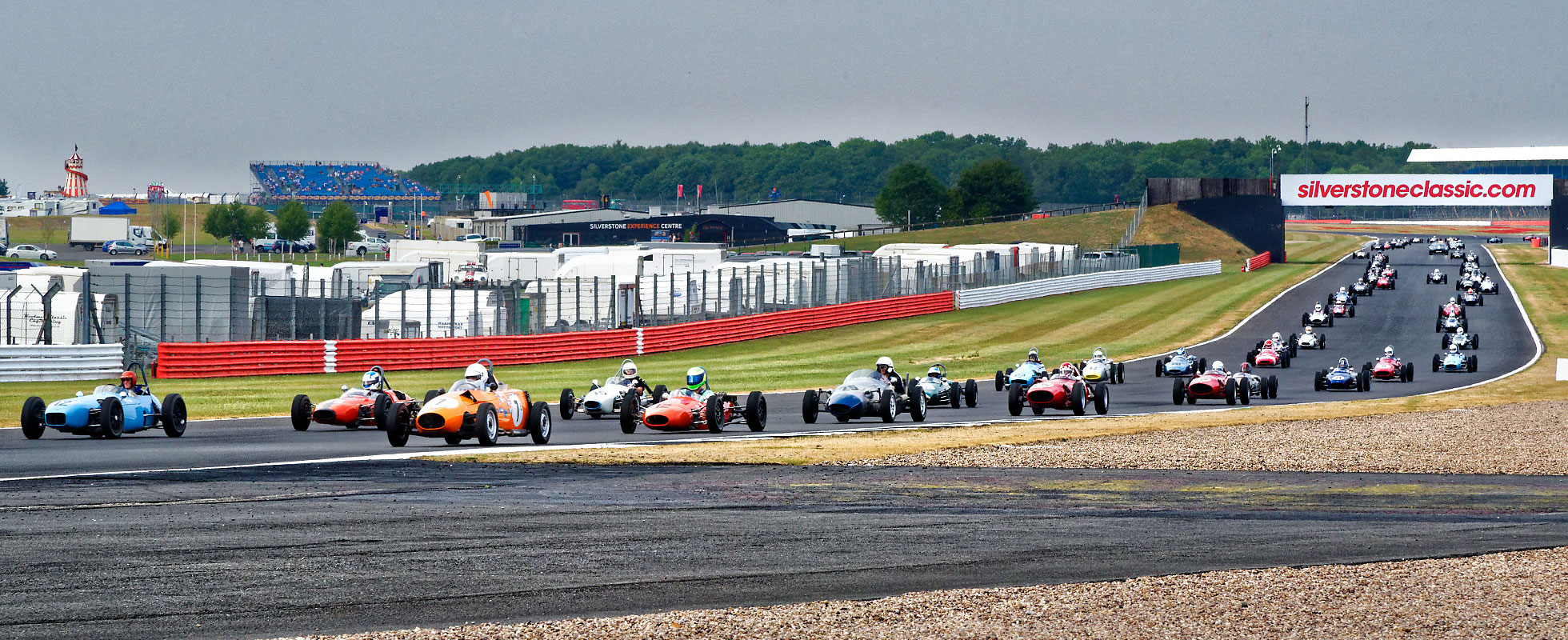 I will go on and tell you of some of my other observations of the Silverstone Classic. In the promotional material I received before the event, their positioning statement was "The largest historic motor sporting event in the world" and I believe them. There were about 25 to 30 1980s F1 cars and numerous 'big banger' sports cars of various makes. None of these cars were treated gently. All were driven as if the world championship depended on that race. On the Saturday, someone told me the attendance figure was 90,000 people. I believe the F1 at Silverstone attracts 150,000 people, so it was only about half full! There seemed to be total chaos. There were children wanting driver's autographs, every time you went near a car there were six photographers (both amateur and professional) trying to get different angles of you and the car, it was difficult to walk anywhere. Another positioning line was "Rocking and Racing" and so on the Saturday night there was a full blown rock concert with UB40 as the headline act. All the fun of the fair was also there – Ferris wheels, dodgem cars, etc.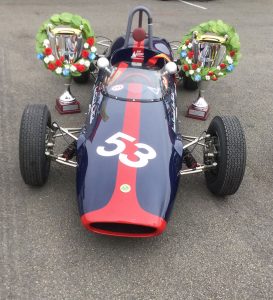 My 'big time' moment – On Friday after qualifying, I decided to go for a walk and see what else was to be seen. I walked around for a couple of hours up to the International Pit Lane, through the fair grounds and various shops and stalls. On returning to our pits, I showed my phone to John Rowe (from Perth) and commented that it showed I had walked 7.7 km. His advice was don't do that, just go over there to the merchandise shop, show them your Driver's wrist band and they will summon a limousine to take you wherever you want to go. On Saturday I couldn't resist the temptation and had to try this out. I went to the merchandise shop, showed my Drivers wrist band and they summoned a limousine (a brand new Tesla). The driver drove me to the International Pit Lane, and asked how long I would be. I responded "About two hours."
"I will meet you here in two hours, sir" and he did!
Despite the car problems, it was a most enjoyable experience and I would do it again tomorrow.