Something Colin Chapman would recognise – and appreciate.
Handling: ★★★★★ Performance: ★★★★☆ Usability: ★★☆☆☆ Feelgood Factor: ★★★★★
By Ben Whitworth – Contributing CAR Magazine UK editor.
In 2017, the venerable Caterham – née Lotus – Seven will turn 60. Always keen to exploit a marketing opportunity, Caterham is marking the anniversary with this, the Seven Sprint. Chiming in with the anniversary, only 60 will be made.
Caterham has successfully recaptured the mood of the Swinging Sixties with the Sprint. The front wings, grey powder-coated chassis, chromed wheelcaps and bubbled rear lamps, wrapped up in a choice of yesteryear hues all sit comfortably together without the slightest whiff of retro cheesiness.
Ditto the cabin. Flip back the cream-trimmed vinyl roof and the delightfully thin Moto-Lita wooden steering wheel, red Muirhead leather dash and seats and chrome braceleted Smiths dials complete with coloured bands, all convincingly transport you back to those good old bad old days.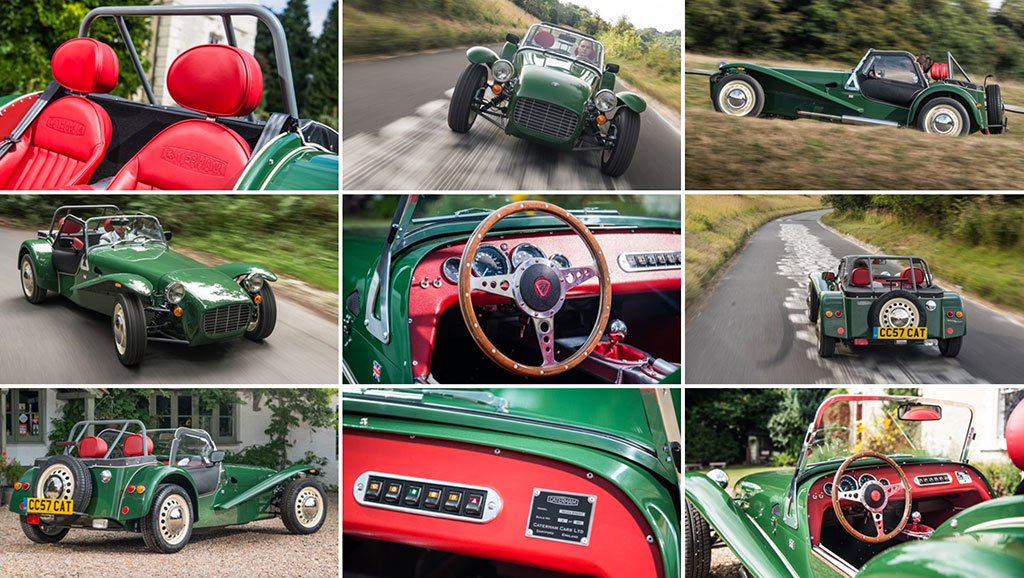 Does it come with a crank arm for hand starts?
Oh, you're a card. No, don't be fooled by the Sprint's yesteryear camouflage – that heritage styling, chrome-and-leather detailing and bespoke paintwork is underpinned by Caterham's nifty 160. So, no asthmatic 40bhp 1.2-litre Ford lump under that louvred bonnet, but rather a dinky turbocharged 660cc triple from Suzuki, a five-speed manual gearbox, wishbones up front and a live rear axle.
We're very familiar with the 160 – we ran one a while back as a long-termer for a year – and dropping down into the Sprint's plump seat and firing the thrummy three-pot into life brought back a flood of warm memories.
A 660cc engine? Surely it would be quicker to jog?
Suzuki's K6A may only develop a modest 80bhp at 7000rpm and 79lb ft at 3400rpm but with just 490kg to push around, performance within its 100mph envelope is brisk and perky enough to instantly plaster a grin across your face.
The engine's eagerness and mid-range zing is complemented by the snickety gearbox – you measure the throw of the chrome-topped gear lever in millimetres – while the wooden rim of the large-diameter wheel overloads your palms with front-wheel chatter.
What's it like to drive then?
Despite those spacesaver-thin 155/65 R14 Avons, grip and traction levels are excellent. You can slingshot the Sprint through a string of bends at speeds and angles completely at odds with the diminutive deeply-treaded rubber at each corner. Like the 160, the Sprint encourages you to wring it all the time everywhere, and rewards you with an intensely visceral and engaging driving experience.
Despite that live rear axle and firm suspension set-up, the Sprint rides with an impressive compliancy – it's only over really intrusive and abrupt bumps and lumps that the chassis bucks and moves about. Distilled automotive joy? We wouldn't disagree.
Verdict
So, the Sprint is a great car to look at, and an even better one to drive – but you pay for the privilege. Even when viewed through the prism of the Sprint's limited-edition collectability, nigh on £28k is a big chunk of money for a second car/toy/indulgence.
That hasn't stopped all sixty models being snapped up, though, and there's a waiting list for cancelled orders. But the news is not all bad if the Sprint features large on your radar – a ready-to-drive Caterham-built 160 is around £8500 cheaper than a Sprint. Using your imagination could save you a lot of money.
Specs
| | |
| --- | --- |
| Price when new: | £27,995 |
| On sale in the UK: | Sold out |
| Engine: | 660cc 16v turbocharged 4-cyl petrol, 80bhp @ 7000rpm, 79lb ft @ 3400rpm |
| Transmission: | Five-speed manual, rear-wheel drive |
| Performance: | 6.5sec 0-62mph, 100mph, 57.6 mpg, 114g/km CO2 |
| Weight / material: | 490kg/steel |
| Dimensions (mm): | 3100 length, 1575 width, 1140 height |