Interclub Club Challenge Presentation Day at Cars & Coffee
By Martin O'Brien. Photos by Gloria Wade.
A year of hot, yet friendly, rivalry between individuals and clubs alike culminated in an equality hot and steamy morning for the trophy presentation round of the ICC. This morning would find us dripping, not with beads of sweat from race day nerves/enthusiasm but with accolades, trophies and few tall stories of the one that got away. Thanks to the Z Club for organising the morning's proceedings.
The presentation was made in front of the Samios Foods store, home to Cars & Coffee Brisbane.
With a great mix of interesting cars, bikes and trucks for all tastes, this particular day saw in excess of 300 vehicles from 2 to 10 wheels. What fantastic attendance by the Brisbane enthusiast community.
To modestly say the club fared well would be to do somewhat of an injustice not only to the competitors who participated in the myriad of events but also to those behind the scenes organising and supporting the Club. So, in a not so modest tone, we thrashed them! As a result, my friends, for both Outright and Road Registered classes LCQ are the champions of 2016 for the second year running.
Final Club rankings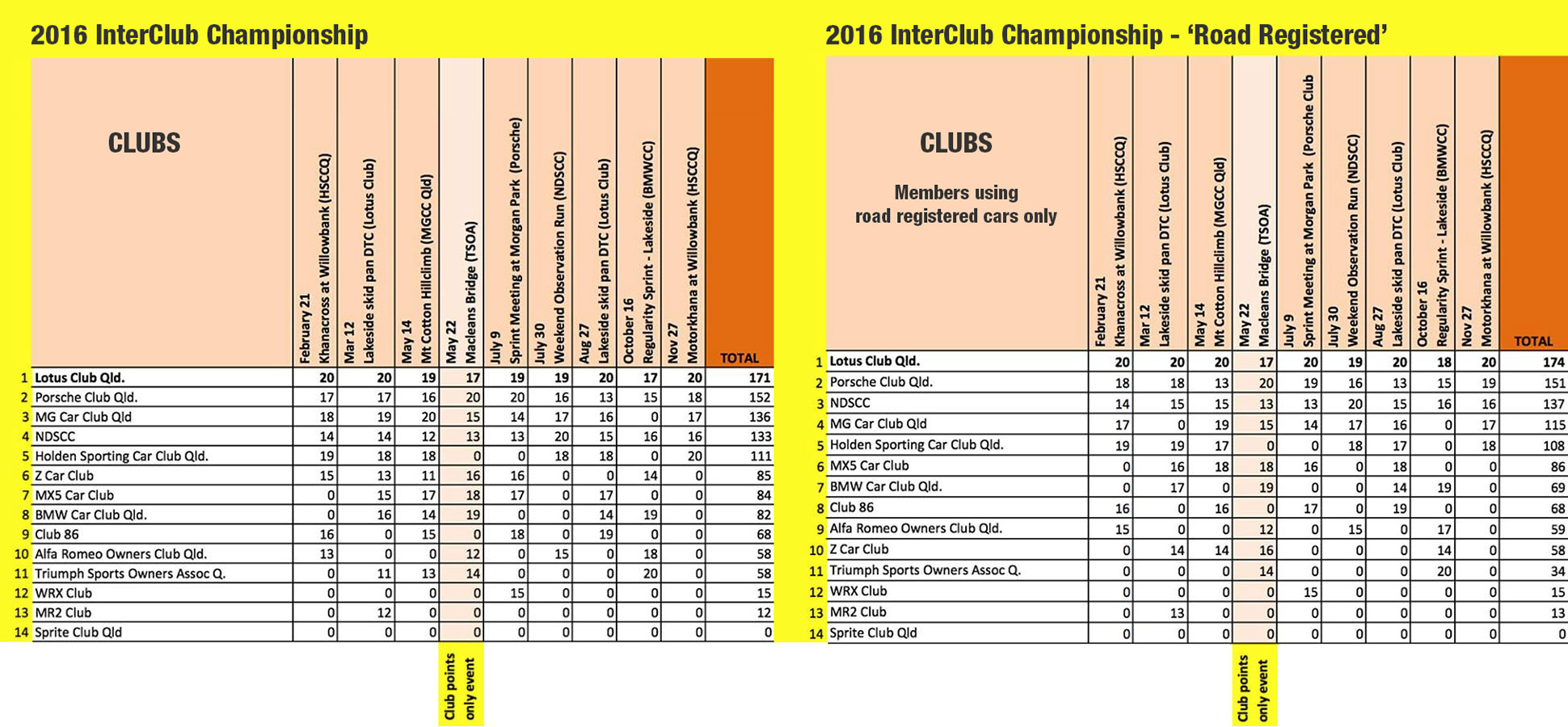 There were individual Overall trophy winners too:
Outright
PLACE
NAME
CLUB
1st
Phil Hart
Lotus
2nd
Liam Philp
Lotus
3rd
Martin O'Brien
Lotus
Road Registered
Phil Hart
Lotus
Liam Philp
Lotus
Martin O'Brien
Lotus
Pre-1986 Cars
Equal 1st
Peter Stringfellow
NDSCC
Equal 1st
Shane Murphy
Lotus
3rd
Kent Krieseker
Porsche
As well as for individual single event trophies:
Sprint Trophy
1st
Geoff Noble
Lotus
2nd
Karl Johnson
Porsche
3rd
Kevin Johnson
Porsche
If you have been reading the ICC articles in the club mag throughout the year – as you should – then you will be familiar with the club and individual performances throughout the year, so I wont repeat them here. Special mention should be made Ken Philp, Shane Murphy and Liam Philp for their dedication and effort to represent the club in each and every round and to Ken Philp and as the LCQ ICC committee members, also to Daryl Wilson for organising the DTCs which made up 2 rounds of the ICC.
In the end the ICC is a great completion to support a number of clubs and their events and it really is a matter of 'you got to be in it to win it' which is what it is all about. A well-sorted car with a consistent driver cannot help but to begin to march up the rankings.
For those unfamiliar with the ICC, the simplest way to find out more is to join the fun for 2017 and let's keep that winning streak going for 2017.