Grand Tour – Friday 17 June to Monday 20 June 2022.
GT22 President's view – by Steve Lennox
The Grand Tours are more than just a drive through the country, they are a great motoring and social event for our club and importantly we as a group are helping our "Country Cousins" with our tourism dollars, plus we always choose a very local charity and raise funds to assist the local communities to help themselves with their charity programs and projects.
This year the GT22 was no different, we spent our money with local businesses, and we supported the local Charity Glenn Innes Family Youth Support Services. Elena one of the support officers shared with us the work they do to encourage young underprivileged and indigenous children to participate in their projects which are targeted at families and youths providing support by early intervention and prevention services.
This year with the generous support of Automotion, who provided a service as a raffle prize, plus my arm-twisting collection techniques, we managed to raise $2,075.00. We met Elena on Sunday morning to present her with the money raised. She was very gracious and happy for our support, so once again what a great group we have at LCQ and thank you for your support.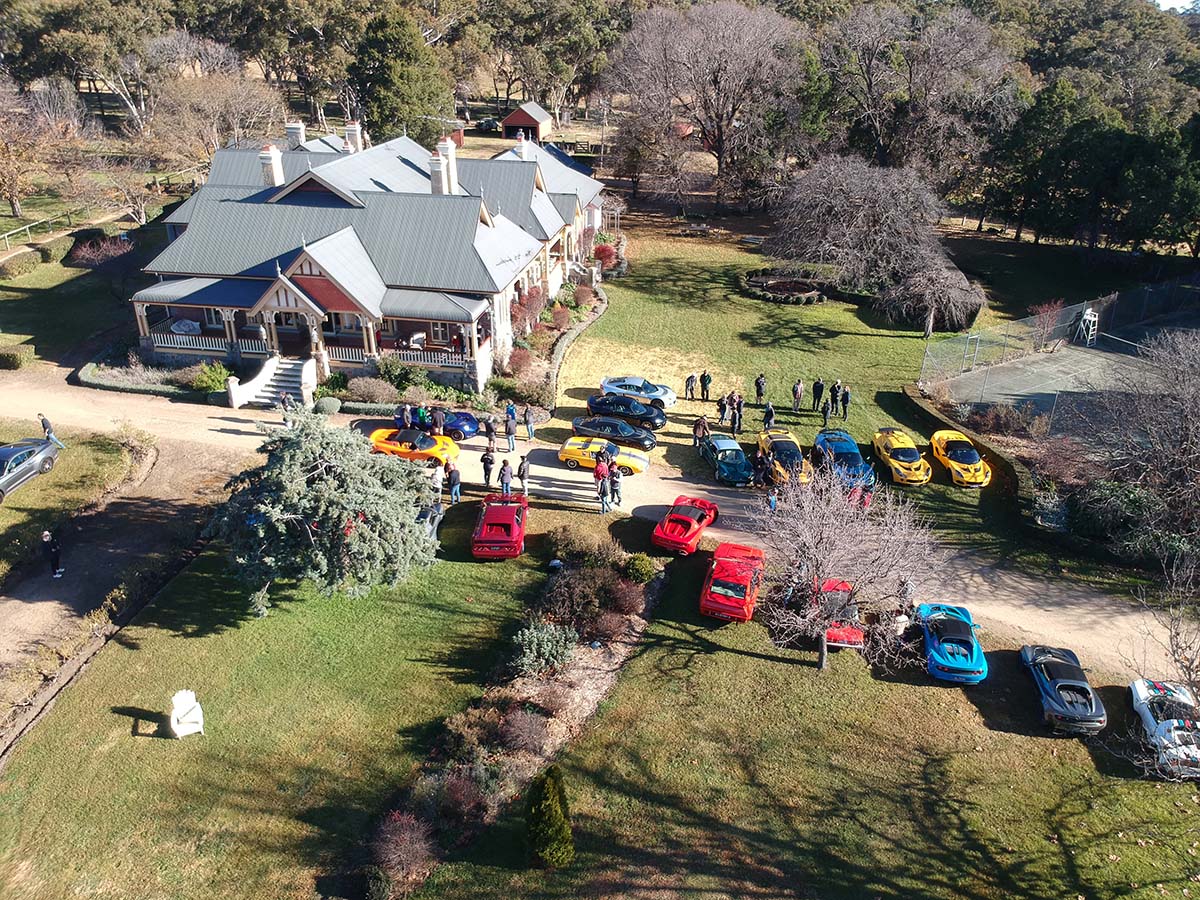 Another excellent Lotus Club Queensland Grand Tour is done and dusted, with 65 enthusiastic Lotus members attending – By Daryl & Moira Wilson.
As our Caterham is not ideal for a 4-day country drive we opted to take our Jaguar E-Pace daily driver. It is red and you know what they say about red cars!
Special thanks to Ken and Margaret Philp for the mountain of work they did to plan the route on Lotus friendly roads. Identify and negotiate the motels and Waterloo Station accommodation and the great meals along the way.
Also, thanks to El Presidente Steve Lennox for his supporting Ken and especially his skill in extracting money from everyone. Through Steve's efforts he raised $2075.00 in fines and raffle proceeds, that we donated to the Glen Innes Family Support Services. A great effort Steve and thanks to everyone for their support.
This year was a stark contrast to previous Grand Tours when we drove through areas in the grip of severe drought.
The landscape this year was green and lush and well stocked with cattle and sheep. Hopefully it will be a bumper year for farmers and their good fortune will flow through to the town businesses and people in the area. On a more disappointing note, was to see the extent of the flood damage around Lismore and the damage to the roads in the area.
Day One was an early start, meeting at Beaudesert approx. 1 hour SW of Brisbane for Driver Briefing.
Then we were all off to Evans Head for lunch. A couple of incidents today with Vyvyan and Helga in the Lotus Elan Plus 2 running out of brakes and unfortunately having to abort and head home on a flatbed tow truck. After a leisurely lunch we were off to Grafton. On this leg into Grafton Eddie and Tess Huffam lost the rear passenger side wheel on the Lotus Europa. Luckily, they were able to make suitable repairs and limped into Grafton.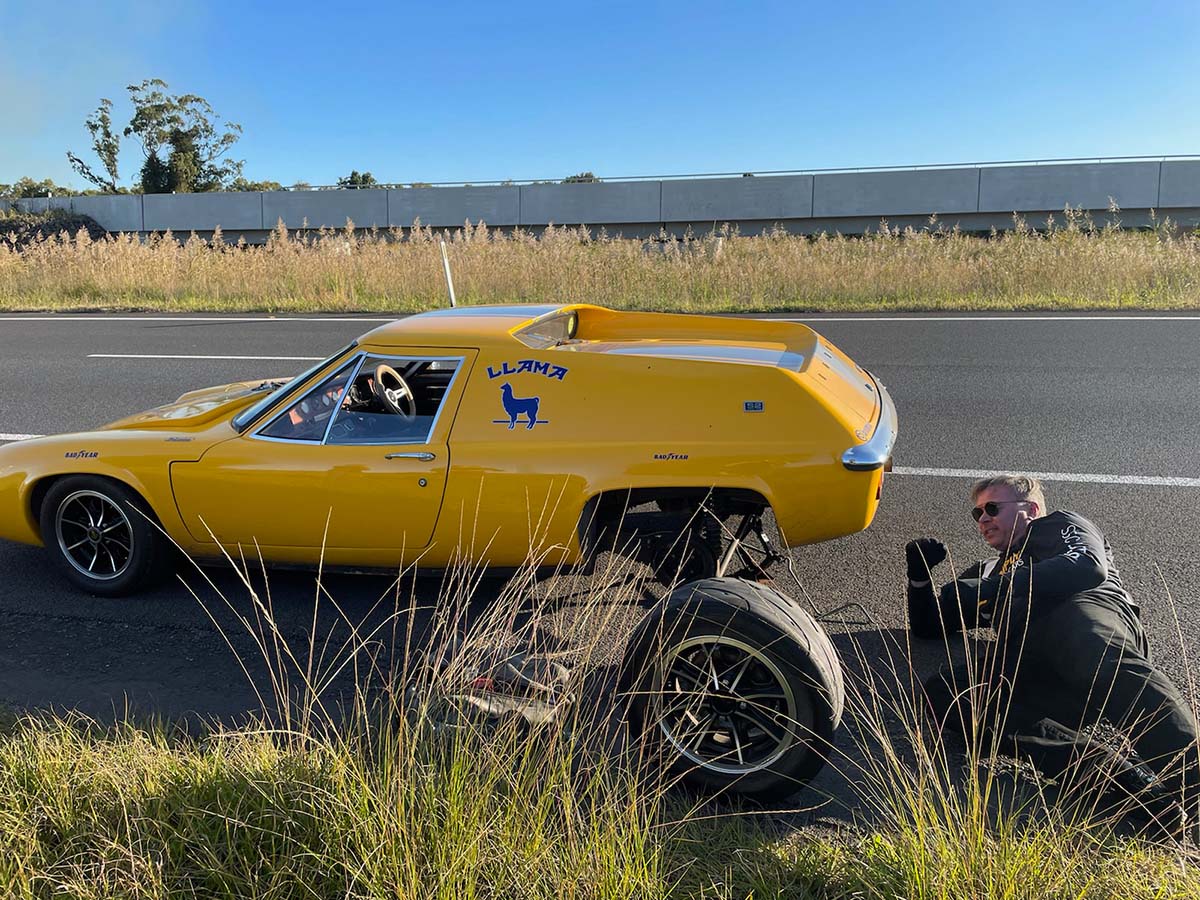 After lots of discussion and suggestions about how to fix Eddie's Europa, it was time to clean up and head to the adjoining Crown Hotel restaurant for dinner. We had the whole back deck overlooking the river and it was a noisy crowd with everyone relaxing after a great first day and anticipation of more great driving roads to come in the next 3 days. Vyvyan and Helga picked up Helga's car and made it into Grafton later that night.
Day Two dawned cool, sunny and clear, after breakfast at the Crown Hotel it was off to Glen Innes.
Moira took over driving our Jaguar E-Pace with Margaret Philp as her co-pilot while Daryl hopped in with Ken and lead the pack out of Grafton. This morning run was on the Gwydir Highway, a great piece of up and down, twisty ideal Lotus road, a great fun drive. Thanks Ken this was the best part of the tour for me…
A short break in Glen Innes for dinner, supplies and petrol, then it was out to Waterloo Station; our overnight stop and venue for our long lunch today. A quick tidy up then we all met at The Shearers Quarters for lunch and a discussion on the trip so far. The long lunch was excellent with great food and lots of people socialising moving from table to table to swap tales about the roads and their experiences so far. A great end to the day sitting around a camp fire with a drink and some nibbles.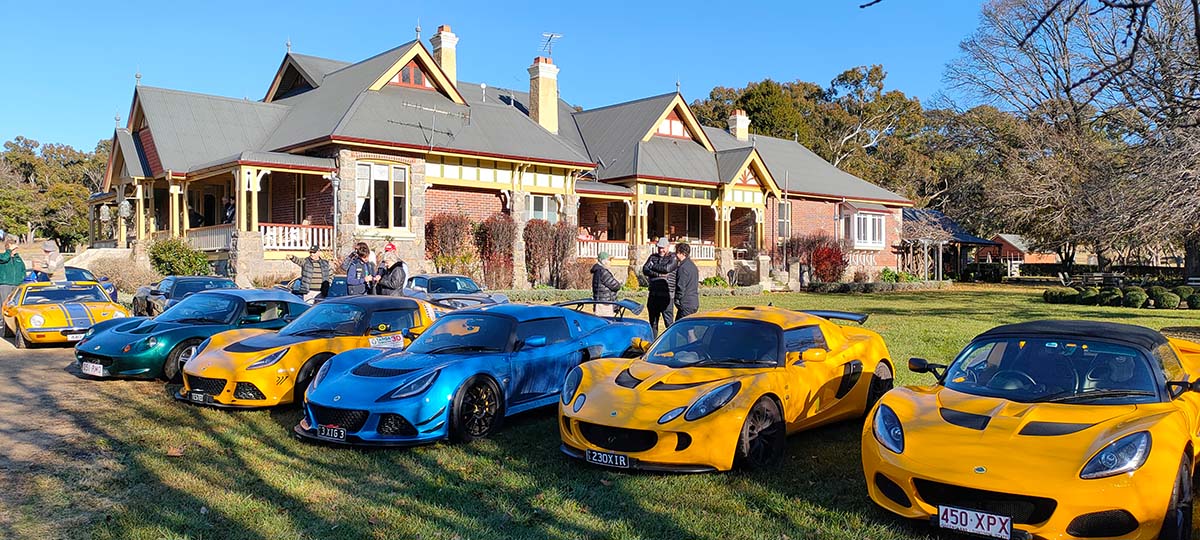 Day Three started with a leisurely breakfast at Waterloo Station a car photo shoot at the homestead then time to leave and head on to Stanthorpe. Only a short run today with time to relax in the afternoon followed by dinner tonight at the Stanthorpe Brewery.
Day Four and we all headed home to Brisbane with several route options depending on your time and enthusiasm. The great end to a fabulous four days with great company of like-minded people.
This is the fourth year Ken and Margaret Philp have researched and designed the Grand Tour. There is an enormous amount of work involved in planning these trips. Maybe time for someone else to step up in 2023, so Ken and Margaret can relax and enjoy the fun like everyone else!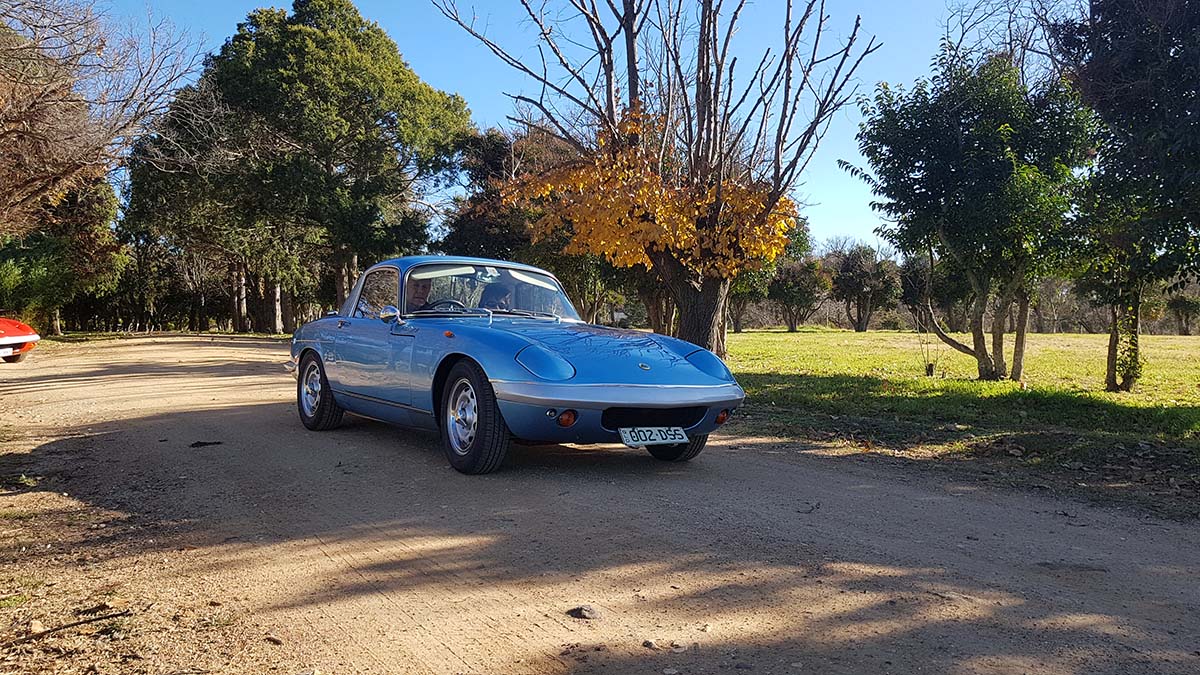 Winner winner Port for dinner… – by Des Hill
Many thanks goes to Daryl for donating some of our tour prizes and an extra big thank you to Ken our grand tour Poobah for picking my V6 Blue Exige as the best sounding car of the tour.
From the moment I had the new exhaust fitted I have had nothing but a continual grin on my face, this with the chance to really drive some epic back roads with nearly 40 other lotus confirmed it was the right choice. Not only was GT2022 exhilarating but a great reminder to why we own some of the best drivers cars you can buy.
Topping that it's now also one of the best sounding cars.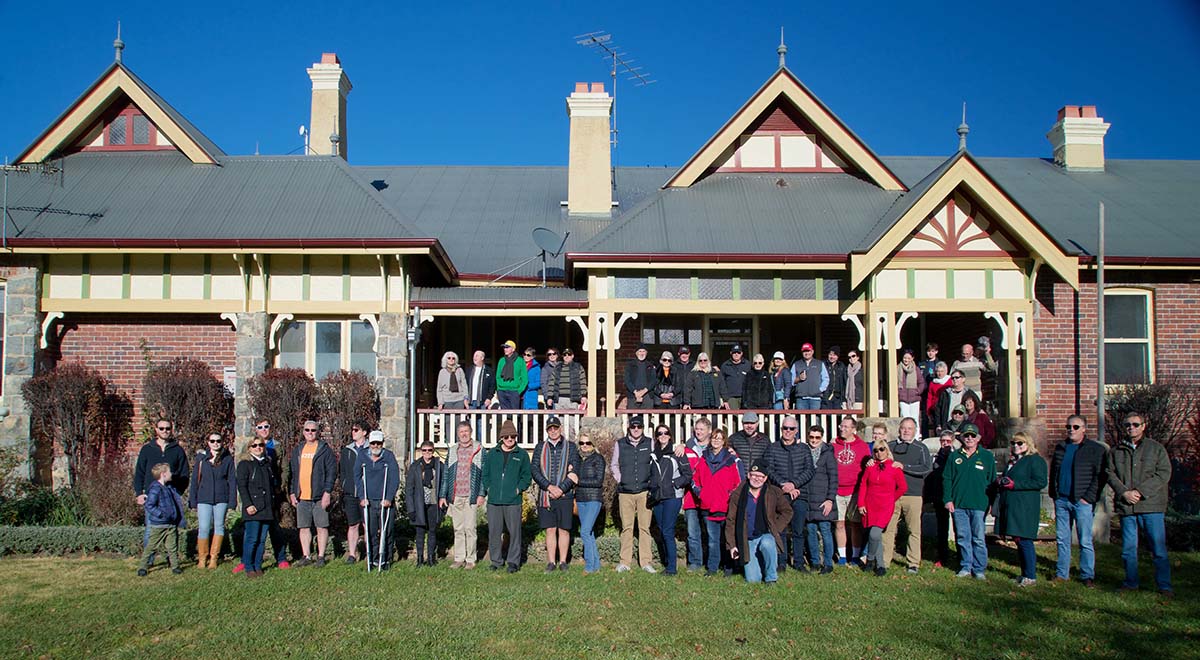 Bring on GT23!! – by Anne Blackwood
"How often do you get to sit in a very stylish, restored shearer's quarters to while away the afternoon at a sumptuous long lunch? Copulate-all if left to my own devices!
If not for the love of Lotus my life would be a lot tamer and boring. Throughout my 40+ years of Lotus club membership I have had the opportunity to visit wonderful places in the company of great groups of people. My family and I often joke about the "Lotus connection" that has provided these beaut experiences and network of people. My photo collection bears testament to this.
Thank you Ken, Carol, Daryl and Steve.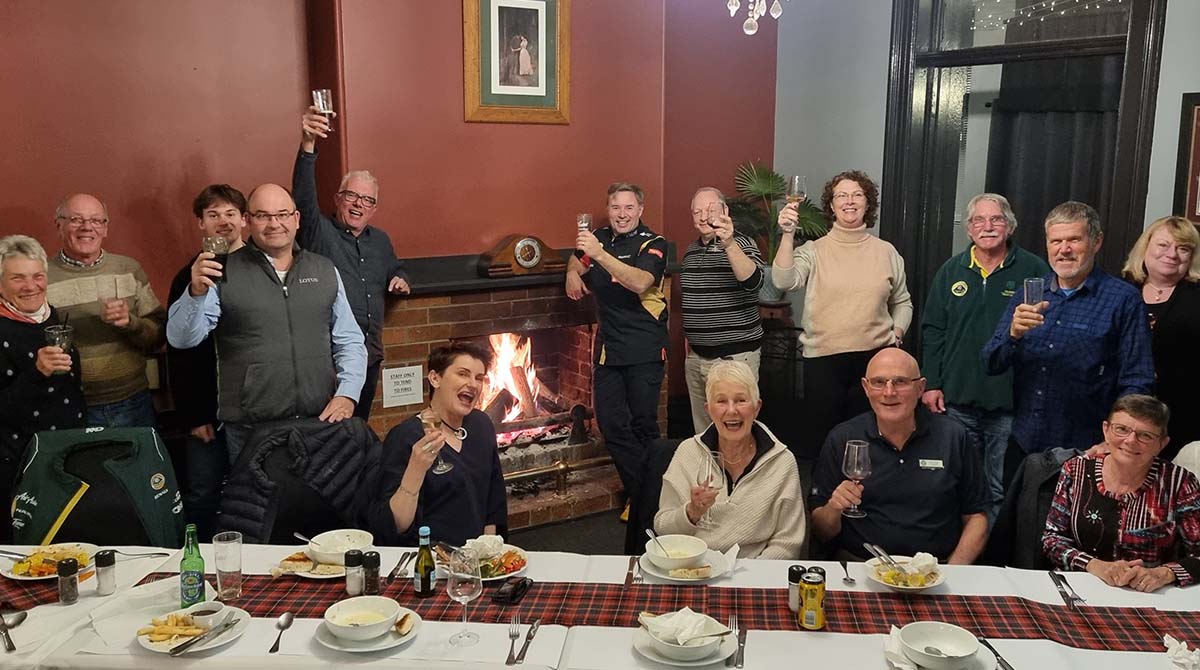 Only three-hundred and something more sleeps to GT23… Can't wait already. – by Kevin Acworth
Quite apart from the amazing rural scenery, abundant array of great good, free flowing drinks, amazing cars and the sweet smell of premium unleaded mixed with burning rubber, the real highlight of GT22 for me was meeting new friends, eccentric characters and the camaraderie of being part of something bigger than the sum of its parts.
Huge thank you to Ken, Steve, Carol and Daryl for creating an event to which the rest of us just had to turn up and enjoy.

First-timer GT Review – by Louise Vant
Having lived with a petrol head for over 25 years, I am no stranger to standing trackside watching him go round in circles. Now we have a little more spare time, it is becoming obvious his subtle plan to eek out these one day events, into multi day trips. Fortunately for him, he just has to mention wineries or good food, and my decision to join him has been made.
Prior to the Grand Tour, we were lucky enough to have done similar type trips in Europe with Lotus On Track UK, so I had a fair idea of what to expect. But I was particularly interested to meet Queenslanders who has such a passion for a little UK sports car company, and the tour was the perfect opportunity to do so.
Despite Ian joining the club about a year ago, this would be the first time we had been on an official "club" event. So, it was with a little apprehension that we got to meet "everyone" at the starting point in Beaudesert. Within a few minutes, I could tell this was going to be a fun trip, with all the hollering, cajoling, and clapping at the start!
It was interesting to see the diverse ages who had joined in, from young Arthur all the way to those a little greyer around the edges! It was even nicer to see the range of Lotus, some quite new, others older, but all loved by their owners.
Being a (little) bit of a control freak, I do love a good itinerary and organisation, so I was very happy to be clutching my GT 22 booklet organised by Ken. I had not realised until a few days before that there would be questions to answer en route. Being also a little competitive, I did want to do well with the answers, though I quickly realised that this would not be quite so easy, given the speedo reading error with our car, understanding of Ken's sense of humour and needing a little bit of Aussie insight 😉!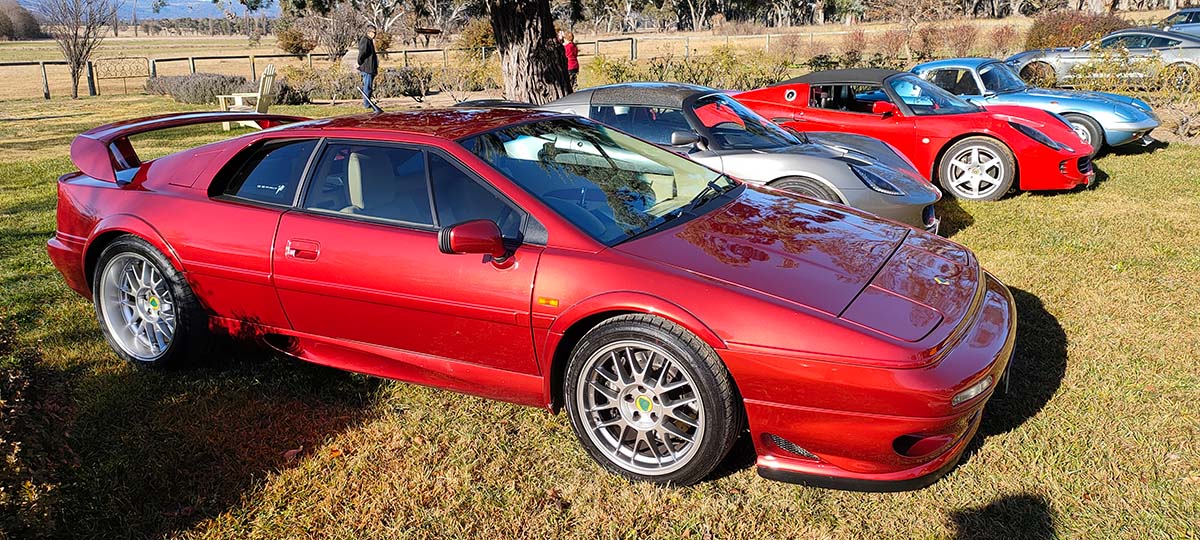 Each time we stopped for driver breaks or at the meals, we ended up sitting with different people and it was great to hear about their history with the club and the passion for their car. Everyone made us feel really welcomed and the enthusiasm for the trip was infectious.
The evenings were a great time to relax and chat about all things "car" and I think maybe after some extra glasses of wine, we committed to some upcoming club races as well!
What I loved about the trip, was that everyone was just there to have fun, re-connect with old friends or make new ones. The opportunity to drive your car on stunning country roads, in the style that suited you best, is not one to be missed.
Thank you to everyone involved with organising the Grand Tour. I know Ken did a huge amount of work, but also to Steve, Daryl, Carol and Margie for supporting this event.
In the end, I didn't need to worry about getting all the answers correct, I just had to let my husband go rogue and drive his Lotus across a field to win a prize!
GT22: Great roads and long lunch – by Alex and Carol Molocznyk
The successes of past Grand Tours generated expectation that the high bars set previously would be further raised and again expectations were met and exceeded.
The great roads were indeed great through magnificent scenery with straights, curves and corners at pick your own enjoyable pace, with the exceptions of jarring potholes and damaged surfaces remaining from the recent floods, some of which resulted in extreme anatomical clenching and bookings for wheel alignment checks.
Food was generous sized country portions and the long lunch rekindled memories of those days when a long lunch meant an afternoon written off to networking conducted over a tax deductable leisurely lunch often continuing into the night – something incomprehensible to millennials in this age of fast food and working from home 24/7.
Highlights as always were the spirit of the whole event enjoyed by all who attended and the irrational rulings that would make the FIA proud for the fines and quiz results.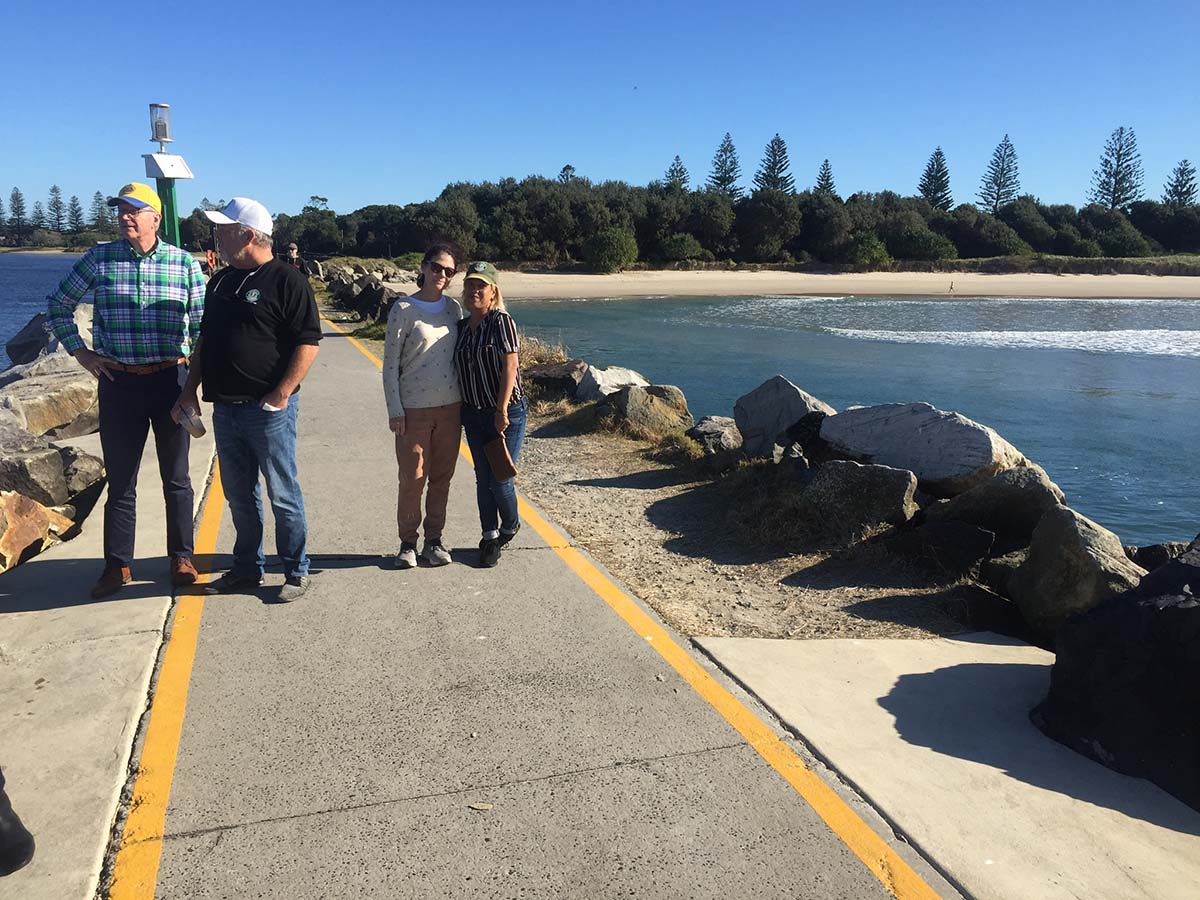 GT 22: The Wade's Perspective – by Clive Wade
A BIG thank you to Ken, Steve, Daryl, Carol and all their supportive spouses, what a fantastic weekend! The organisation, the choice of route and the venues were absolutely excellent, not to mention your choice of weather, breaking away from La Nina to just outstandingly perfect… Great job guys 'n gal. Though, just one little point; the questions… how did you get them so wrong? Gloria & I checked them, some subjects didn't even exist, never mind so many being so wrong…
Our Friday started at 4:30am, absolutely necessary so as to ensure the car was not only packed, but to ensure the suitcase was not only properly tied down, but suckered down too. After all we were in for some windy roads over the next few days, and I didn't want Ken to award me "the most unusual catastrophe award", or something equally inventive from Ken.
Arriving within the nominated time at Beaudesert the briefing was quickly over and we were on our way. Enthusiasm soon had me in 2nd position behind Ken (guiding the 1st Group) for a leisurely blast to Woodenbong along one of Qld's best driver's roads. Three quarter's into the first interesting bits I was becoming concerned about my suitcase's chance of staying between the Elise's buttresses, so at the earliest opportunity I pulled over to let the "testers of side G's" to not be hindered from a good drive… and the navigator's stress levels diminished a tad too. And so the day and weekend was set…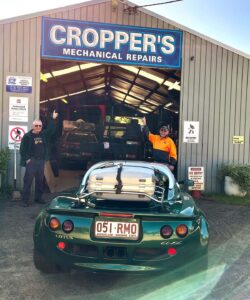 Until the following morning; departing Grafton through a series of slow roundabouts, a new drivetrain/suspension noise left me concerned about tackling another 160km of country/winding/bumpy roads. The NRMA were soon on the case, advising to get the car up for a squiz underneath Lotus'/Honda's finest. They put me in touch with Gary at Cropper's Mechanical (111 Ryan St, South Grafton) who soon had the car off the ground for a thorough inspection… the bill?… Nothing! Nothing… why? Quote… "I didn't have to do anything"… what about your time? "Don't worry about it"… now that has to be country hospitality at its best! Thank you Gary Cropper!
Nothing amiss, just a new noise, the Wades were soon on their way enjoying another fabulous stretch of Lotus road… the Gwydir Highway… a little lonely I might add, nobody waited for me…
And so to the second day's venue, Waterloo Station, for an extended and enjoyable lunch, a comfortable room, and a really tasty breakfast… Great find Ken and Margie!
Aprés breakkie had us on our way guessing more non existent/wrong answers to Ken's quiz all the way to Stanthorpe, The Vines, and The Brewery, where we learnt of our collective fates/accolades/etc for not taking any notice of clues at various Mitsubishi kilometre readings which totally disagreed with my quality Lotus trip meter.
BIG accolades here to Arthur, travelling with Mum and Dad in the Ford Evora-Mustang, for winning one of the major awards.
Great weekend team.