Story by Darryl Ringuet
First up a major thank you to the sub editor of the Northern Advocate newspaper who decided to use their colloquial name for a father in Tasmania instead of Dad, or father, as Pa allowed them to drop one letter in the headline and forever give me a new nickname…..thank you Mr asshat editor.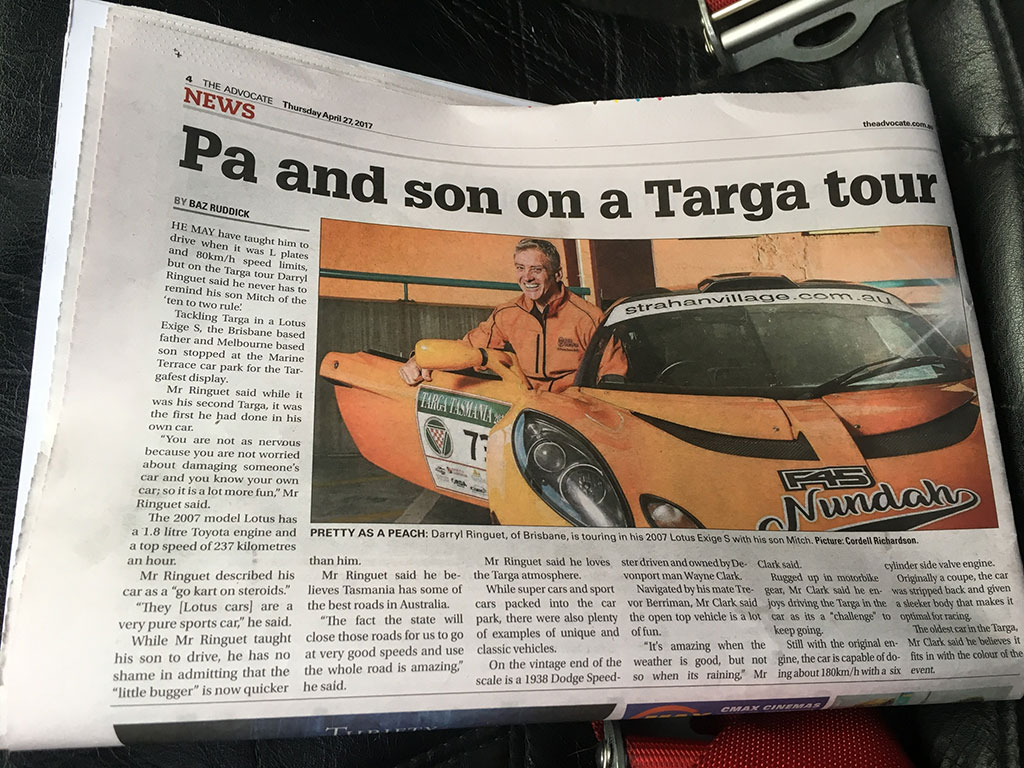 I will add that Jeff Morton made the front page of the same paper in his beautiful white Exige 350, We made page 3, and a photo of the car on page 4 as well.
But enough of the thanks, Mitchell and I participated in the Paul Stokell Targa Tasmania Tour 2017. I had the wonderful opportunity to drive with a friend in his Porsche GT3 in the Porsche Targa Tour in 2013 and jumped at the chance to do the Targa Tour with my son this year.
Where to start, it wouldn't be a Lotus story without some mechanical challenges before you even get on the track. I had given my car to Chris at Automotion five and a half weeks before we needed to leave and had him go over it from bumper to bumper, fit a clam hinge kit in case we needed to get to do any repairs during the Targa, and then get it Dyno tuned, as it had been running very rich. As Dyno tuning does at times a weak spot was found – my head gasket started leaking after a few runs so it was back to Chris to get it fixed. Turns out head gaskets for a 2zzz engine are hard to find when you need one. Luckily between Chris at Automotion, and Stuart at Simply Sports Cars they sourced one. Then when the head went to the machine shop they found some bent valves, this was on the Tuesday before Easter mind you. An even bigger hunt was now on for valves, unable to source the same high flow valves in time I had standard valves installed and the guys at the machine shop had it ready by Thursday midday before Easter. Chris put in another mammoth effort to get it ready for the Dyno tuning to be redone on the Tuesday after Easter. Just as the Dyno tuning was finished the tuner noticed I had some pink steam coming out of the exhaust, and also let Chris know he had to top up my charge cooler tank….yep, another hurdle, a leaking charge cooler tank.
Luckily SSC had one on the shelves and were good enough to offer to bring it down to Tassie on their support van. When I got to Melbourne I had planned to unload the Lotus off the trailer and then take the trailer and tow vehicle to a friend's industrial shed to be stored there whilst we did the Targa. It was raining heavily and as I went to start the Lotus yet another hurdle, it would turn over but not start. This was Friday afternoon and as it was pouring. I decided to leave the investigation till the morning and go get a wine….or two.
I made several calls to Mark O'Connor and it was all organised to attack the problem at Trent's industrial shed. Our suspicions were that the water had leaked from the charge cooler tank into the air system and then into the cylinder heads. The next morning I removed the coil packs and spark plugs and turned the engine over but not a drop of water was in the cylinder heads. Back to the drawing board. Made a few calls to Chris at Automotion to give me a few ideas and I then found the problem …a blown friggin' fuse.
So off the trailer it came and I was planning on having a very late night on Sunday in Launceston to fit a new charge cooler tank.
As good fortune would have it Duncan and Harley from Simply Sports cars were meeting all the SSC Targa cars at Trent's industrial sheds, and Lee was happy to get them to fit the new charge cooler there instead of Launceston. A huge thank you to Harley and Duncan for doing a pit stop style changeover of my charge cooler, to Trent for letting us use his workshop and tools, and to Mark O'Connor for putting it all together and even being gopher to get those little parts that the guys unexpectedly needed. Believe it or not we made the ferry with my girl running like a dream.
After a challenging start I enjoyed a drink or three on the Spirit of Tasmania on the way over.
We were part of the Paul Stokell tour group so Mitch and I met the rest of our Targa Tour group on board the Spirit. Between us we had a 2007 Exige S, a 2005 Exige S, a V6 Exige, a 2009 Porsche Carrera S, a Porsche GT3, an Audi TT Quattro, and of course Paul in his V6 Exige S. We also had Derek as our tour organiser / support guy in an ex-Motorsport Exige Cup car.
In the SSC group were an Evora 400, an Elise Cup 220, two V6 Exiges, and two Exige Sport 350s, not to forget Jeff Morton in his Targa GT trophy class-winning Exige Sport 350, or Martin Duursma in his V6 Exige S – 3rd place winning car in the same class as Jeff. We made an impressive line-up of cars driving on board the Spirit of Tasmania.
We arrived at Davenport and drove straight to the Silverdrome at Launceston for our cars to be scrutineered. We found several other Lotus cars not in our groups that were either doing the tour or competing in one of the other classes. It was wonderful to see a beautiful S1 ready to compete as well as another Evora 400 in burnt orange… nice color choice.
Found some black thing parked on the staging area of the Silverdrome in our spot, bloody La Ferrari owners don't know their place. I have to say it is a pretty car and had the sweetest exhaust note.
For those not familiar with the format of Targa Tasmania there are five and a half days of driving with multiple Targa (high speed) stages per day, with a touring stage between each Targa stage. Even the regular speed sections were on some of the best roads you could ever dream of driving. Mitchell and I chose to alternate between driving the morning and afternoons, although I was overly nice and let him drive some of the more spectacular stages; Rianna, Georgetown, and Oldina to name a couple.
This is some of the purest driving you can do with both sides of the road available on the closed road Targa stages. We were limited to 130kmh top speed but this was also the limit on the twisty bits…WOW. As much as I love driving on a good track day this makes it pale by comparison.
It was great to get feedback from the Tour Group leaders that our group of mostly Lotus drivers was one of the best group of drivers and cars they had the pleasure to lead in long time. They strongly encouraged us to come back and bring more Lotus drivers and cars with us. During the week the Lotus group was moved further and further up the front so as to ensure we weren't held up by slower Porsches, Ferraris, Lambos etc. Makes one feel proud to have one of our little cars and know they more than hold their own against much more expensive marques.
We were fortunate enough to arrive at the finish line of the Targa and end up front and centre parked inside the Pier One sheds. We were able to have our Lotus parked in the prime position of all of the Targa cars.
I can honestly say this was one of the most wonderful motoring experiences I have had to date with my little Lotus. To anyone even slightly interested I would say go for it. If you want to go slower you can sit at the back of the group. There is also a 3-day version, the Targa High Country, which was very well represented by Lotus cars last year. I am told Targa High Country is out of this world as well.
We were able to finish our trip with a track day at Baskerville Raceway in Hobart. What a great little track, a lot like Wakefield in that it has a lot of elevation across the track with a challenging left hand corner over a crest that was a lot of fun. Huge thank you to Paul Stokell and Derek Bode, to SSC for the support and help in Melbourne and Tasmania, to my fellow Targa tourers from Queensland, Tony and Sandra, Greg and Rebbeca, Naresh and Troy, David and Steve, Ross and David.
An amazing result for Lotus with Jeff Morton 1st in GT Sports Trophy, Martin Duursma 3rd in the same class, and Paul Stokel with a 4th outright, amazing job considering the cars you were up against. Great driving guys!