Maiala Park, Mt Glorious
NOTE CHANGE OF DATE TO 16 FEBRUARY

The Royal Qld Yacht Squadron has advised that their BBQ area will be de-commissioned for new building works in the very near future, thus our planned BBQ dinner on 23 February cannot be held there.
As an alternative I think a BBQ Breakfast at Maiala Picnic Area, Mt Glorious will be the perfect solution.
This is an ideal venue which will allow for a comfortable drive out of Brisbane in the cool of the morning in the cool of your Lotus, with a supporting spouse/partner bringing the children and grandchildren along in the practical family saloon.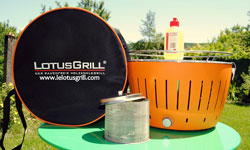 Don't forget your Lotus Grill!
This is something the club hasn't done for many years – it would be wonderful for the club to hold one or two events such as this each year. It allows other family members to join in the camaraderie and, importantly, allows members who miss out on events due to family commitments to join in.
Date: Sunday, 16 February 2014
Meet: McDonalds The Gap 6:30 am for 6:45 am start
Start your BBQ's: 7:30 am at Maiala Picnic Area, Mt Glorious
Things to bring:
Your Lotus
Your family car
Your Family
Champagne & orange juice (just like a Jaguar or Ferrari owner might do)
Champagne glasses (just like a Jaguar or Ferrari owner might forget)
Breakfast goodies for cooking on BBQ
BBQ implements for controlled burning
Thermos of hot water
Tea & coffee
Crockery & Cutlery……finest china, crystal ware and silver cutlery if you have a Jaguar or Ferrari, something practical if you're a typical Lotus owner (paper plate & plastic tumblers that won't melt in the boot and a small tool kit)
Good attitude, cricket racquet, old tennis ball (that won't go too far), football (partially deflated for similar reasons to cricket)
The play area has a good slope so dads can look like they can kick a football a reasonable distance.
Email: clivewadeassoc@gmail.com