By Jon Young. Photos by Gloria Wade
I haven't looked at the stats, nor have I the time to tempt a jinx on the matter, but it seems that the sun invariably shines on the MG Car Club Queensland when they organise the hillclimb calendar. True to form, the weather stayed good for the four LCQ members who entered the event on 9th and 10th April.
Having said four, it turned out that Jason McGarry was too unwell to attend, no doubt afflicted with far too much good living and convivial company – stay away from sick people Jason!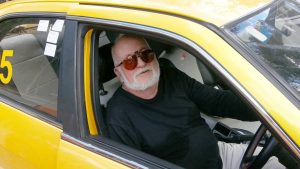 Then there were three, except that it ended up with two and a half, as Dick Reynolds was to drop out of the Sunday run, leaving just Zaid Latif and yours truly to fly the Lotus flag.
Writing of jinxes, we were all congratulated at the drivers' briefing on not having a single DNF at the last event. Inevitably, I think that the entrants felt this was a challenge, resulting in 15 DNFs on the Saturday, albeit including cars attempting to run without fuel, bits dropping off others, as well as one or two excursions off the black stuff.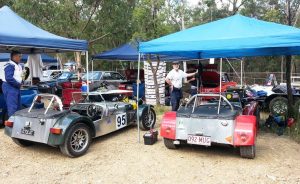 The track was not so kind to us all though, being quite slow on the Saturday, and not much improvement on the Sunday. I tend to benchmark against Brian Pettit's Westfield and Ainsley Fitzgerald's Arrow, both very quick cars and drivers, and it was noticeable that they both were a couple of seconds off their usual time (so it's not excuses or sour grapes our times were down a bit).
Dick arrived at the track for a change without his small, sticky soft tyres, and was running a similar tyre to me. His observation that it cost him three seconds is certainly one that should be taken on board for anyone chasing records there. Also notable that it's all about tyres and setup.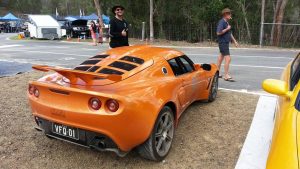 Zaid was in his Exige, and is going quicker every time he gets to Mount Cotton. He hasn't learnt to do the opposite of Dick's advice yet, and it was probably just as well that Jason wasn't there to help him either! There is a great video of Zaid on our YouTube channel "Sevensrule". The hyperlink (if that is what it is called) is https://www.youtube.com/watch?v=HRnHxhhLTOo&feature=youtu.be
It's a shame that this event coincided with other events around the traps, since the next hillclimb is also the next Interclub Challenge event. We need a few others to keep us out front in the challenge, and the practice would have been helpful for the drivers that don't habitually visit Mount Cotton.
And of the quickest times achieved? Zaid came in on a 50.45, Dick a 51.27 and I trailed with a 52.26.
Just to warn the Interclub entries, the MG Car Club's husband and wife team (Ken and Pauline Graham) recorded a 46.18 and 46.63. We need to have some very quick guys to stay in front.
Another great day shared by motoring enthusiasts, thank you MG Car Club.