By Chris Bray. Photos by Gloria Wade & Gavin Goeldner.
Local to Greg and my abode in Redland Shire, is Ormiston House, one of Queensland's few remaining 1860's country houses.
I had noticed in our local paper that various car clubs such as Porsche, Ferrari, Alfa Romeo, Mercedes, etc., hold their annual Concourse d' Elegance on the wide sweeping lawns of Ormiston House overlooking the sparkling waters of beautiful Moreton Bay, south of Brisbane.
I put it to the club that Ormiston House was missing out on displaying the very best sports car marque, and thought that we should honour them with our presence.
We managed to secure the first date of the season, Sunday 17th April, and after a rather dubious weather forecast the evening before (which may have accounted for a few Clubmans missing), we experienced perfect weather with a pleasant breeze, making the day very comfortable after the many months we have been baking here in Queensland.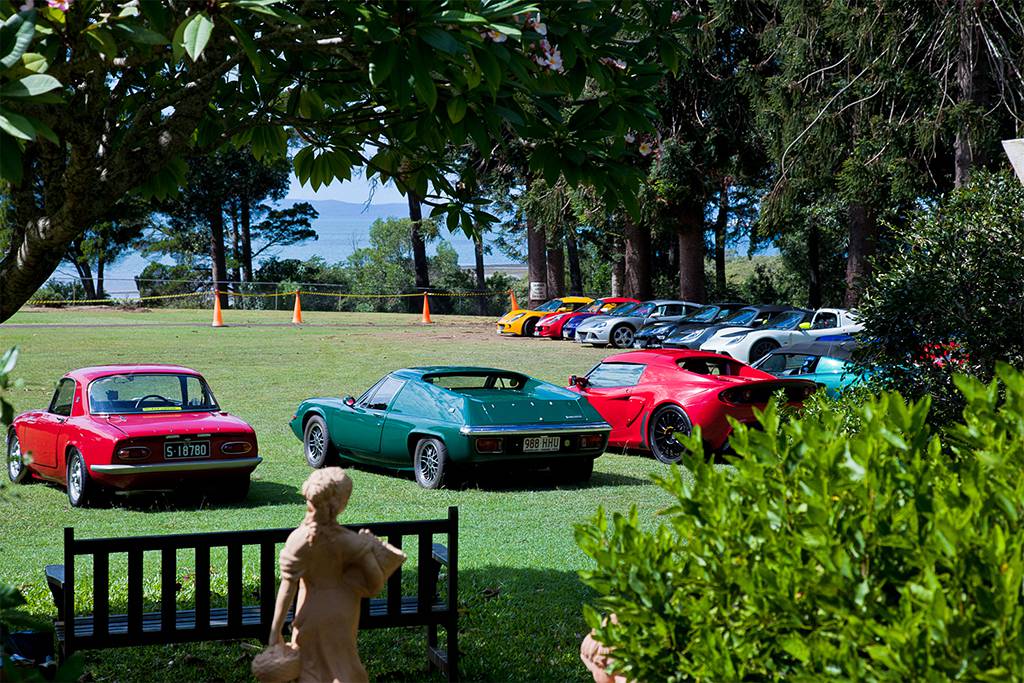 We started arriving at 9.30am to line up the cars on the wide lawns in front of the house. I think my count of the cars is more or less correct:
4 Early Elans
1 Early Caterham
1 Early Europa
1 Esprit
1 Lotus Carlton
1 Europa S
9 Elises
2 Exige S
A beautiful morning tea/coffee was available for us all to enjoy. Consisting of delightful homemade scones, jam and cream served under the wide verandahs of the house overlooking the waters of the bay.
Then at our leisure we took in the guided tours of the house and its history, which proved to be quite fascinating. The house is now fully restored and furnished to its original splendour.
We than enjoyed our picnic lunches we had brought on the lawn under cover of the marquees supplied, awaiting the judges decisions.
Which were:
Outright Winner: Craig Wilson – Lotus Elan
Best Pre 1995 Lotus: Colin McKay – Lotus Elan (pipped by Craig Wilson's Elan by only 1 point, the top 4 cars were only 1 point apart in this class)
Best Post 1995 Lotus: Adam Kingston – Elise S2
Best Lotus 7 or Caterham: Daniel Cameron – Caterham
After the presentations, a lot of banter/ chit-chat was had by all, before we decided it was time to depart from this beautiful setting and drive our various distances home.
I think I can speak for all, declaring it was a lovely laid-back day, thanks to the marvelous Ormiston House volunteers, and thank you to the club for funding the day.