By Tony Seymour.
Targa High Country 2020 has been run and won in 2021
With border restrictions easing for now, the event was postponed from last year, meaning we get to do it all again in September. A number of new teams and cars presented for 2021. TSD saw Vicky Rowe and Eddie Lankhorst now in an Exige Sport 350 and moving up from TSD to GT Sports were Rob Bryden and Ian Noble in a vivid green Exige 410 and Peter and Tristan Taylor in a V6 Exige S. In GT Outright, three new 410 's arrived with Josh Hilton and Rodney Vanderpoel moving on from an R35 GTR and seasoned campaigners, Justin Fengels and Andrew Hewlett and Jury Wowk and Alex Molocznyk both sporting new machinery. Neil and Susan Cuthbert were also first time Lotus entrants in a Sport 350.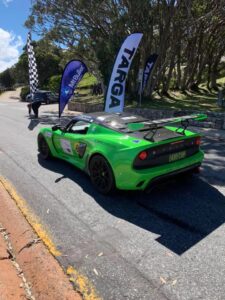 Day 0
We all gathered at SSC Headquarters (Aka Mike Moore's house, thanks again Mike) for stickers and pre scrutiny checks, and I only mention this as it was the 4th day in a row of perfect sunshine and perfect conditions..
Day 1
Dear, oh dear what happened? Torrential rain on the mountain with visibility at least 20 meters and blowing a gale. Being only 2 stages up and down Mt Buller we were thinking postpone, but it appears that unless the road has washed down the mountain we race. And so we did. Some better than others. The run down saw only 4 teams come in under the maximum time, with the rest incurring penalties, and the run up wasn't much better. Visibility in the last 3klms was like trying to find the toilet at night without turning the light on. You know it's there somewhere . At days end 4wd's dominated the Outright and in GT Sports the Bryden/Noble combo was in front. I'm not a betting man, but by their own admission they would have been very very long odds, and surprised a few, or better put surprised everyone.
Day 2
Thankfully we woke to perfect weather and just as well with the Day 2 runs out to Pizzini Wines being the fastest of the event. The last run was back up Mt Buller in the dry and if this isn't everyone's favorite you're in the wrong sport. In Outright Lillie and Glenney led in the Evo X with Hilton and Vanderpoel the first Lotus in 11th. In GT Sports the competition was hot with Simon Trude and Dion Morrison sneaking in front of the Bryden/Noble combo, and Steve Sher and Fergal Murphy back in 3rd. The Taylors along with Martin Dursma and Richard Wodhams rounded out the top 5 with Martin and Richard once again being unbeatable up Mt Buller.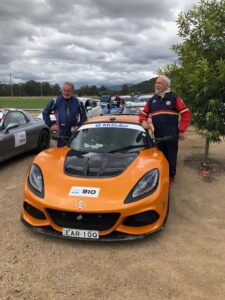 Day 3
Fine weather again with the final day being almost half the rally. In Outright Lillie and Glenney continued to lead. The 2 big stages Jamieson and Eildon totaled around 90klms of mostly twisties, with 3 of us finishing in the top ten in those stages. The last stage of the day was the Mansfield town stage and deciding to let it all hang out I don't think I breathed for two and a half minutes finishing 2nd. It was low risk I figured and definitely suited to the Lotus with Hilton/Vanderpoel and Cuthbert/Cuthbert finishing tied 5th. In GT Sports Simon and Dion wrapped up their first win with Rob and Ian still smiling in second and Steve and Fergal in third. In TSD Vicky and Eddie finished fifth.
Here are the final results and excluded from them are Fengels and Hewlett suffering technical complications on Day 2 and the Taylor's being the 2nd Lotus to park in the shade in the last 2 Targa's.
GT Sports Trophy (Lotus Trophy?)
1st Place – Trude / Morrison
2nd Place – Bryden / Noble
3rd Place – Sher / Murphy
4th Place – Duursma / Wodhams
GT Outright
6th Place – Hilton / Vanderpoel
7th Place – Seymour / Seymour
8th Place – Cuthbert / Cuthbert
11th Place – Wowk / Molocznyk
TSD
5th Place – Rowe / Lankhorst
Well I must say it was another cracker event with unbelievable support from Simply Sports Cars. Looking at the empty dinner table on Day 2, I wondered why only to find out they were changing one of the belts on my car which could have meant an engine rebuild, and were also repairing another. The Lotus Tour was also by all accounts a great success led by Mark O 'Connor. Its where we all started for many of us and with the opportunity to chase Mark in your own Lotus on closed roads what's not to like. There is no other manufacturer that does this, and without this I'd be limited to track days in Brissie. Except now I'm off to Bathurst and Rally Adelaide next month then Targa Tassie in April, then Targa Barrier Reef, then Targa High Country again and so on.
Happy days see you then.