Simply Sports Cars
Lotus Only Track Day 27 June 2014
Story by Clive Wade, photos Gloria Wade
This is the southerly trip for the year (unless I can find a way of doing Winton too… wouldn't mind a go at Phillip Island either).
Again, the weather just isn't dear old SEQ this June, it has gone the other way; warmest winter for many years, looks good for Goulburn! Lovely place in winter is Goulburn. Guaranteed to get up to 3 or 4 degrees by the middle of the day, absolutely looking forward to it. And for the drive down? We freeze. From the time we leave Brisbane the mercury disappears out the bottom of the thermometer never to be seen again, a southerly gale pipes in, parts of Sydney are blown off the map, the SES come out. Just the thing for a cold pork pie and salad in a park at Glen Innes.
Before the drive down there is always some planning, and mine starts early this year. A certain president in NSW always manages to get his S1 around Wakefield Park two seconds quicker than me, not to mention the indignity I suffered (after his rescue for Lotus 2011) when he encouraged me into a spin on my home track, after suggesting I show him the 'lines' at Morgan Park. And Joe has been widening the gap up here in Qld too! So I tackle my ground clearance of 'road settings', enlist a couple of local experts (you know who you are, and thank you), and tackle a job I have always considered a dark art – I lower the car and learn how to re-align the wheels.
Off come the wheels, measure this, measure that, move this bracket, move that bracket, stick in these shims, stick in those shims, jack the car up lots of times left then right, right then left, clean off a few years road grime, get half way through the process, jack the car again only to watch green fluid trickle out of the RHS chassis rail. Hmm, don't remember reading about that one in the Lotus Elise Suspension Section of the manual. Right! I know what that is, I've read about the dread fixing screw in Elise chassis' making love to the coolant feed pipe. I'll fix it later.
How many old fellows who own a Lotus, right now, have a sense of deja vu? I almost feel like I really do own a real Lotus – start one job, get some more for your trouble!
Suffice it to say; I finish the job before our 2nd round sprints at Morgan Park, test it there and come home grinning like a Cheshire Cat A few more adjustments and the car is ready for the SSC LOTD, I'm ready to sit on the rear bumper of a certain NSW S1. Bring it on!
Now the Qld contingent is a mixed bag, one member spectacularly fast, some members pretty quick, me and a few others not so fast. We do have one thing in common though; 1,250km of road. Add an extra 160km for Mike Moore, or an extra 1,000km for Deon Attard (Deon cheated a little by leaving his car 'down south' after the first of the SSC LOTD's this year). Both these lads drove their cars down, Deon in AC bliss, Mike in the elements in the 340R, wearing helmet and weatherproof clothes. The Brisbane contingent made it a 2 day trip, stopping at either Raymond Terrace for sleep, pizza and beer (boys week away stuff). Or being a little more civilised; stopping in the Hunter Wine country for Chateau Briand and Shiraz. 340R Mike, Gloria and I won! Though Gloria and I smugly felt warm and cosy in the Land Rover when we saw Mike pull up behind us in the 340R, outside temperature; 5 degrees!
The second day saw us and the boys take the Pacific, the M7 and the Hume to Goulburn, except of course, Mike. Mike did the Putty Rd Lithgow and on down to Goulburn via Oberon. You've just gotta love him.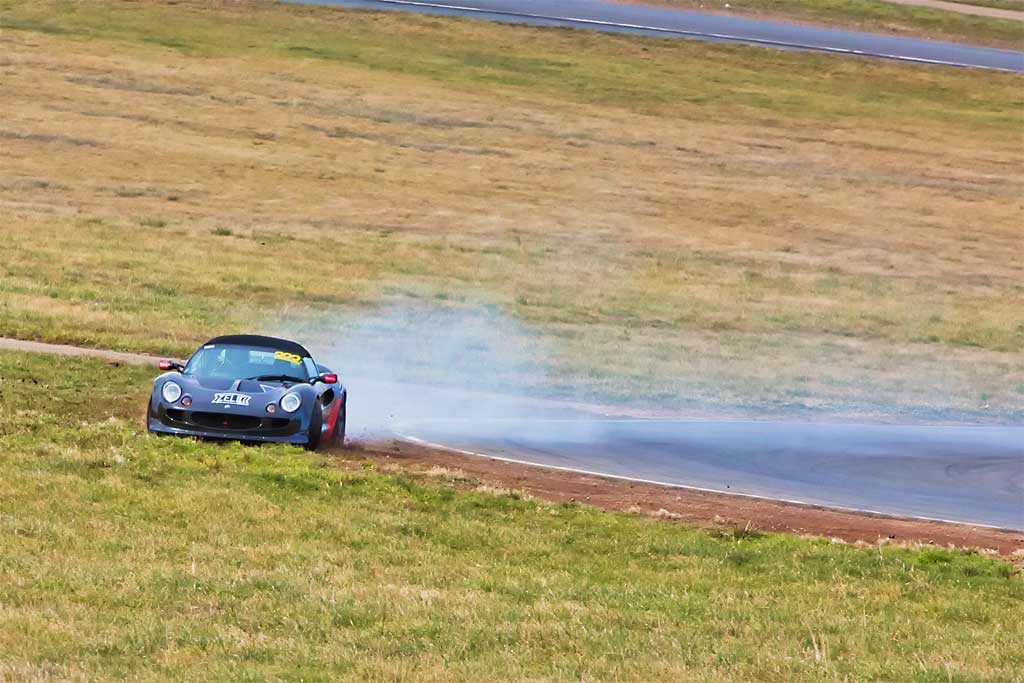 And on to the main event, sort of, because the main event starts the night before; it starts with dinner in Goulburn. This is when 'the whole do' has the feeling of the Biennial Lotus Club Meets. This is when we catch up with folk both local and far away. Friendly, familiar faces from NSW (local), Victoria and SA (far) appear and chat. Conversations change rapidly as more join the group, and the evening quickly disappears into catch ups and camaraderie, the Lotus community might have flash new Elises and Exiges, powered by either tiny little Rover motors, various Toyota 4's, or testosterone enhanced supercharged V6 Toyota motors (they need big motors now for all those heavy AC's, ABS's, air bags and stuff), but we all have in common the uniqueness that started with the 6's, the 7's, the Elites, Elans, Europas, Esprits, et al – we all share a passion for a strange little company in the middle of a turnip field in Norfolk. We are a fortunate and unique group.
And the day after the night before?
Well, this is when Simply Sports Cars, Lotus Australia and Mark O'Connor come into their own! This is the culmination of some very polished organisation. We, the participants, are quickly and efficiently grouped into the four groups of Drive, Race, Sprint 1 or Sprint 2. The sprint groups are defined by the claimed PB's of the entrants. And amongst all this the scrutineers are doing their thing; scrutineering, and the organisers; cross checking entries, issuing numbers, and fixing the never ending 'last minute I didn't realizes', and even getting to brief us all.
And then the fun begins; Drive Group go out, the Race Mob assemble, I get coffee, Gloria starts clicking (look at: https://www.flickr.com/photos/126181690@N04/sets/ she's got some great photos here), others do precious little tasks like checking tyre pressures, resetting dampers to get them to carry-out the task of the springs, others query and learn.
All day, 15 minutes in every hour, we get to test ourselves against the clock, only ever comparing our own time improvements, never do we check other folks lap times, for that is not the purpose of the day. As an example, I didn't know a certain S1 from Sydney got down to 1:09's whilst I got down to his last year's 1:12's. Truly I didn't! (for you Qld'ers, I've given up comparing your Honda powered, supercharger powered, slick tyre enhanced results)…………..:)
The Race Group put on a spectacular show, Mark in the V6 Donut King Exige doing constant battle with Tim Mackie's Exige (courtesy of Mark O'Connor) and Geoff Noble's Elise. The lead swapping constantly with others butting into the adventure on occasions, and not one bump, not one, some very close racing (look at Gloria's pics) without any tears. Well done, guys. And their last race? The handicap race, the battle for the David Mottram Trophy (DMT), the fiercely-fought-for trophy which David held for 2? years, then stolen by Geoff Noble, the guy who all thought would never relinquish the DMT ever again! Well done, Ian Peters. Ian is now the proud holder of the trophy. But will he still have it for 'show and tell' at Lotus 2015?
The Sprint Groups ran like clockwork, though there is video of one S1 doing a strange turn onto the main straight, and photos of two different S1's taking odd lines at turns 2 and 'The Fish Hook'. It should be noted that all three came from NSW, and Wakefield is their local circuit! But I'm not going to mention that Syd and I could have had a quiet chat at turn 2 if we had been in the same group, Gloria's camera was pointed elsewhere at the time, so I'm not going to mention it.
And the Drive Group participants were also seen to be out enjoying their very new cars, or having their first time track day experience, or, in particular, Pat Mottram enjoying the family's Lotus Seven S1 (1959) powered by a Climax engine.
Yes, all up, it the SSC LOTD is a thoroughly enjoyable day. Great cars, great camaraderie and a great catch up with old friends.
Thanks must go to Lee at Simply Sports Cars, Alistair at Lotus Australia and Mark O'Connor. You guys are doing a very wonderful service for the Australian Lotus Community. Thank You!