German GP: Kimi Räikkönen suspects Lotus' last pitstop not required
by Jonathan Noble and Matt Beer
Kimi Räikkönen suspects he might not have needed the final pitstop that cost him the lead of the German Grand Prix.
As rivals Sebastian Vettel and Romain Grosjean came in with around 20 laps to go for new mediums, Räikkönen stayed out and assumed the lead for Lotus. But having last pitted during the mid-race safety car, Räikkönen ultimately stopped for softs 10 laps from the finish. He subsequently reclaimed second from Lotus team-mate Grosjean, but fell one second shy of catching Vettel for victory.
"I could run longer and we had to think about if we should try to run until the end," said Räikkönen.
"But I had massive problem with the radio. I could hear the team but they couldn't hear me, apart from at two corners. I wonder if we should have gone to the end as the tyres were OK."
Räikkönen agreed with Vettel's suggestion that the lead would have changed had the race been any longer.
"It's hard to know what would have happened in the next two laps," said the Finn.
"We had good speed. I think we would have had a big fight anyhow and probably passed him. We tried everything we had and failed to win, but I think for the team we had a good race. We'll keep trying."
---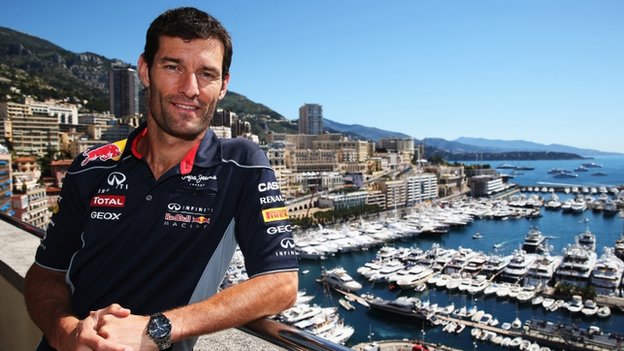 Mark Webber: F1's 'proper bloke' will be sorely missed
by Andrew Benson
Mark Webber's decision to leave Formula 1 at the end of the season puts an already endangered species on the critical list. He is a top grand prix driver who is prepared to say what he thinks.
F1 is also losing a man who is "super-quick, one of the quickest guys on the grid", a tribute paid by McLaren sporting director Sam Michael, who worked with Webber at Williams and has since had experience of, among others, Hamilton.
Webber's combination of race-winning pace and forthright manner has made him a central figure in F1 over the last decade and, particularly, the last few years.
The 36-year-old Australian is what is known in his home country as "a proper bloke". He makes time for journalists he respects, yet happily admits to an impatience with PR work in general. He is a proud and committed Aussie who lives in the English home counties, eschewing various tax havens, because it has come to feel like home.
"Britney's in the wall"
Mark Webber's Williams years provided a favourite anecdote about him, which says a lot about his determination, sense of justice and humour.
Like all top Aussie sportsmen, Webber is not immune to a few psychological games to boost his chances. And it was he who invented the nickname "Britney" – as in popstar Spears – for his young, blond and good-looking 2006 Williams team-mate Nico Rosberg, then in his first season.
Their final race together was in Brazil, where Rosberg rammed into the back of his team-mate's car on the opening lap, breaking the front nose of the German's car and Webber's rear wing.
Because it's relatively quick to replace a front wing replacement but a damaged rear means a likely retirement, the two were given a "priority Rosberg" message over the radio as they headed back to the pits. Webber, cross at his team-mate's mistake, was determined to get back first and they began to race – really race – despite Rosberg suffering from lack of front grip and Webber struggling with the rear.
As they came on to the pit straight, Rosberg was just ahead, only to lose control through the flat-out kink before the pits and crash heavily into a concrete barrier.
Webber was right behind him and, as he passed the incident, the team came back on the radio with another "priority Rosberg" message. Webber paused for effect before replying in a languid Aussie drawl: "Britney's in the wall."