There comes a time in every old man's life when past laments well-up and amends must be made.
By John Carson.
It is perhaps not unrelated, that such times can also coincide with that periodic urge to move-on old campaigners and upgrade to a new competition car.
To explain:
Fifty plus years ago, circa 1970, a mate and I would drive top-down on cold winters' nights, from St. Lucia to Holland Park in his dainty and rasping Austin Healy Sprite Mk. 111A. There, at Gus McClure's Sports Cars yard we would ogle at the bulbous and muscled flanks of a brand new and bright yellow-ochre Bolwell Nagari. This lot, now vacant, still exists located inbound on Logan Road just down from the Copper Keg Hotel.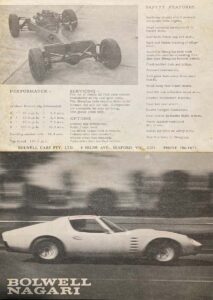 As a callow youth, in 1971, I wrote to Bolwell asking about kits and supply (see images of letter and brochure) but, instead, that year I purchased a low mileage private import TR6 and, ever since, it has been a faithful road car and an almost totally standard but trusty Group Sb Historic Production Sports Car.
However, even in 2019, at the 50th Anniversary event for the Nagari at Phillip Island I was still flirting with the idea of log booking a Nagari for Group S Historic racing, but wiser heads suggested otherwise.
Rather, twenty years ago I had been equally smitten. In 2001, I had been racing in Group 2A Sports at Qld Raceway (QR), against the late and much-admired Bill Pye. I was mesmerised by the handling of his flame belching, dynamically sweet, orange Lotus Exige. One instance was when he lapped my heavy 5 litre TR7V8 through the double apex, paper clip internal corner… on the outside line!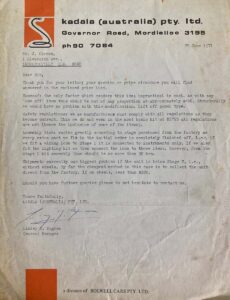 Bill, a farmer and grazier, had a great rural sense of humour and in between races and after viewing my in-car vision, from an earlier standing start, he made the comment; "Being so far back on the grid, I'm surprised that you can still see the starting lights!"
So, after lusting after an Exige for the past 20 odd years it was probably time to take the plunge with a Final Edition 420 and what better colour than that original Nagari Yellow, but this time sporting the almost identical 2021 Lotus hue of Solid Yellow.
Nostalgically, and in a nod to what was never to be, the Lotus was pictured (spectating only) beside a Nagari, in December, at GEAR Club's last 2021 event at Lakeside. But this time it was a citrus lemon convertible. Half a century later I still swoon at the sight of a Nagari but am glad I finally have an Exige, for as I tell my family and friends, "This is my last throw of the dice."
But interestingly, buying a new last edition Exige hadn't really been a conscious decision, until very late last year.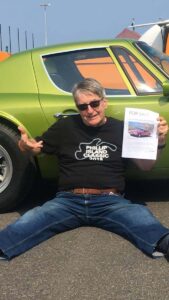 You see, for the last few decades I have been campaigning some delightfully loyal old clunkers in historic circuit racing events but, of late, had been feeling stale in that my lowly position on the grid wasn't changing.
Yes, the camaraderie and dicing were good but I wasn't moving forward in terms of technical achievement and/or new experiences. I'm sure this sense of underwhelming hiatus is a neurosis in motor sports, not unique to myself, and there's probably a mental health Latin medical name for it. Loosely translated, I believe the term for this treatable condition is "I just wanna faster race car".
One self-administered therapy, in search of a cure, is to go to the My105 web site where race cars are traded and, in mid-2021, I noticed a 2016 Exige in Gulf Oil livery being offered by Simply Sports Cars (SSC) of Sydney. It ticked a lot of boxes but due to a range of issues, including the NSW lockdowns, I was not able to see and/or drive the car. However, in talking to Lee Knappett, of that firm, I was advised its best time around SMSP's Eastern Creek G.P. circuit was 1 minute 39 seconds, whilst an indicative time for a standard V6 Exige was 1.45. Given that my best ever SMSP lap time, in my Alfa GTV 2000, is 2.03 this was looking to be a considerable step-up.
The other attractive part of the package was the amount of development work that had gone into this log booked car and Lee sent me a pic of the roll cage. Its incursion into the footwell and beside the driver's door didn't appear to impede access for this pale, stocky little ex-shopkeeper, already the recipient of a total knee replacement.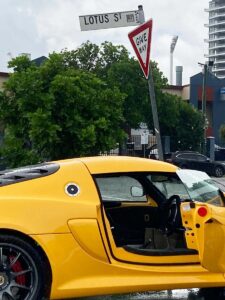 So, a ready-to-race Exige sounded promising but then I really gave thought to the local events where it could be run? Whilst production sports car racing was the obvious grid, I hadn't been running with these guys for the past 20 plus years and even back then, some were into data logging… I'm not!
Indeed, I'm sure that if I tried to insert my analogue self onto the grid of an even newer generation of young racers, this 2022 cohort and I would be on totally different planets – read here "I don't do tattoos and still use a UBD."
Another influencing factor was talking to Lotus and Gear Club member Cam Anderson who mentioned the cable actuated gearbox linkages in the early V6 Exiges tended to be a bit vague.
After Lee Knappett confirmed this improvement, over the 2016 Gulf car, the decision became easier.
Yes, the rifle-bolt feel of the new car's gear change action is excellent. In fact, it's superb, but I reckon the exposed almost post-modern display of actuators in the Final Edition car is a pretty good reason, just on aesthetics, to have gone with this last of the breed.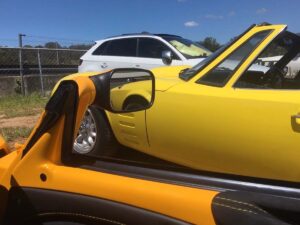 Accordingly, when Chad Balfour of BMW Motorline gave this 71-year-old a test drive in a brand new Exige (this actual car was to become mine) I was sold. Almost immediately, I then realised it was far too nice a car to circuit race. However, it could still be entered in speed events such as Sprints and Regularity. Consequently, depending which existing race cars I may sell or keep, it should still allow me the option of circuit racing in historic events.
Chad arranged for a harness bar and an excellent reversing camera to be fitted (both musts) and delivery day for my new car was Tuesday 23rd of November. It was one of those threatening storm days. Incredibly the only instrument control Chad and I didn't cover was the windscreen wipers!
On the way home I had stopped in Woolloongabba to show the car to Elise owner David Chilton (GEAR Club President) who had also been helpful in pre-purchase advice. In these back streets I quite accidentally discovered the 'good omen' Lotus Street sign where the background sky hinted at the torrential downpour which I had just navigated from Springwood. The wet weather run in this very delightfully predictable and straight forward car had been confidence inspiring.
Since then, my usage has been of 'Extreme Limited Use' (to use the Shannon's Insurance stated condition which they suggest is once or twice a month) and the Exige is only showing 300 km on the odometer. Such usage has been fine by me, especially as even before the Christmas-New Year break, the car was tilt-trayed back to Motorline, Daisy Hill. There had been a continuous engine malfunction warning light and the cabin release lever would not disengage the engine hatch cover. Motorline service was excellent and diagnostics revealed an exhaust flap actuator, solenoid low circuit caused by a connector not completely seating. The hatch release was fixed by disassembling and removing excessive cable collar play in the boot mechanism. My only other teething issue is a conundrum over lithium battery charging and insurances.
You see, I am still trying to decipher the Exige Owner's Manual instructions for disabling the alarm system when trying to trickle charge the lithium battery. The Manual notes a likely nine-day charge if the car is left alarmed and locked, but if the battery goes flat, one cannot access the cabin apparently, even with the traditional key blade!
Notwithstanding, if the alarm is active and one locks the car but has the front or rear tailgate hatch open for the battery charger leads, it shrieks like a banshee! Now, even if I could understand how to turn off the alarm (on this topic, the Owner's Manual appears to have been written by the Chinese firm Geely, new owners of Lotus) I do wonder the impact on my Shannon's Insurance conditions? Accordingly, is the answer never to leave home, or the car, for more than nine days?
As at time of writing, the plan for the Exige is:
Sunday 30th January: QR. My main car club, the Historic Racing Car Club of Qld (HRCC), is having a drive day and update presentation on planned circuit improvements.
19/20th February: Morgan Park – HRCC Try, Train and Test Day (TTT). Saturday is track familiarisation and Regularity whilst Sunday is Super Sprints.
Tuesday 1st March: Mount Panorama – SSC and Lotus Club Drive Day.
11th-13th March: Phillip Island VHRR Classic – entered in Regularity.
Of course, all these events are subject to amendment/cancellation but I have my fingers crossed.
Yes, It's the last throw of the dice and as my late father used to say, "John it's later than you think!"
Thanks to all Lotus Club Qld members for making this new recruit feel welcome.