Round 3 of the 2016 Interclub Challenge was hosted by the MG Car Club at their Mt Cotton Hillclimb complex.
By Shane Murphy. Photos by Dick Reynolds and Shane Murphy.
The venue itself is a fantastic tribute to the MGCC, who must spend many hours maintaining the track and surrounds.
Turning to the Challenge, Club representation consisted of Lotus (of course); Porsche; Triumph; Volkswagen; Holden Racing Car Club; Z Club; MMX-5; 86DC and NDSCC, a full compliment. Of course being at home over 50% of the entries were the home team. In order to keep the field in order, the entrants were classified into 12 categories, on the day a prize was awarded for each of the class winners.
The team for this round consisted of: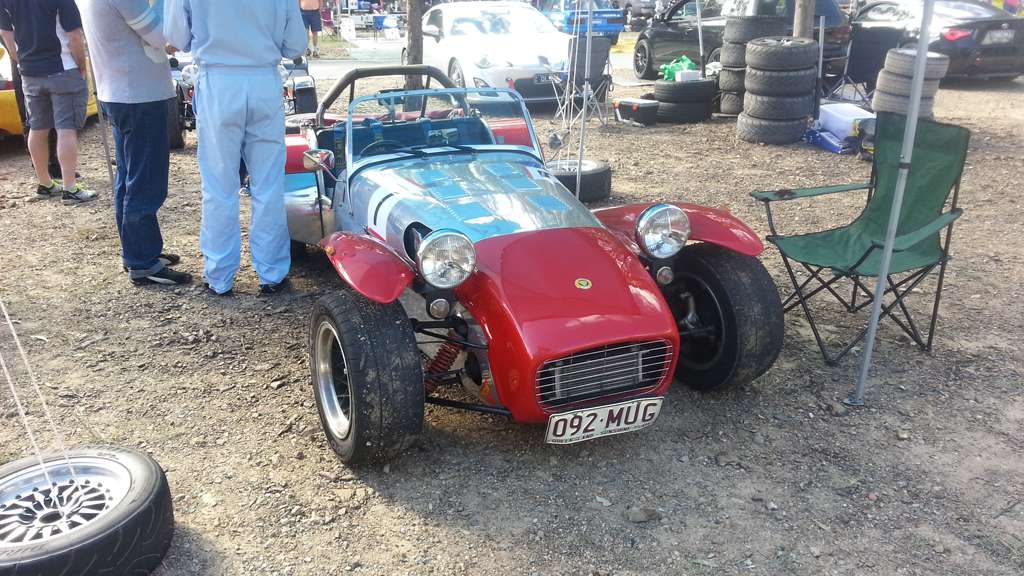 Dick Reynolds (Caterham 7)
Phil Hart (Porsche GT3)
Jon Young (Caterham 7)
Zaid Latif (Exige)
Jason McGarry (Caterham 7)
Martin O'Brien (Elise S)
Shane Murphy (Lotus 7)
Ken Philp (Caterham 7)
Liam Philp (Caterham 7)
The day started well with all cars passing scrutineering in plenty of time to get those slicks on and to get the tyre pressures spot on. Jen and Gail manned the sidelines providing both moral support and nourishment where appropriate. Jen was kind enough to take charge of the unofficial LCQ lap times scoresheet, offering key performance indicators and reference points to those in need, i.e. "the author"!
Prior to the event I – with the help and guidance of Ken Graham (Accurate Suspension Services) – upgraded my front springs and shocks, hoping to dial out inherent understeer, with great success.
Early on, Ken, Martin and Liam seemed somewhat apprehensive; Liam and Martin being Mt Cotton first timers and Ken not having seen the track for many years.
With the promise of 5 runs (the organisers wanted to get home to watch the league double header) we were into it with no sighting run. OK for most and of course, caution prevailed, which was evident in the run 1 times across the board.
Liam has clearly thought deeply about his car craft and consistently attacked the track with unsurpassed precision, resulting in very quick times and ultimately the fasted time.
Class winners on the day:
Production Sports Cars (up to 2000 cc) – Zaid Latif
Production Sports Cars (over 2000 cc) – Phil Hart
Clubman Sports Cars – Brian Pettit with Lotus Club filling 2nd, 3rd, 4th, 5th, 6th and 7th.
Sports Cars – Travis Johns with Martin O'Brien in second place
Interclub Challenge points were racked up by the club and as the dust settled, LCQ maintained a commanding lead, with the Porsche and MG's not far behind. The next event is the Show and Shine; we are hoping for a strong line up to keep on top.