By Tony Galletly, Photos by Todd Wedd.
On the weekend while some members were at the Noosa Hillclimb and others on a Grand Tour of northern NSW, Grafton Sporting Car Club had invited pre-75 cars to their first Historic Hillclimb.
This is a well-established hillclimb just a few miles north of Grafton and combines a very steep and tight first section to a flatter but in sections even tighter in two top loops. It had been over 30 years since we last visited the hillclimb in an Elan and it had changed and improved dramatically since the 1980s, with safer run-off areas.
The entries for the event were strong with 50 received and the featured marque was Nota (an Australian designed and manufactured range of sports and racing cars, built in Sydney). While most were clubman type cars, three were F3 cars, including Geoff Fry who came up from Bathurst with his rare and immaculate F3. Others might remember the distinctive Nota Fang! The Nota owners had 13 cars there on the day.
Sadly, of the 5 Lotus entered (3 were Lotus 7s), only my Eleven arrived which was mainly due to the uncertain border closures expected. The Lotus 12 Sabakat was also entered, but the owner Mike Gosbell ran a 1932 Russell Morris racing car which looked a treat.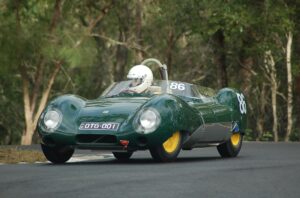 During Friday practice and Saturday morning, the track was damp with slow times posted, but that progressed over the weekend.
In my 1945-60 Racing and Sports car class, there was a wide range of cars, including the Ausper FJ, Dick Willis's very quick Nota Major, the big horsepower Robinson Jaguar special, the interesting Alexander Turner sports.
The Eleven doesn't have the greatest turning circle for the tight corners, but handled the course well, posting a respectable time, improving over 10 secs over the weekend – daring to push through the tight corners.
At the pointy end of the field, the Norton brothers with their GRD F3 cars (originally built by ex-Lotus designers) showed the way.
It was a very pleasant relaxed event with everyone having over 8 runs. Really well organised and we look forward to going again. Just 4 hours south of Brisbane on the new highway! And yes, just like the Grand Tourers, we made it back over the border without any troubles. Any takers for next year?