By Phil Hart. Photos by Alex Molocznyk.
Our August DTC was the final one for the year. It was also the biggest. Being a round of this year's Inter Club Challenge, it was over-subscribed with the first 66 entries making it to the start line. With the Lotus Club having shown the Porsches a clean exhaust at the recent ICC Sprint Round, the Porsche boys and girls were keen to show us who needed the driver training!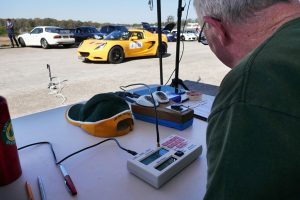 Daryl is usually faultless with preparation and running of these DTC days, yet this day, a few errors had crept into the proceedings. As the track was quite dusty and slow early on, a smart organizer would have sent those pesky Porsches out to clean the track surface and lay down some sticky rubber for the rest of the entries. But no, the Lotus crowd were sent out first. Rookie error Daryl, rookie error! Secondly, it should be noted in all future supp regs that vehicles with launch control and 4-wheel steering incur a 5 second penalty.
The regular "Seven" drivers included Shane Murphy, Dick Reynolds, Jon Young and Ken Philp. By the end of the day, driving honours ended up being just about shared with the larger Exige/ Elise contingent of Trudy Jacobs, Pat Richards, Sion Bowen, Juan Laporta, Graeme Sorenson, Paul Carroll, Sam Murphy, Mal Gray, Paul Torrisi, Michael Blessas, Lindsay Close, Phil Hart as well as George and Andrew Row.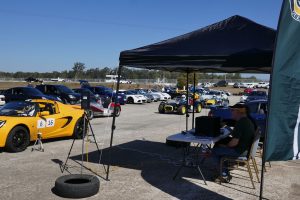 Michael Jones brought along his lovely Europa, and, although it was a little under powered to achieve fastest time of day, it did manage to win the prize for loudest car on the grid. Some may think this a little odd, but alas, the noise is not made by the engine but rather the ear-piercing screech of skinny tyres on the cement start line. Due to the Jag still being under repair, James Driscoll moved to the dark side by driving an air cooled, rear-engined car. They spin easily mid corner, don't they James?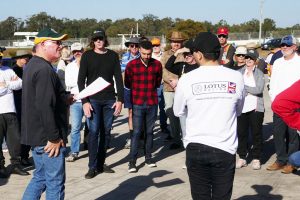 Fastest time of the day went to Steve Foss driving his Westfield XTR2 for the Porsche Club. Although it hurts to say it, we had to tip our hats to the Porsches today. We will get them next time. I think we managed second spot on the ICC point score, although it was very close between our club and an exceptionally well driven double entered Datsun from the Holden Sporting Car Club.
Thanks once again to Daryl and his assistants who made for silky smooth event with seven timed runs. For those of you didn't get your entries in on time… SUCKS TO BE YOU… as the DTC is always a super fun and safe day in your Lotus. See you next year!