Off to Morgan Park Warwick for Round 5 of the Black Trucks/Isuzu Ute Qld Cup.
The meeting was run by the Historic Racing Car Club of Qld. This Round has no points going towards the Qld Cup. We arrive Friday after lunch and set up and get the car checked. All OK. I go to start the car about 1600 in the arvo and the battery is dead. Lucky I brought a spare one with us. Not off to a good start for the weekend.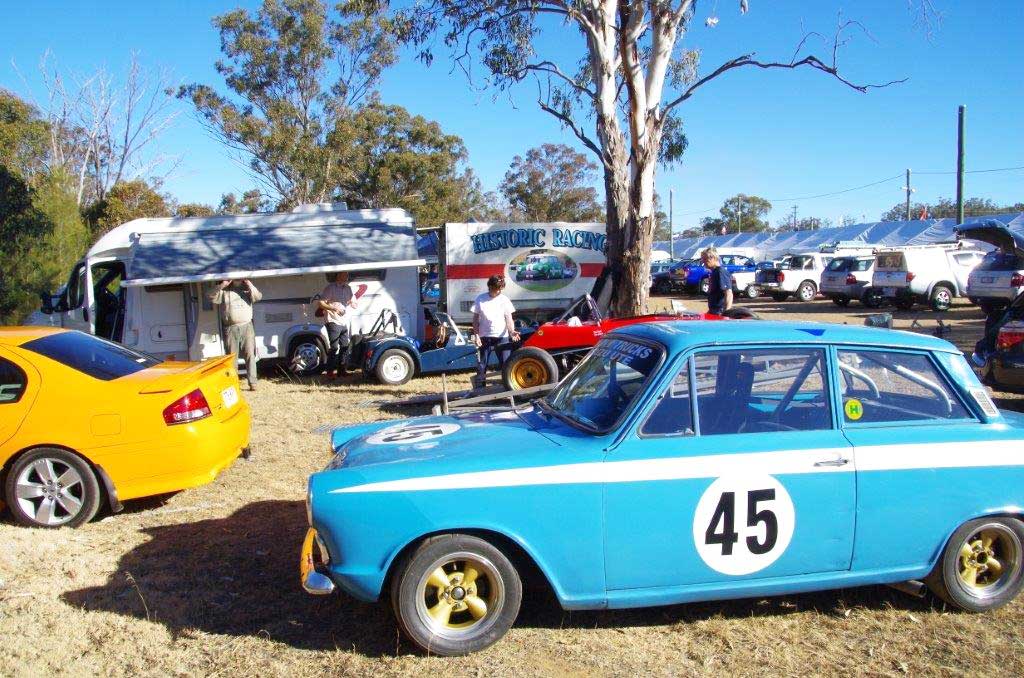 Because of the large numbers they had Na, Nb and under 2 litre Nc cars racing in a separate race to the bigger cars. 2 x 6 lap races and a combined all cars in Group N for the last race on Sunday.
Allan qualified 11th out of 25 cars in the lower group.
Race 1 he spun off the track on the last lap while dicing with Lucky Phil in the EH Holden and still came in at 12th.
Race 2 had fuel surge problems and came in after 2 laps.
Race 3 all Group N in one race he came 18th. Still having fuel problems.
We found out that the fuel surge problem was man-made. Some clown did not put enough fuel in the tank. Yes it was me again. I need a good arse kicking.
On Sunday they had a 5 lap Mini only race. From memory there were 14 cars.
Freezing cold on Saturday morning – minus 5. Sunday morning minus 6. I had to tow Greg Bray's Lotus Formula Ford both days with my XR6 Falcon.
That's it for now until the next race meeting on the 26/7/14 at Lakeside.