Mt Panorama 2,3 Nov 2019
By Tony Galletly.
It's been on my bucket list for a while. There isn't much better than Mt Panorama. I ran the S1 Elan at the 2008 and 2009 FOSC events at Bathurst, but seeing Barry Bates (Lotus 15) and Peter Yeomans in 'streamline' cars, I was envious. Once the Lotus Eleven had arrived, I think I was always coming back.
In February, after seeing the Australian Hillclimb Championship announced, I put the Historic log book application to CAMS hoping it would be approved by mid-year. I should have realised it wouldn't happen that smoothly, but at least it was finally approved two weeks before Bathurst. The new wobbly wheels and Dunlop Racing tyres needed bedding in, so a few GEAR days were needed. But after over 50 years since its last competitive event, it was sorted enough to head south.
The 'Mountain Straight' is a 1700m long hillclimb which starts at the hump along mountain straight, and finishes just before Skyline. It is easy to forget just how steep and narrow this part of the circuit is, with such high concrete walls. The kink before the Cutting is completely blind.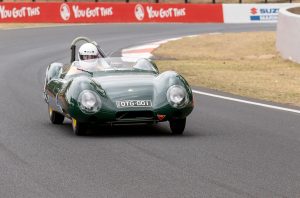 The Hillclimb was a smoothly run event by Bathurst Light Car Club. With 145 competitors coming from all over Australia, I was surprised to see I was the only Lotus entered! Although 9 runs were planned, the rain after lunch on Sunday left us with only 8 runs, which was still enough to have some fun. The Blend TV Live Stream was a great addition to the event and had over 150,000 views over the weekend with excellent video quality. Family and friends were much more involved and several competitors commented that they received loads of 'arm chair' advice from afar.
For my Lotus Eleven's first competitive event in Australia, it ran very well. There will always be room for improvement, and even slight clutch slip after the Cutting didn't diminish from the enjoyment. With the other competitors in the 'Historic Other' class being much more modern, I hoped to at least come close to the Historic Group L (pre-1961 Historic Racing and Sports Racing Cars) record. In the end, I lowered it by 6.15sec (64.35).
2019 Hillclimb Champion was Malcolm Oastler (34.88), close runner up, Dean Amos (34.90), with Dean Tighe 3rd (37.92) and their performances were simply amazing to watch. Other outstanding performances included a Westfield Megabusa (Grp 2A Sports 0-1600cc) driven by Zac Le Lievre (44.81) which was really impressive, as was Stuart Inwood in his Sports Sedan Corvette C5 (44.56).
Outright winner Malcolm Oastler said at the trophy presentation: "Standing start from the hump on Mountain Straight, 300m to the first corner, 240kph, Cutting in 4th, flat in 6th through Sulman Park, all the shifts light on the exit curb, 11000rpm in 6th 245kph/151mph. 34.88 sec. It's a hell of a ride."
Can't wait for next time!