By Ian Loxton.
A few paragraphs from a country based (Bungundarra, via Yeppoon) Lotus Club Queensland member on recent activities.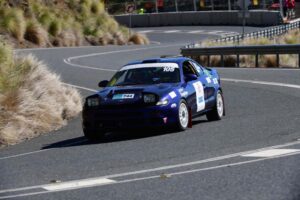 I have been very enthused to compete in the Gold Rush Hill Sprint conducted near Mt Morgan, Central Queensland each July since 2018 i.e. apart from 2020 when it was cancelled. I was successful in gaining a 2021 entry. For 2021, the hillclimb course had been extended to 3 km in length making it the longest 'hillclimb' event climb in Queensland. As an occasional hillclimb competitor at Mt Stuart, Townsville and Noosa, the Gold Rush Hill Sprint had attracted my interest. In addition, at 3 km long the course had some similarities to short Targa Rally Special stages. I was a former Targa Australia Rally entrant earning 3 finisher medallions (2 from Targa High Country and 1 from Targa Great Barrier Reef) and one DNF from the 2019 Targa Great Barrier Reef following a catastrophic turbocharger failure in the GT4.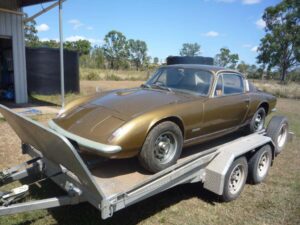 As Jason McGarry stated in his very interesting September LCQ article about the 2021 Gold Rush Hill Sprint there were 3 club members from SE Queensland competing, while I was competing in my Toyota Celica GT4 tarmac rally car. The course was excellent, very smooth tarmac pavement and reminiscent of parts of some Targa Rally Special Stages. The first kilometre was very fast, even with the two round hay bale chicanes. I enthuse about long hillclimbs including Targa stages which have included such famous climbs as the Mt Buller stage in Targa High Country, the Gilles, and Kuranda Ranges in Targa Great Barrier Reef. If I was to name a favourite 'climb' it is the 18km long Mt Buller stage in Targa High Country. I am looking forward to entering the 2022 Gold Rush Hill Sprint and support Jason's comment to encourage other club members to compete.
You might be wondering why someone with a Toyota Celica GT4 tarmac rally car is writing a note in the Lotus Club Queensland magazine. Well, I also own a 1969 Lotus Elan +2 undergoing a slow (very slow I should emphasise) full restoration. I purchased the car in 2015 (it had been parked up since 1982 under a house in Brisbane) and have been slowly working on the project particularly over the last 3 years or so; with the excellent advice of several classic Lotus owners and club members guiding me over the phone and by email including many photos. I gratefully acknowledge the support of these club members who have assisted me with modification drawings, guidance on parts suppliers and specialist fibreglass advice.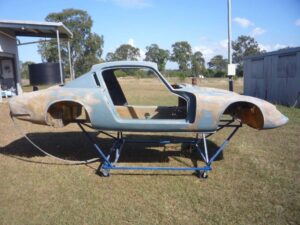 The chassis/subframe has been restored, most mechanicals fully overhauled and rebuilt, but the body is taking the most effort. I have been working on the body for most of 2021 and still haven't completed the full paint removal task. Completion of the paint removal is on the horizon for the end of 2021, then the fibreglass repairs commence. Unfortunately, there are many body repairs required – because of previous owners' 'driving' styles and the reworking of prior repairs (e.g. layup repairs over paint, road grime etc). I have included some photos of the +2 and club members with classic Lotus will be only too familiar with such restoration images and I am sure would quote, 'been there, done that'.