Preparation, Packing and the Road Trips
An exposé into the trials and tribulations of those adventurous Queenslanders who braved the highways and motored to Beechworth. A test of endurance, preparedness and mechanical skill.
The Murphys
Beechworth Bound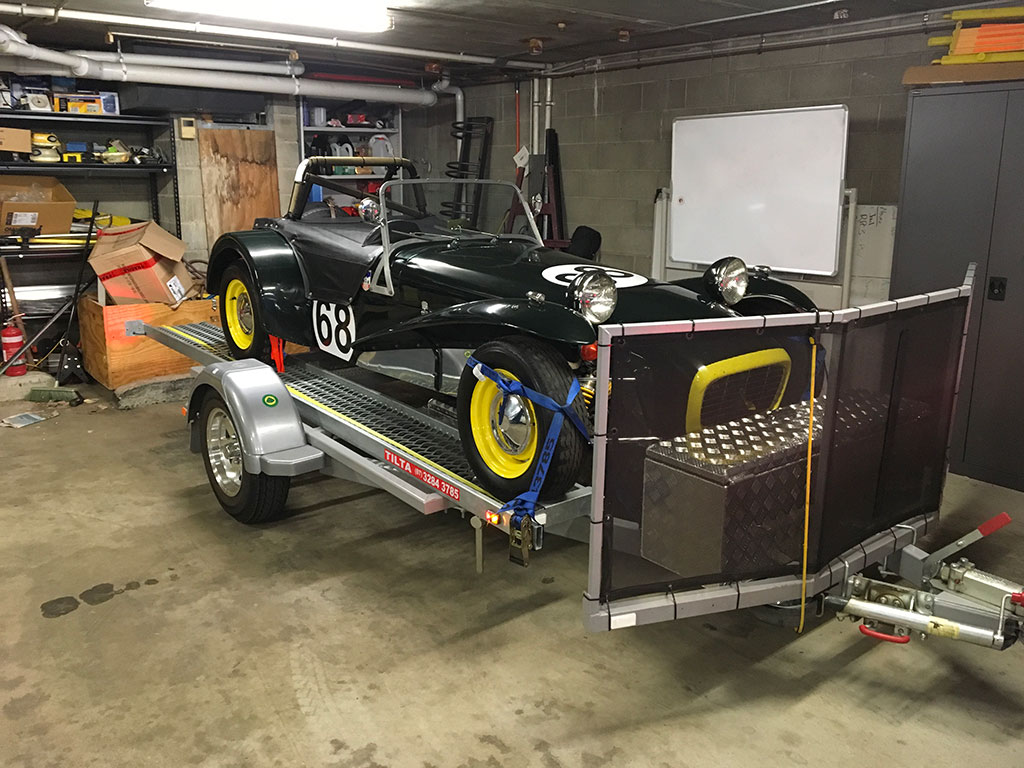 Lotus polished, Lotus loaded, tow-car fuelled, iPods loaded with e-books (check out S.Town on podcast if you are up to the most down-loaded e-book in 2017).
Day 1 – Brisbane to Toowoomba to Millmerran, re-fuel, tea and sandwich, 10 hours in the saddle. To our surprise the Newell Highway speed limit was 110, fantastic I am making a 10 % gain all the time!, very motivational.
Day 2 – Dubbo to Beechworth, Lunch at Wagga Wagga (check out the Blessed Bean Café next time you pass) phew 1,400 kilometres down, the last hour it poured down, welcome to Victoria, 8 hours.
Brisbane Bound
Day 1 – Beechworth to Forbes where we indulged in a local pie, very Australian. Parks to Gilgandra for the night. We shouted ourselves to the "special" King Room for $110 in a local Motel, worth the upgrade. Dinner at the Gilgandra RSL on Anzac Day; now that was entertaining, with the choice of either a VB or XXXX longneck to take-away, feeling slightly out of place in the very rowdy crowd, Jen and I being the only sober ones in sight, of course the "snitty" was great.
Day 2 – Gilgandra to Coonabarabran; breakfast at Tastebuds on Dalgarno, difficult menu to choose from until the lovely owner peered at me in a sympathetic and understanding way, you know we are a vegetarian café don't you! of course I retorted, clearly, I had been out manoeuvred by my navigator. A couple more fuel stops and we were home in a flash, well by 7 pm, trailer un-hitched, garage door down, another 1,400 kilometres no issues, no Bearing trouble, no navigation trouble, no wildlife trouble, no Police trouble, overall a great experience, if it only hadn't rained virtually all the way it would have been quite relaxing. I never did quite work out what fuel economy we achieved!
Shane Murphy
The Wilsons
Well around February 2016, we decided to book for Lotus 2017.
It always seems such a long way off until the last month or two when you are half way through a long list of stuff to do on the car. Having had to deal with quite a bit of damage to the Elan last time we shipped it to a national event, I decided to tow it instead. Thanks go to Tony Galletly for the loan of one of the best towing trailers. The Merc Estate was fitted with a cool Euro tow-bar complete with removable tongue so no evidence of tow-bar to spoil the lines.
I started early in 2016 looking for hard to get parts that have been missing in my restoration from a pile of bits in 1977. On the road in 1990, there have been some including the crash padding over the dash panel that are just not made as original product replacements.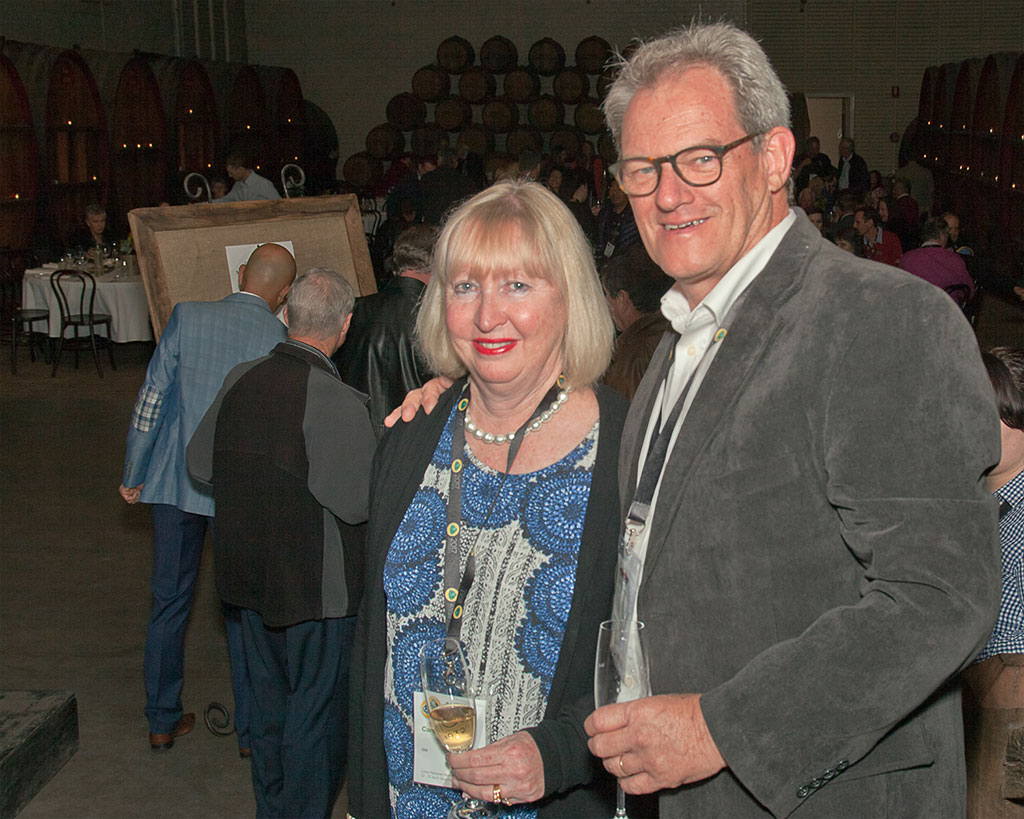 So the challenge was on. The interior was stripped, new carpet, seats re-foamed and door trims replaced with a newly available pressed vinyl panel from the USA. Thanks Dean for a great job. New window glass – complete with holes, which is hard to toughen without explosions, were made by Glass 4 Classics at Nerang Gold Coast. Thickness is finally available in Oz.
Then to the crash pad – with a mold made, finally I have ended up with a replacement that looks and feels just like the original product with soft touch and vinyl covering. No ABS or Fiberglass hard surfaces. With the Easter break approaching fast and a very close prototype, the final item was nowhere to be seen so I still had a pile of wiring, no dash panel, instruments or steering column. It was ready Good Friday morning so now to fit it.
Thanks also here to Steve Lennox who helped refit the complete windscreen frame assembly the week before. Leaving Wednesday morning with Clive and Gloria in convoy was approaching fast. Four 16 hour days followed and I finally started it on Tuesday afternoon. New fuel pump works.
Tony arrived around 7:30 pm to load the car on the trailer and I was still screwing things together while my son in law Daniel polished and cleaned the car.
On the Road – The trip south was eventful with the older tarp covering the car blowing out around Ballina. As luck would have it, there was a Bunnings right in front of us at the turnoff so after lots of wrapping and ratchet straps, we headed onward to Beechworth via Port Macquarie and Goulburn.
We had planned to travel the Great Ocean Road in the Elan and Elise with Clive and Gloria after the weekend event but 7 degrees, rain and roadworks – read dirt, proved our decision to leave them at Col Croucher's home in Wangaratta to be very wise. Thanks again Col. We found lots of wonderful sights, bakeries, restaurants and B&Bs along the way – highly recommend it as a great tour.
The trip home was pretty straightforward teaming up with Colin and Robyn McKay at Wangaratta after their Alpine tour in the Elan complete with snow.
We were stopped for a cuppa mid-afternoon in Parkes when an immaculate black S1 Elise arrived – with Tasmania number plates. The driver, Dave, was en-route from his family home in Tasmania to his new home in Townsville. We were on a short trip – apparently.
Thanks to everyone for all the help, friendship and fun. It was a fabulous trip.
Craig Wilson
The Bodes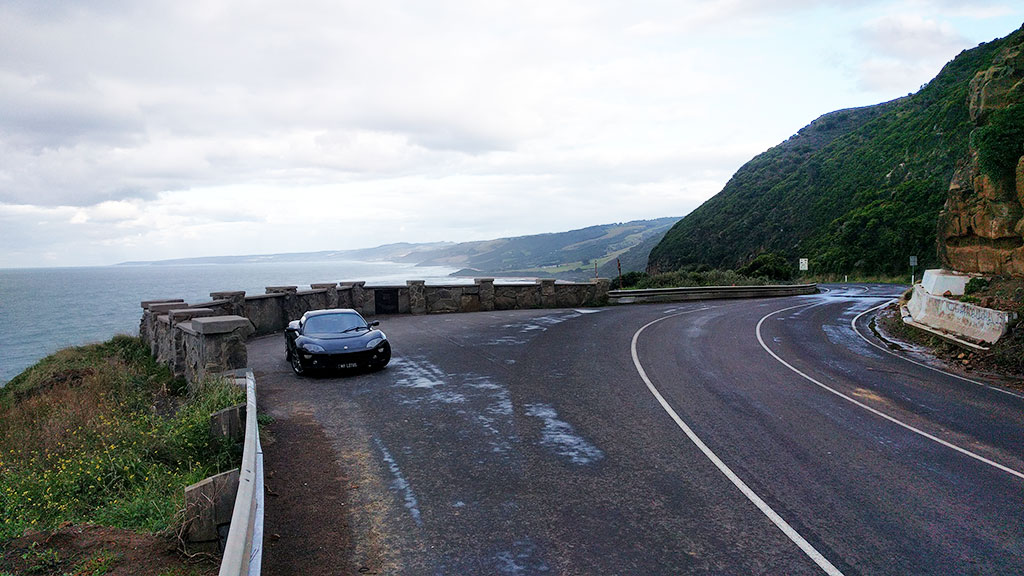 After 5300.8km (including the 1km false start we had due to a forgotten under-body shield) and also having only just got the car running 2 days prior after 6 months off the road, we have returned from our extended Lotus 2017 trip. Cass and I took the opportunity to visit The Great Ocean Road after the Beechworth event via the Grampion Mountains.
The Great Ocean Road was a bit windier and wetter than hoped, but still a lovely drive with great natural sights when there wasn't road works or thousands of tourists. We then continued on to Philip Island via the Queenscliff to the Mornington Peninsula car ferry (thanks Andrew and Susan Stevens for the tip) to see the Little Penguins and then home via Canberra and Sydney. Of course, the Europa S didn't miss a beat even on a few dirt roads. It was a great grand tour in the so-called Lotus "Grand Tourer".
Plenty of kids in the country towns jumping with joy including wolf-whistles when we drove through and of course the usual stares and waves from kids-at-heart. By the time, we got home the car was a bit dirtier than after the surprise Concours win and the boot full of presents for kids and wine for the collection. Overall another great event and bring on Lotus 2019.
Andrew Bode
The McKays
Proposed departure date, Easter Sunday. This early departure date was to facilitate Robyn's pre-arranged dealings in Melbourne. This involved her meeting up with a friend (from Brisbane) to hit the shops, and to attend an exhibition for a full day.
Whilst they were at it, the husband (an old Qantas friend) and I visited the Fox Collection (not a Lotus in sight) and then toured The McKay's old haunts around Mt Macedon, Woodend and Kyneton. The highlight, other than seeing our old house at Mt Macedon (one of the survivors of Ash Wednesday) was our visit to the Kyneton Aero-club. I was a member of the club in the early '80s flying their Cessna 172. It was a highlight, because they were preparing the airfield for an upcoming fly-in and air display and there were heaps of people to talk to and aircraft to look at. Always a pleasant way to put a sizeable dent in the day!
The early departure also precluded us from joining any "convoy" for the trip to Beechworth.
Due to the visit to Melbourne, and a planned, short tour of S.E. Victoria after Lotus 2017, we arranged, in Wangaratta, a storage shed, for the Elan when driving the X5, and the X5 when driving the Elan, and outside storage for the borrowed trailer.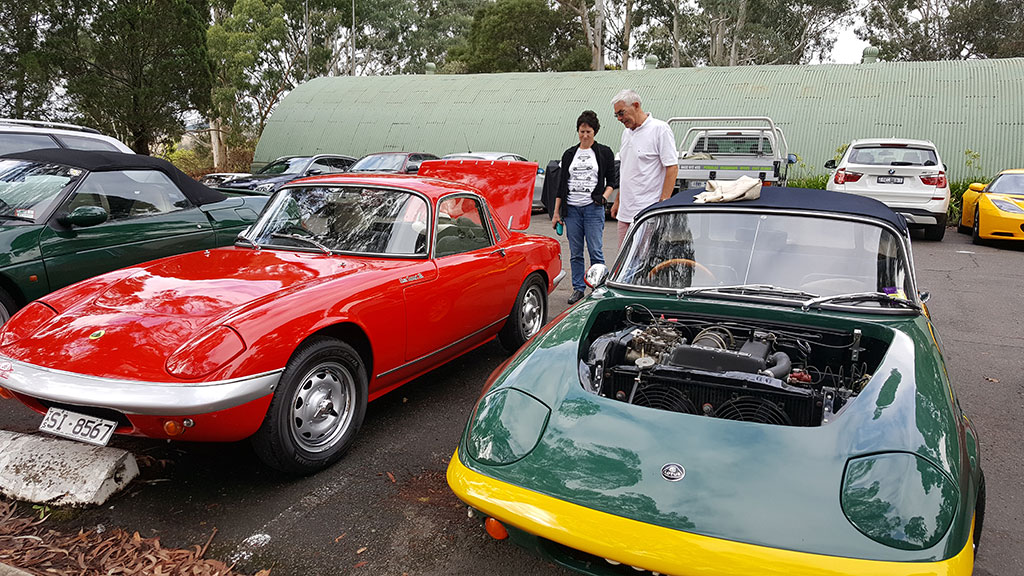 This is the same as we have done for the past three Biennial meets, and has worked out well. The trailer was picked up on the Friday prior to departure and fittings and tracks modified to accommodate the Elan. Saturday night saw the Elan strapped on to the trailer and waiting in the garage for a quick departure on the Sunday.
We departed The Gold Coast at 0500 for the Newel Highway via Toowoomba and Goondiwindi, on Easter Sunday, with a breakfast stop planned at Toowoomba, lunch at Narrabri and an overnight stop at The Acacia Motel in Coonabarabran. This motel was chosen, as we stayed there on the way to Lotus 2015 and the parking is easy and away from prying eyes. A Chinese restaurant is located within stumbling distance, so a very agreeable place to stay. The motel, not the restaurant.
Another 0500 departure and we arrived, without incident, at the storage facility in Wangaratta. With the Elan tucked away in the storage shed and the trailer in the storage yard, we went in search of our hotel. The only sour note, was the X5 was starting to be a little hesitant to start. The battery was almost new, so visited an auto electrician the next morning to discover the starter motor was loose and moving on its mounting bolts. Suspect that it was never tightened properly from a recent clutch change! With this remedied, sort of, we were on our way to Melbourne.
Back in Wangaratta on the Friday prior to Lotus 2017, swapped the X5 for the Elan, and set about having a really good time for the next four days.
After the festivities and our short, and very wet, tour of S.E. Victoria, we returned to Wang' to load up the Elan and trailer and set sail for home. This time, we were fortunate enough to team up with Craig and Carolyn for the trip home. Shared accommodation, separate rooms of course, and dinner with them prior to heading to Col Croucher's house to pick up Craig's Elan and trailer.
Headed off for the Newel Highway and another overnight at "Coona" and another Chinese meal (should be good on the Chinese food for a year or so). A tea stop was called (we had the club walkie-talkies for inter car communications) in Parkes to stretch and break the journey. As we were getting stuck into the tea and fruit cake, a purple Elise pulled up. The driver was amazed to find a pair of Elans so far from home. Turned out, that this chap, Brett, was driving his car from Tassie to North Queensland. He joined us for tea and cake and then drove with us, or near us, to Coona.
Interestingly, he purchased his Elise S1 new in Jersey, eventually moved it back to Tassie and left it in a container at his parent's house for several years before resurrecting it and blasting off for Queensland. Said he would join the club and be a starter for Lotus 2019.
A very cold departure from Coona the next morning saw us winging north to lunch and final farewells to our traveling companions at Warwick. Really enjoyed Craig and Carolyn's company over the period.
Trailer returned to its owner, and the Elan cleaned and ready for the Club Monthly meeting tonight.
Colin McKay
Rob (an adventure with Martin)
For a few weeks before leaving, I had thought I'd get the hard-top roof finished. But it was not to be – the details of getting a weatherproof seal working on the leading edge of the roof, and on the windows, required a number of trips to the Clark Rubber store – getting various pieces of neoprene and glue, and making up the weather strip shape as I went along. Which all took time.
So when I had just two days to go, and still hadn't tested the design even with a hose, I decided to put the project on hold and return to the original roof design that Lotus had intended for the Elise – the mostly waterproof soft-top solution.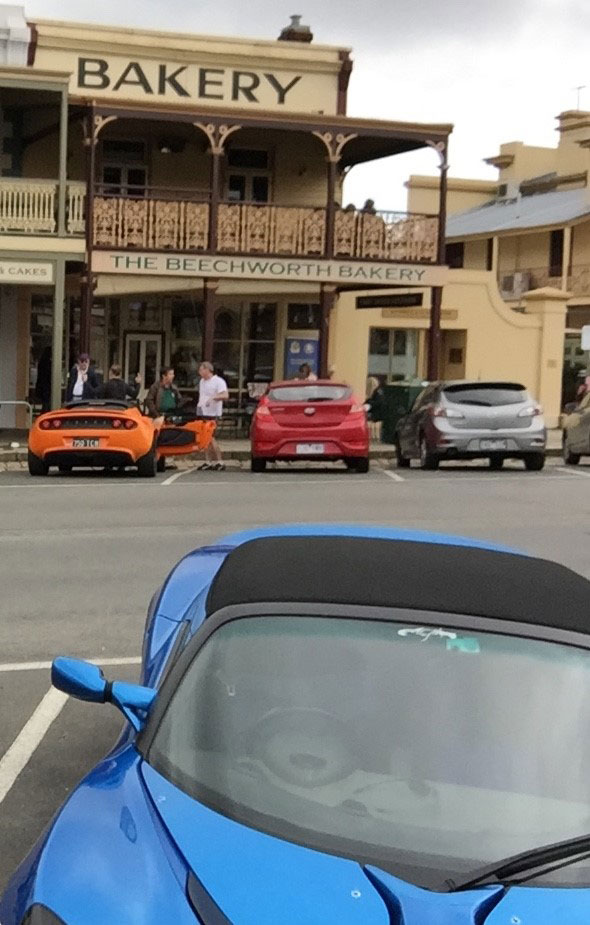 I was deeply suspicious that at some point during the 6-day trip, there would be rain, and being held in Victoria, there would be lots of it. At least the soft top was waterproof when driving, even though there was a persistent leak from each A-pillar-door join when stationary. (Solution: just don't stop!) I also changed over to a new set of Yokohama AD08R tyres, which were supposed to be perfect for road, and better if wet.
So, bag packed, helmet, toolkit and driving shoes stowed in the boot, it was time to depart. I met up with Martin at Goondiwindi at noon, as he'd left a bit earlier, and we then traveled in convoy down the Newell Highway.
I stopped at Gilgandra, (8.5 hrs), while Martin headed on to Parkes.
The tyres proved to be very good on road – quieter and smoother than the older Kumho R-spec tyres had been. Unfortunately, not a drop of rain on the way there. The roof – well it was the same as ever – stretching at speed causing a pressure bulge in the centre.
Next day we met up at Parkes, (I left early to catch up, appreciating a beautiful sunrise in the process) and we continued to Beechworth by lunchtime.
A shout from the upper floor verandah of the bakery reminded us that the rest of the Queensland contingent had arrived already, and were also having a feed there.
Just a kilometre further was the George Kerferd Hotel, and a king-size room all to me!
PS. It was on the return to Brisbane that it rained – 14 out of 16 hours driving back was wet. The Yoko tyres were really good in these conditions – probably the best tyres I've ever used on the Elise for a combination of road and track usage. And the roof leaked.
Rob Stevens
Martin and Suzanne
With around 18 months to plan Suzanne and my attendance to the next Lotus gathering from what was a mixed Lotus 2015, for me anyway, time was on my side. Needless to say, planning began in earnest a few weeks prior to Lotus 2017. Doesn't time fly when you procrastinate?
Having come off second best on the way to Lotus 2015 in what was Round 1 of the battle for supremacy of the road with the local skippy contingent; I was not keen to risk my good clam to the Lotus 2017 trip. The plan: I'd try to fix my somewhat damaged 'track' clam and put that on for the trip.
I recognise that I'm no expert but it couldn't hurt to give it a crack (pun intended). Actually, fix might be a bit of a misnomer, 'bodgie it up' is more fitting.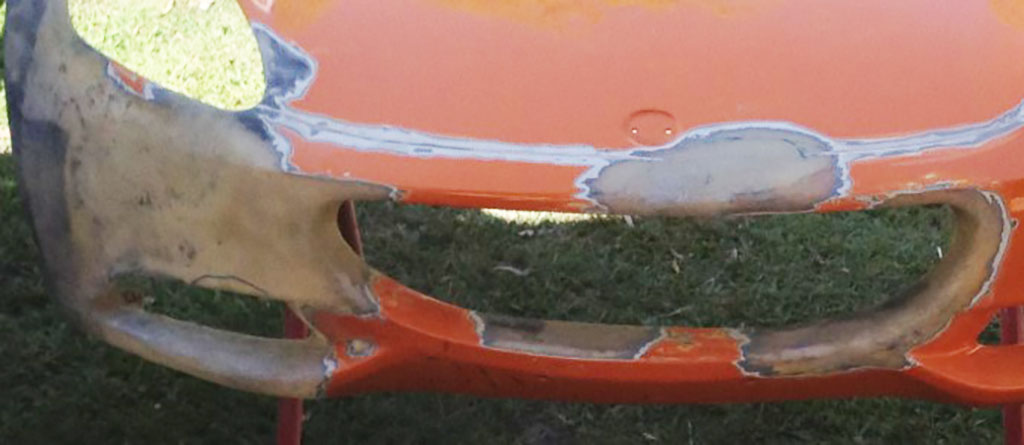 I set to work with my trusty grinder and sander to see what's what, creating films of fiberglass dust across in the yard (and clothes line) – well, I didn't want to get the new shed covered in it;). Many hours and litres of acetone later (messy stuff, that fiberglass), I had glued it all together. With all those compound curves to shape, it was a little daggy in spots but I thought it was passable. I found it difficult to reform the creases in the front of the clam so I ended up filling them like many do. Referred to as "shaving" I believe. I actually like the look of a shaved clam but the daggy bits do stand out more.
I am usually a patient man but not when it comes to sanding and painting. So, a quick trip to Supercheap for some gel coat, high fill primer, colour matched base paint with glittery metallic stuff – which was surprisingly good match to the original, and a couple of rattle cans of clear. Done! Let's just say it was never going to be as smooth as a baby's bum, more like a full nappy, but in Chrome Orange. Perhaps in the near future I will ship it off to the body shop for a proper jam job, but no time now.
So, with a single day to go I completed the great clam swap without a hitch. Thanks also to Suzanne, the trusty apprentice at "Marto's body works". Gave Rob Stevens a quick call to confirm departure time and meetup point, packed my helmet, race suit, boots, gloves, paperwork… oh and some other clothes in a bag that night ready to set sail to Beechworth and hit the hay.
Off to a good start at around 7:20 am. The first leg to Goondiwindi for a splash of fuel and a nibble was a dawdle. Also meet up with Rob here as he was only 15 minutes behind me by then. The usual formalities and a quick critique of my clear coat painting skills and his tyre choice and we were off.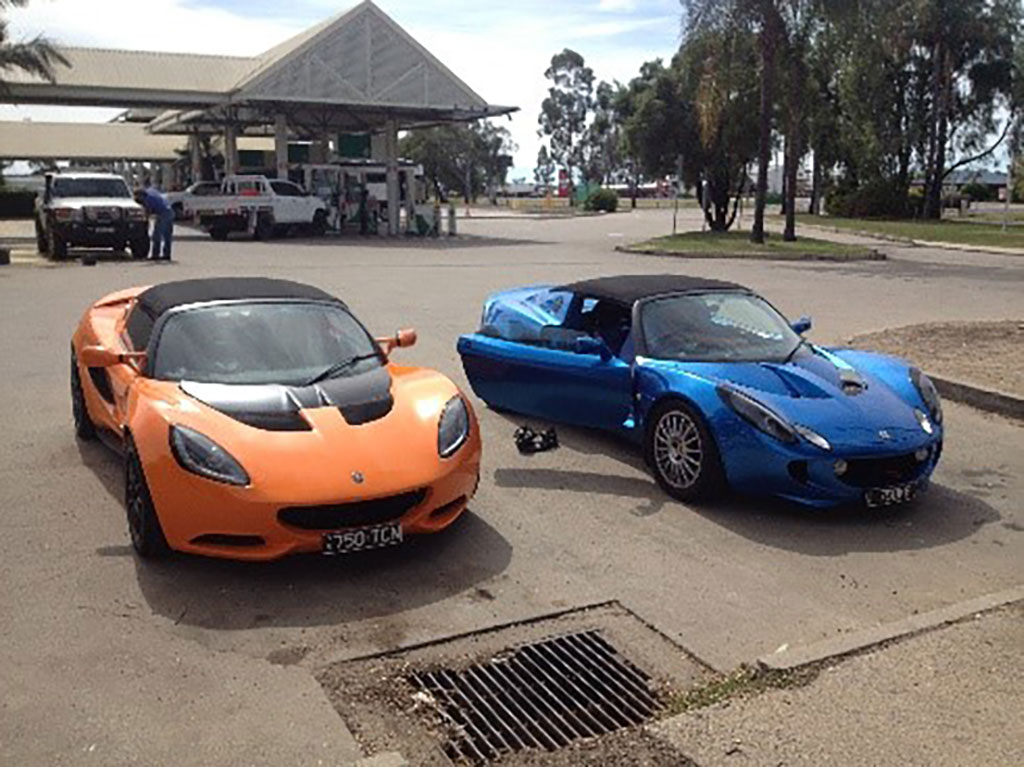 Thanks for being so kind on me Rob even though I knew you were just being polite. I assured Rob in my humble opinion that he couldn't go wrong with the AD08Rs.
As my sense of direction is as good as my spray painting, I suggested Rob take point, which he kindly accepted. No! I swear it had nothing to do with clearing the roos.
A rather uneventful run south found us cruising through to Narrabri for a splash and dash for the cars and our bellies, then on to Gilgandra. Rob had booked to stay overnight at whereas I had to run on for a further 2 hours to Parkes.
Stopping at Dubbo for fuel it was evident I could not get to Parkes before night. Was I worried about the light fading as dusk approached and I entered the roo witching hour? Ha-ha, no! I was safe in the knowledge I had a fresh clam tucked away at home and a newly formed shield of dodgy paint and fiberglass out front to protect me. I powered on. They wouldn't stand a chance. As it turns out the skippy's must have heard about my cunning plan because not a beady eye was sighted. Ding! Ding! Round 2 to me I'd say.
Next morning, I took the time to backtrack a little to "The Dish" aka Parkes Radio Telescope. Rob was some ways off yet and I just had to indulge my inner geek.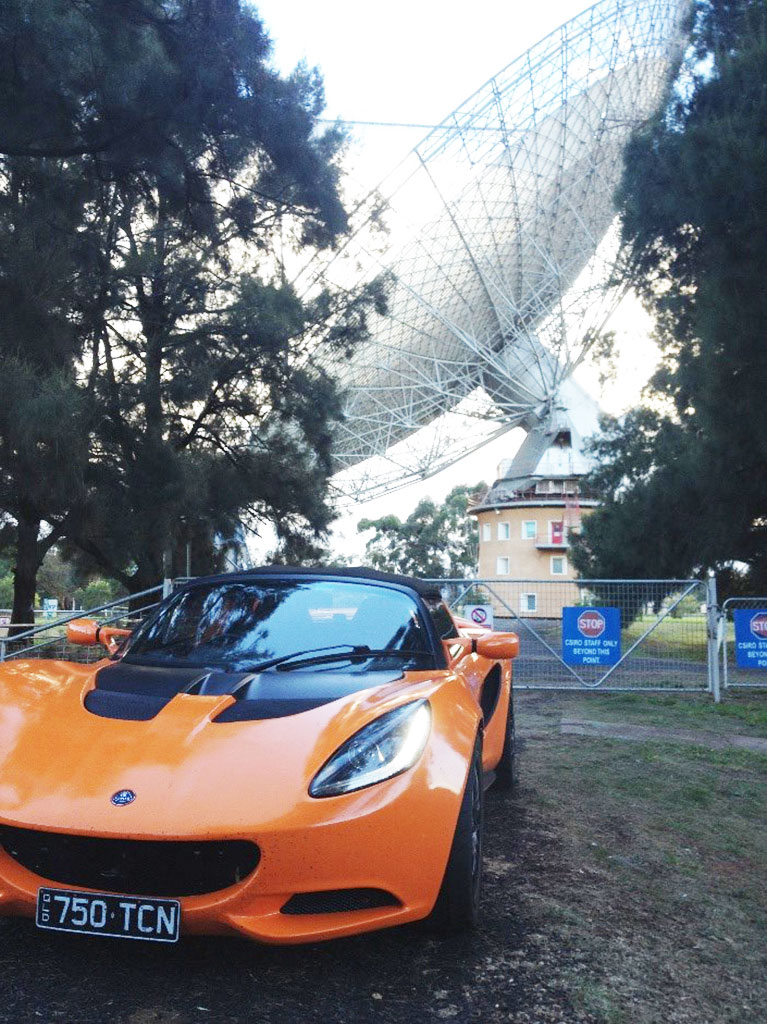 Glad, I did. Very interesting place. I won't bore you with the details here. Check it out next time you're passing by. Okay, for those interested here are a few facts:
Big – 64 meters in diameter
The moving part of the telescope weights 1,000 tonnes but it is not fixed to the concrete tower. Its own weight holds it in place.
If the wind exceeds 35 km per hour it must be 'stowed' by pointing it directly up or it will set sail.
Designed by, engineered by Freeman Fox, the company that had designed the Sydney Harbour bridge.
Constructed by the MAN Company (Maschinenfabrik Augsburg-Nurnberg A.G.) in Germany.
A spot of coffee and breakfast back at Parkes and a top up at BP, just then Rob turned up, so we were off once more.
The original plan was to swing by Albury Airport to pick up Suzanne who winged it. But, the good news for all was that Carol was on the same flight as Suzanne so they shared the hire car to Beechworth. So we just motored through to Beechworth. Why didn't Suzanne drive down with me, I hear you ask? Suzanne refers to time spent traveling on 4 wheels as "car jail". You get the picture.
I must say, I was pleasantly surprised at what a beautiful and lively little spot is Beechworth. We came into town and pulled up in front of the famous Beechworth Bakery to be greeted by the rest of the Queensland contingent and a fabulous pie.
The rest folks are as they say history.
Finally, a big, big congratulations to the organisers of Lotus 2017 and all who lent a helping hand. Well done. If you were there, I hope you had a great a time as I did. If you missed it, make the effort to come to Lotus 2019.
Martin O'Brien
The Barrams
It started out pretty simply. Are we going to Lotus 2017? Yep. Why not? We will just tow the Seven down from Brisbane in the trailer.
Then I damaged my Cheetah race car and decided that the best move was to take it to Michael Borland at Borland Racing Developments at Braeside, in Melbourne. The stripped down tub fits in the trailer with the Seven. This is looking good.
Now I have a mate here in Brisbane who is "managing" with his brother-in-law a house down at Mount Martha, not far from Braeside, and needed to send down some pretty tricky glue for some job, not the sort of thing you send through the mail. Well, I would be in the area.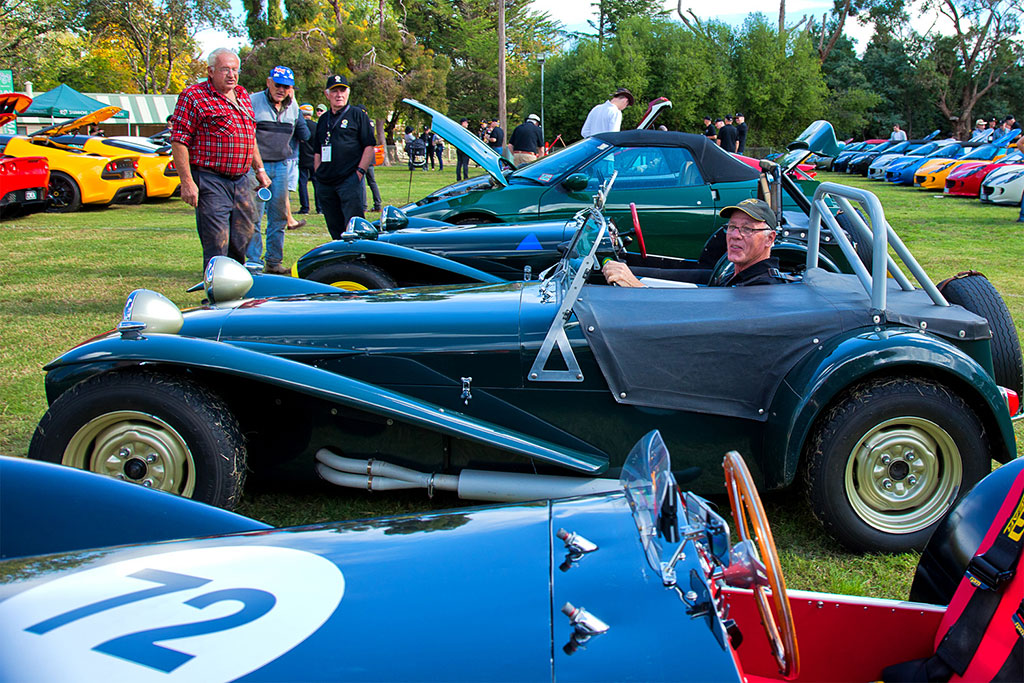 And Penny has a sister in Eltham we have not visited for a few years so that was a must for an overnight. Then a few weeks before the event a cousin of Penny's from Anglesea phoned and one thing led to another so there was another overnight to be had there.
And then a few days before departure another mate called to say he is buying a towbar for his sister's Kia Sorrento for which they want a fortune but there is one at a wrecker in Melbourne at a good price!
So what do you do?
We left Brisbane Tuesday arriving at the Kia wrecker in Campbellfield on Thursday to be given a lesson in OHS by a couple of young guys sitting under the back end of a Kia, suspended in mid-air off a fork lift through the windscreen, with a phone in one hand and a rattle gun in the other!! Got the tow bar. Then it was over to Eltham for the night. Friday morning, we braved the Melbourne peak hour traffic and got down to Braeside to deposit the remains of the Cheetah, discuss that project, and ask Michael if he would mind holding this trick glue for a few days until it is picked up.
So, then it was down to Sorrento and across on the ferry to Queenscliff, because we have never done that before. Then down to Anglesea for a night of family history. So, on Saturday we then simply drove up the Hume Highway to get to Beechworth, looking for a well-earned rest.
John Barram
Concours d'Elegance
Story by Craig Wilson, photos by Gloria Wade and Shane Murphy.
In keeping with the whole of the weekend events, the Concours was organized with precision. As we all arrived, models were grouped and lines of cars straightened.
It is great to see so many owners, many of whom had driven from far and wide across the country, present their cars in Concours mode. It is a credit to everyone that they are not only using their Lotus as a great sports car, but are making a big effort in preservation of models, new or older.
All models were judged on cleanliness, general condition of areas like exterior, paint, interior, engine bay, boot, suspension and running gear. Originality was another section that with many Lotus, new or old is the big divide in scores. As Clive put it, as soon as the judges see a Honda engine it's down to 450 possible instead of 500 points. It is also a challenge with some of the older models to get the lost and hard to find parts.
So, Queensland scored well with John Barram taking out the class with his spotless and most original 7 and grand champion overall went to Andrew Bode with his immaculate New Europa. From a judge's point of view, it was great to see Andrews's car score so well amongst lots of newer cars and two other new Europas. The presentation and general condition was first class.
Congratulations to all the winners and we are now all looking forward to Lotus 2019 in Queensland.
Beechworth District Historical Tour
By Suzanne de Kleyn
After waking up to glorious weather I was excited to get going on our bus trip and do some exploring. I was very keen to find out more about the things that were a blur as we zipped past them in the Lotus.
First off, a local guide got on the bus and took us around various points of interest in the town of Beechworth and gave us the rich history of the places around us. For a first-time visitor, not particularly knowledgeable about the goldrush part of our history it was very informative. I had no idea that the Beechworth Historial Precinct in walking distance from our hotel included the courthouse where Ned Kelly was on trial before being sent to Melbourne, the lock up he was held in and also the most well preserved law library in Australia.
After dropping off our Beechworth tour guide, we were off again. Through charming Chiltern and lovely countryside to Rutherglen where we stopped for coffee at a coffee van in a park and collected our next Rutherglen tour guide. By this stage, we were hanging out for a caffeine fix and appreciated the opportunity to get out and stretch our legs in a nice spot. Gloria Wade was thankfully snapping photos madly.
Then we were off again! Next stop was the family owned and operated Jones Winery. Another nice spot with a small gallery on site also and the group was able to learn more about the history of the vineyard, participate in a tasting and make some purchases if they wanted to. Despite a text from the track asking me if I was "stocking up on booze", I refrained.
Then on the road again with more informative commentary by our local guide who took us to the water tower the town has made into a wine bottle to reflect all the wineries in the area and a State Gold Battery. The Battery was erected in 1908 to crush quartz recovered from quartz reefs in Rutherglen District to recover the gold. After watching a short video to show how it worked, we dropped tour guide no 2 off and then we headed to lunch.
By this stage, we were famished. Lunch was on the deck at the Pickled Sisters Cafe at the Cofield's Winery. OMG! It was a feast I don't think anyone was expecting. When we arrived, there was a selection of hot and cold canapés. This was followed by many main dishes for us to share at our table. Plates of steak, pork belly and salmon, bowls of various salads and roast potatoes, an assortment of pickles and relishes as well as baskets of fresh bread. Seconds and thirds were available for those who wanted it and could fit it in, but I was stuffed. I did give a few seconds thought to what Marto was eating at the track and surmised it was probably a pie. Oh well.?
Then after a lovely day, it was back on the bus so we could sink into a food coma and nap on the way back to Beechworth.
Navigator's Take on the Lotus 2017 Touring Event
By Sandy Smith
From the outset, Tony and I were looking forward to participating in the Touring Event (Rally) having recently organised a club rally to Binna Burra, we were keen to see how it was usually done.
Armed with the carefully prepared instructions included in the Lotus 2017 book issued on registration we set off. It was a casual arrangement with people leaving or not at their leisure. As we left Beechworth and headed back the way we came the night before from the Albury airport. I was feeling a little apprehensive when an orange Elise pulled over and started following us! – the Blind leading the Blind if you ask me.
The instructions provided were followed meticulously with warnings provided before each turn with regular reminders as needed re the speed limit. We left the orange Elise behind in the first little town Yackandandah and a couple of Lotus drivers passed us on the way up as we followed the winding road which gradually climbed through the green pastures of the highlands on the way to Mt Bright.
We stopped at the General Store come post office, community library for some refreshments heartened to see many Lotus drivers there already, most of whom must have taken a different route or left a lot earlier than we did. Lotus cars went in all directions after this. Some headed up to Mt Bright, others were off to Bright or Melbourne and a few of us followed the designated route down through Stanley.
Coming into Stanley the picturesque Autumn colours were well worth the drive.
The second leg of the journey through State Reserve and along the Great Alpine Road were highlights. I found the instructions easy enough to follow and we managed to complete the course without getting lost, having an argument or a speeding ticket!
LOTD at Winton Raceway
By Martin O'Brien
The day started much like any other… well technically yes, as far as days go, but I was far more excited than most mornings. It was track day! Lotus 2017 Lotus Only Track Day (LOTD) no less! Blessed by fine weather, not only was it at a new track, which I love, but also a track day run by the team at SSC and Race Solutions – always a safe bet for an awesome event.
The car was prepped as much as it could be after driving down from Brisbane in "Granny Spec", as the young folk like to call it – meaning standard geometry set up for the road. I did decide to whip out a couple of front camber shims each side the night before just to help reduce understeer a tad. No excuses. Run what you brung as they say.
With the usually, but not unnoticed, efficiency of the organisers the formalities were over in a flash, leaving plenty of time to indulge in a coffee or snack prior to qualifying. I mean have a natter to and catch up with old acquaintances.
Sessions are seen off in quick succession but not so hurried that there isn't plenty of time for some off-track banter. The number of times the question "how was that?" posed, only to be answered "#%$&ing awesome!" was paled in count only by the smiles on dials, as it were.
Now folks, I readily confess to being a bit of a muppet when it comes to all this race stuff. It is of no consequence here at a LOTD. Everyone is nothing but enthusiastic and supportive of you joining in on the fun. Gentlemanly (term used loosely) advice, assistance and courtesy abound.
I enjoyed driving the Winton track too. It is tricky in parts, which is where I enjoy the challenge, but also has a few long straights to regain one's faculties and take a breather. These were where I felt like I was in an episode of Star Trek, just when everyone else hit warp speed and you were stuck with Impulse drive. C'mon Scotty – surely, she canna take any more!
Qualifying, practice and races 1 and 2 all flew by in the blink of an eye. To most anyway – I came in a little later. Okay let's call it as we see it – last! If I was ever to win the reverse grid handicap race format, here was my chance – race 3. The handicap, being calculated on previous race times, would stand me in advantage as I should theoretically get faster as the
day progressed, whereas the Winton regulars would be running consistent times out of the gate. Sandbagging aside.
In the excitement, I don't quite remember all the handicaps except that the driver directly behind was Leigh at 22 seconds (not enough head start I thought), and the last out of the gate was Mark O'Conner at 88 seconds (nowhere near enough head start), with the rest of the field dispersed fairly equally within that range.
Racing! I got away clean and within a lap or two settled into the same view I had seen all day. Empty track. Only this time I wanted to keep it that way and keep my mirrors clear of traffic too. Lap after lap I was keeping it on the black stuff and trying to not do anything silly, or spectacular for that matter.
Not sure what lap we were on out of the allocated 9 laps when there he was, a small white dot in the distance. That bloody Mark O. I knew it wouldn't be long before he was large, if not fleeting, image in all my mirrors. How bloody wide is that car?
Okay time to dump the sandbags!
Wait… I didn't load any. Damn it! I will just have to pray to the podium gods to watch over me. I kept telling myself to just be consistent, don't panic, and remember what Mark O told you. Hang on, he is the one rapidly approaching on you now, don't listen to him. Ha-ha. Unbeknownst to me it was the last lap, and as we came to the esses I held slim hopes. Wait, what is that? The chequered flag. No surely not.
All the above aside folks, it was a great day at the track. Thanks Mark O, Mark A, Dave, Damo and Leigh (in no particular order) for your patience and a great day. Thanks to all those smiling faces. The Queensland contingent, having driven well all around, now driving (or trailering) home the same way they arrived. Always a success. To the many of us never having been to Winton before and setting PBs. Ha.
I, like many others, enjoy the off-track banter and watching the rest of the Lotus brethren pace the track just as much as being on it myself. It's what makes this little community great. Shane, becoming addicted to the track and racking up the silverware.
If, as I believe life is measured by fond memories, I have just had more than my measure. I can't thank the Lotus 2017 and LOTD organisers and many, many participants from all corners of our great land enough.
Until Lotus 2019 or the next LOTD, just drive.
Breakfast at Ruffy's Produce Store
By Simon Messenger. Photos by Cheetah Suchayanon, Jeanne & Peter Murray and Gloria Wade
The weather Gods looked kindly upon us on this day, unlike on the Friday and Tuesday at either end of the wonderful Lotus 2017 biennial the previous weekend (big thanks to the Committee).
Your scribe was lucky enough to be offered a ride in Peter McConnell's Europa S in exchange for my first time EMR navigation duties, which was made easy by "the best instructions we have ever had", or so said Lee Suryn at our destination in Ruffy (more on that later).
Some new members joined us for the first time at Eltham, one of the two meeting points. So, a big welcome goes out to Shane and Sue Bowden (BRG and Lotus Yellow stripe/wheels Caterham 7) and Nigel and Denise Robertson (Pearl White 1984 Lotus Excel).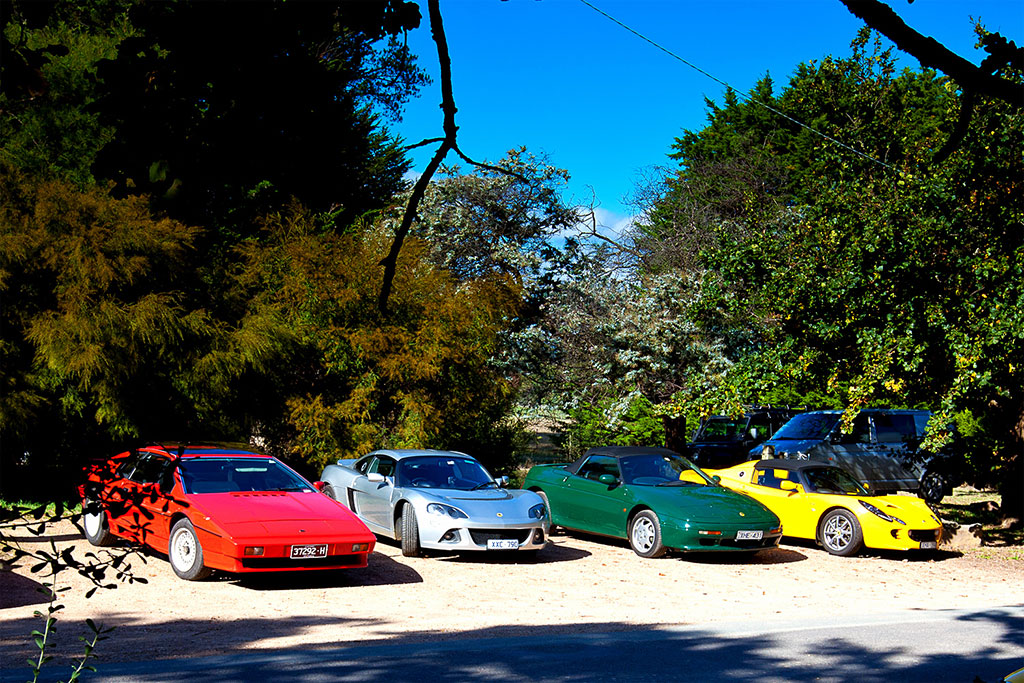 We set out very close to our target departure time of 8.30am and headed north through Eltham with the leafy green Edendale Community Environment Farm on our right, and then onwards and northwards through Diamond Creek (looks like a good place for a tree change), along Ironbark Road and then up to the edge of Yan Yean Reservoir, although its crystal clear waters were not glimpsed by yours truly on account of one's diligent attention to the "the best instructions we have ever had" and to the whistle of the turbo of the modern Europa.
At Whittlesea we almost convinced ourselves that we had taken a wrong turn, but a not so quick re-programming of the Tom Tom for a destination of Flowerdale proved that we were indeed on the same route as about 500 mad keen cyclists pedaling uphill on the long and winding road to nowhere. The left turn to the road to Broadford and Strath Creek was a welcome relief to dodging the two abreast lycra-clad ex-golfers. But why were the yellow and green Elan M100's of Peter and Sandra Hill and John Harrison heading in the opposite direction? Was there a blocked road, or a problem with the "the best instructions we have ever had"? Surely not. So we pressed on and the colourfully named King Parrot Creek Road soon led us to the Goulburn Valley Highway whereupon a right turn saw us head south east towards Yea, until a sharp left turn onto the unclassified Ghin Ghin Road for the final 48km.
Now the fun started in earnest, as the latter road, and then the Highlands Road, have a 100km/h limit for much of the way with little or few safety barriers and directional arrows to guide the spirited Euro fighter pilot in the right direction. The familiar yellow of Peter Murray's Elite came into view on Highlands Road, so we followed the man who knows the way blindfolded to the Ruffy Produce Store.
Upon arrival, most of the crew who started at the alternative start at Bayswater had already arrived and our Europa was parked in between the red Esprit of Marcus Sezonov and the green M100 of Ian Simmons and Sonia Goubran. The wayward M100 of Peter Hill arrived shortly after, but where was John Harrison? He had stopped along the way, but still arrived in plenty of time for coffee and brunch.
The store/café was already entertaining a small number of non-Lotus club members who probably wondered what was going on but soon engaged with our group. We sat down to await our pre-arranged bacon and eggs brunch with hot drink. Talk on table 7 soon turned to the "the best instructions we have ever had" and a compliment was duly paid by Lee Suryn to the author Peter Murray. It was also good to finally meet our youngest EMR participant, Henry Simonis, who had been enjoying the ride in the back of his parents' black Evora S.
Unfortunately, as we were leaving the café for the drive home, an observant non-member alerted us to the fact that Peter Hill had sustained a puncture to his offside rear tyre. He was duly advised of the situation, which thankfully was easily remedied by deployment of the on-board skinny spare.
Then to my grateful surprise, Peter McConnell graciously offered me my first drive in a Europa! Having started the car and psyched myself up for it, we headed home, with me at the helm, after a very enjoyable EMR. However, the 60km limit through extensive roadworks on the road to Yea put the kybosh on any hijinx on the highway.
Editors' Postscript:
As Clive Wade had left his Elise in Wangaratta after Lotus 2017 he joined Peter Murray in the Elite. In days of yore Clive used to gently chide Jeanne Murray for her regular use of her Lotus hot water bottle to keep warm during winter runs. Jeanne decided to stir the possum with Clive by presenting him with said water bottle as he was about to get into the Elite.
Presentation Dinner