The Return of the Cootha Classic, 5th September 2015
Story by Shane Murphy, Photos by Karen Black, Jon Young, Gavin Batstone and Shane Murphy.
Touted as a revival of a Brisbane motoring festival (last run in 2010), the scenic Mt Coot-tha access road was lined with Armco and the Cootha Classic was on.
The 1440 metre, correction 1240 metre (sorry you had to be there) course was laid out ascending Sir Samuel Griffith Drive, cutting through a short cut and racing downhill finishing adjacent to Slaughter Falls.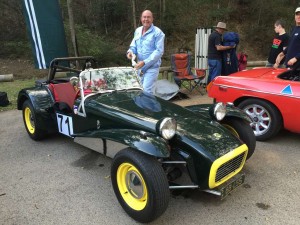 Interestingly, the pits were located in the Slaughter Falls Car Park (a kilometre run to the start line), trailer and support cars were located about a ten minute bus ride from the pits, which as it turned out was logistically challenging for drivers, pit crew and the general public.
To quote the organisers "On top of the street sprint spectacle the event promises to reveal a side to Queensland's rich motorsport history never before seen in front of mainstream audiences through performance alley, interactive displays and the chance to get up close and personal to the cars in pit lane", the pits were virtually inaccessible to the general public without a one kilometre trek!
Entry for the event was selected by the organising committee (after applying), but limited to 100 cars in 5 classes, Modified, Open Wheelers, Street, Historic and Unlimited (whatever that means).
Lotus Club Queensland fielded 5 entries; James Driscol – D Type Jaguar (Historic), Shane Murphy – Lotus 7 (Historic), Vyvyan Black – Lotus Elan (Historic), Alex Molocznyk – Lotus Elise Sport 111 (Street), Paul Tredenick – PRB Composite (Modified).
Notable pit crews included Mike Driscol and Karen Black. Karen sportingly wearing high-vis sneakers, as per the supplementary regulations. My ever reliable pit crew was unavailable on the day as she decided to watch the Lions flog Footscray at the Gabba (sorry Doggy fans, could not resist that one)
Five runs were scheduled including a sighting run with the possibility of a sixth run being a top five shoot-out in each class.
Scrutineering was run on Friday afternoon, the only real hiccup was Paul's out of date fire extinguisher, a quick trip to the nearest Supercheap to grab a new extinguisher and we were ready for action.
Organisational issues delayed the start of the Saturday competition, which gave Vyvyan additional time to test his newly acquired helmet and to test fit the headroom within the Elan, luckily there was ten millimetres to spare, so Vyvyan was ready to attack Mt Coot-tha on his inaugural competition outing.
The pits were abuzz with trepidation as three cars (luckily no Lotus) were trucked back to the pits after the observation runs, having clouted the kerb whilst navigating the overly tight chicanes; nevertheless the organisers pressed on, modified the chicanes and we were away.
Despite the shaky start the day ran well, with the marshals doing a great job and keeping everyone in line.
Vyvyan ran with a slightly off-tune engine, James was losing oil (source not easily detectible), I had a couple of runs with a misfiring engine (cause unknown), Alex was garaged so far from us we only passed him when gridding up. The only casualty of the day was Paul collecting a cone which broke his rear guard and sent him ever so slightly into a solid obstacle. A pretty impressive outcome given the nature of the impromptu course.
In the final wash-up, Club results were as follows;
| Driver | Class | Class Place | Outright Place |
| --- | --- | --- | --- |
| Paul Tredenick | Modified | 3 | 9 |
| Alex Molocznyk | Street | 26 | 76 |
| Shane Murphy | Historic | 3 | 22 |
| James Driscol | Historic | 6 | 56 |
| Vyvyan Black | Historic | 18 | 82 |
Dick, did I mention that I came third in the historic class top five shoot-out, I think I may have mentioned it!
Hope it runs again next year, maybe with a little more organisational oil in the works and a few more Lotus entrants.