Mac's Bridge at Belmont – Sunday 23rd May 2021
By Daryl Wilson, photos by Russell Carter.
MacLean's Bridge Sports and Classic Car Festival was held this year on Sunday 23rd May 2021 at Queensland Rifle Association Belmont Range, 1485 Old Cleveland Road, Belmont Qld. It was interesting driving in to find the Lotus mob to the sounds of rifle shots going off in the background!
This event was also Round 3 of the 2021 Interclub Challenge, but I must confess I do not know if we were in the judging and got any ICC points for the Lotus Club Queensland.
We had a turnout of 13 cars including Paul Littler's very tidy 1964 Elfin Monocoque built in South Australia by Garrie Cooper – see details below.
In 1963, Garrie Cooper began work on a revolutionary monocoque design of a car intended to dominate the newly created Australian 1½ Litre capacity class. Lotus Cars had already built the Formula 1 monocoque under the direction of Colin Chapman but the idea was still in its infancy so Cooper had only vague ideas of the design. The monocoque build removed the need for the traditional "Superleggera" tube frame chassis and harnessed a very light sheet steel frame to which aluminum panels were riveted for a very stiff structure. The finished structure weighed approximately 80kg less than the tube framed Elfin Catalina it replaced. Uniquely, the hollow section of the body was sealed off to serve as the petrol tank. The Elfin Mono eventually made its debut at the August 1964 Melbourne Racing Car show and orders quickly followed.

There was a mix of Lotus and Caterham cars ie, my 1998 Caterham Super 7, past member Derek Dean's 1975 7Cars Super 7, past member Jeff Rouse Yellow Lotus Elise, Alan Kenn 1989 Lotus Excel SE, Wade and Aston Greensill, 2003 Lotus Esprit V8, birthday boy Colin McKay, 1968 Lotus Elan S4. Peter & Leanne Drane had another early morning trip down from the Sunshine Coast in their 1997 Lotus Elise S1 and possible new member Leo Laspina in his 2019 Lotus Elise 220 Sport.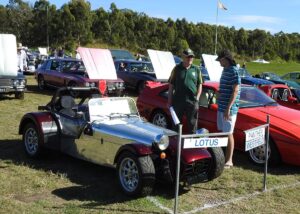 Plus not to be outdone Russell and Leigh Carter brought the family fleet of cars, their new acquisition a very nice 1997 Lotus Elan M100 Limited Edition, 1977 Lotus Esprit S1, and 1992 Lotus Carlton. Some people have too many toys, who said I was jealous!
During the morning lots of people viewed the cars including a Triumph Club judge who was particularly interested in Colin McKay's Lotus Elan. A quick phone call and Colin came back and talked to the judge about how he acquired the car, how he restored the car and its on-going history. Long story short, later that morning Colin was informed that he was the Winner of the Pre 1970 Sports Car Award. Excellent result as Colin always presents the car beautifully and uses the car on a regular basis, so it is not just a show piece.
On a side note there was mention that Aston Greensill (Wade's long time co-pilot) got his driver's licence last week, congratulations Aston. He may also soon be the proud owner of a 1994 Lotus Elan M100 SE, thanks to dad.
During the day several Lotus members wandered by for a look and a chat, Des Hill, Andrew Olsen, George Row, Will Piddington, Mark Forrester-Jones and Victoria Johnson to mention a few. Seems they left their cars in the car park and hoofed it in…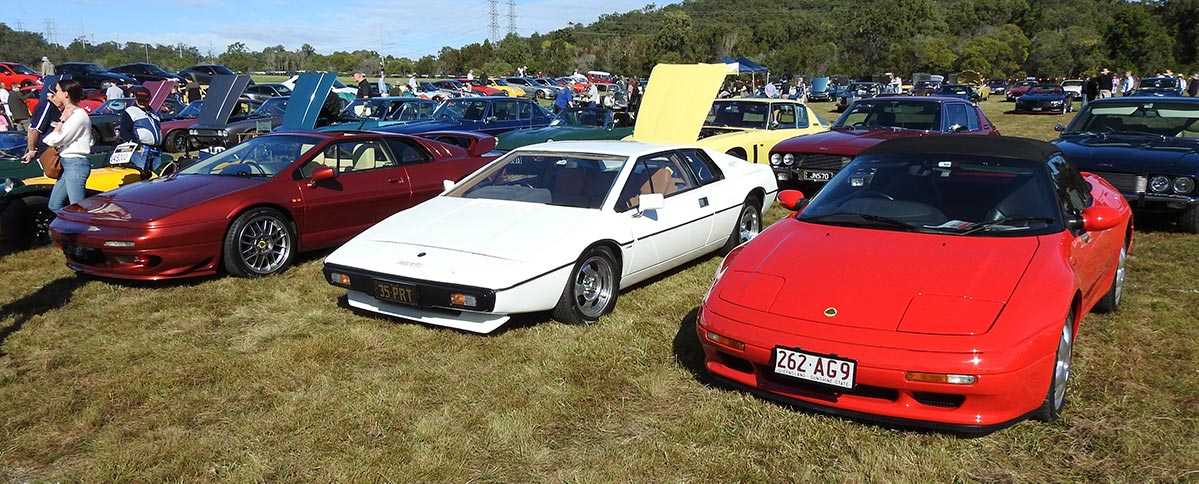 A couple of other Caterham owners came over and introduced themselves, one being Peter McEwan. Peter has a Caterham with a 1.4 litre Rover K-Series that he originally bought in Australia. He then shipped the Caterham to Canada where he lived for many years. He is now back living on the Sunshine Coast. Unfortunately his Caterham is not running at the moment. Hopefully Peter will get the Caterham running soon and we may see him at a monthly meeting or on an early morning run.
Tim Binns also stopped by for a chat; he has bought a 2005 Caterham Roadsport SV, 6 speed, Rover K-Series 1800 vvc engine. Hopefully he will bring the car along to a Lotus meeting soon.
I heard over the PA as I was driving out that there were around 400 cars exhibited on the day, so very successful event again with a large crowd of spectators enjoying a lovely sunny Queensland winter day looking at the cars, life is good!