Allan Saunderson at Round 1 Black Trucks/Isuzu Ute Qld Cup Lakeside 14-15/3/15
A top weekend of racing at Lakeside. We had 20 cars on the grid which included six cars in Alan's class.
He qualified 11th, Race One he was 11th outright and 1st in class, Race Two he came 12th outright and 2nd in class, Race Three he came 11th outright and 2nd in class, Race Four he came 10th outright and 2nd in class. This gave him second place overall in class for the weekend.
I had a guy by the name of Steve Johns come up to me on Sunday morning and asked who owned the white Cortina Number 45. I promptly told him I did and my son Allan drives it. He then said where is the other white one and I pointed to Craig Thompson's Lotus Cortina.
"Bloody hell they were having a real good go," he said.
"Give me your email address and I will send you some good pics."
Have a look at pic above. How close can you race 2 Cortinas without coming together? Allan is in car 45.
CLICK ON THIS LINK TO WATCH 45 SECONDS OF RACE 4 ON SUNDAY ARVO. Allan is in the second white Cortina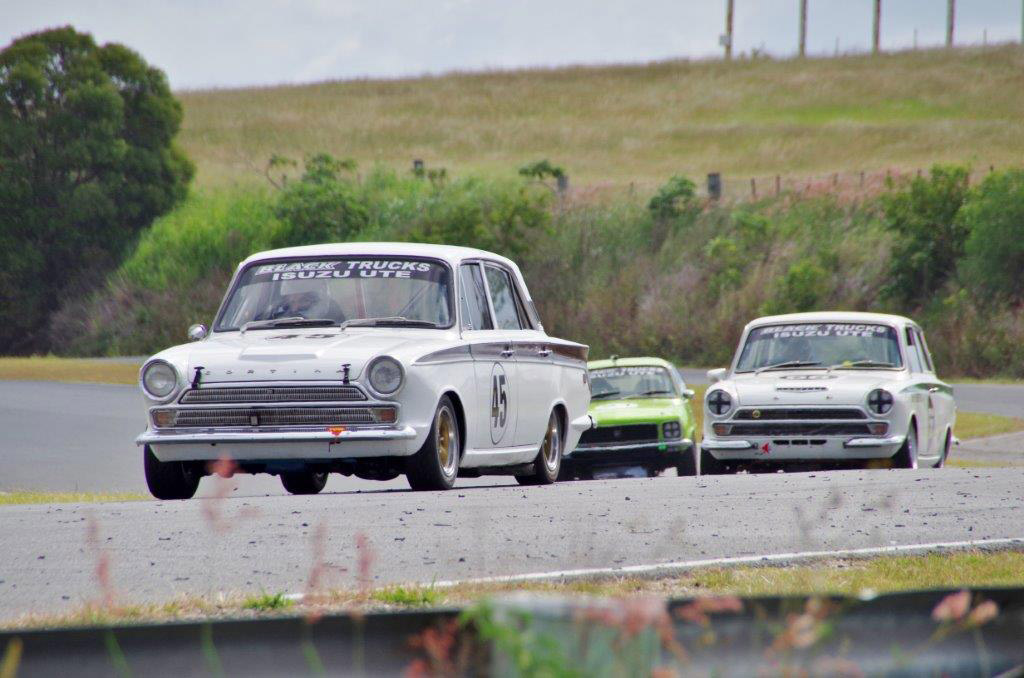 My mate, Mike Sullivan (catering officer) turned up with lunch on Sunday. King prawns, pork belly, roast and salad. Well done mate. Excellent tucker.
Peter Pit Crew was working on everybody else's cars as we never had to put a spanner on ours all weekend.
That is it for now. We race at the Gatton Sprints next weekend.
Saundo