Story by Vyvyan Black, photos by Gloria Wade. Additional photos by Vyvyan & Curtis Black.

"Was that a rabbit or a small wallaby?" I said.
"Huh?" he replied absently.
"The roadkill just then."
"Dunno," he admitted, "I was looking at the cows."
This was a typical conversation in our newly acquired Elan Plus 2 as we skimmed our way, both conversationally and automotively towards Warwick, in Queensland's Southern Darling Downs, for an annual festival of frivolity they call "Jumpers & Jazz".
I say 'skimmed' because that's how it feels in the Elan. It burbles and hums along fast roads superbly, with a confident air and a sure-footed, solid presence. Quieter than my previous two-seater Elan and certainly more luxurious with its spacious (for a Lotus) interior, multiple dials, superb woodgrain finish and, omg… air vents!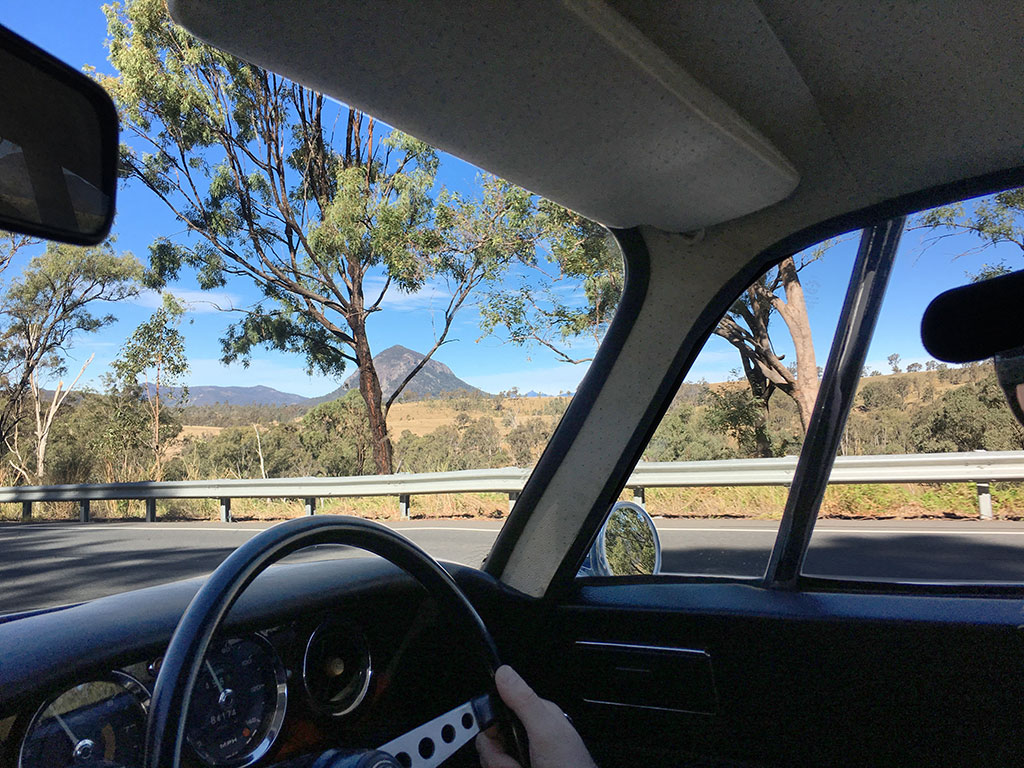 Back to the cows though. My son, Curtis has suddenly begun to like all things farming due to his very recent time 'woofing' in Norway. Woofing, or 'working on an organic farm' gave him an appreciation for good, honest work and the natural way of life.
"Some nice land out this way," I said.
And there was. As well as beautiful weather, and some very nice driving, on our slightly odd long weekend away. He's not what you'd call a talkative type, my son, but lovely company just the same. And there was more great company up ahead, as we pulled into the meeting point at Peak Crossing.
The company:
Peter & Norma Upham – Elise S2
Clive & Gloria Wade – Elise S1
Craig & Carolyn Wilson – Elan
Collin & Robyn McKay – Elan
Vyvyan & Curtis Black – Elan+2
Martin O'Brien & Suzanne de Kleyn – Elise S3 Supercharged (joined us on Saturday night)
Adrian & Joan Bulcock – BMW M3
Trevor & Cathy – Range Rover Sport
Steve Lennox & Maryanne – Europa S
After a bit of a natter we pulled out for the next leg – a short meander taking in lunch at Flavours Cafe in Boonah before we ventured on to more interesting country, which involved stumbling over numerous cattle grids and causeways on the way up the mountains, eventually arriving at the Spring Creek Mountain Cafe for some coffee and fabulous views. Then before you knew it we were in Warwick.
Not normally known for its jazz, this eccentric little town was in the beginnings of a 10 day influx of crazy guerrilla knitting – where telegraph poles and street signs become entwined with wool and fabulous folk art and almost every bar, club and nook hosted someone blasting out "Aint Misbehavin'" or some-such.
In fairness the jazz was pretty good in most instances, especially when we had dinner at Joie de Vivre, a wonderful little French joint where the host, Deeny Kohler-Caporale, is also the chanteuse, aided and abetted by a delightful trio. It was here Craig Wilson was honoured for his newly acquired status of official old person. Not sure I'll be celebrating that day! Anyway that was quite fun with Craig's sparkling beanie and bottle of rum, and we happily toasted the great day.
This was in stark contrast to the night before when, after making camp at Yve Stocks's Pitstop Lodge, we'd walked to the Stockyard Hotel down the road for a classic old country pub dinner. My wife, Karen, is quite the foodie and I don't think she would have approved of the hearty rissoles, sausages or mixed grill washed down with a VB (short for Vyvyan Black) but at least it was great value for money! After this we toddled up to the Warwick RSL Club for some jazz and our first taste of incongruity. Another great day!
Earlier, on the Saturday morning we had been treated to a slap-up breakfast prepared for us by Yve and Chris on the Pitstop's generous back deck. Afterwards, some took a side trip to Stanthorpe while the rest of us wandered around town, stopping to drink coffee and gawk at the woollen creations, mostly ending up at the Art Gallery or immersing ourselves in some live jazz. My niece happened to be with one of the Qld Conservatorium jazz groups 'The Con Artists' and that gave Curtis the opportunity to talk to someone his own age for a while.
After Joie de Vivre he and I poked into the Criterion Hotel where we met some locals and listened to some definitely not jazz. That night could be a whole new story!
Early Sunday we parked our cars for the main street auto display and, after a simple breakfast, wandered among the various makes and models for some ooh-ahhing and pontification. There were vintage motorcycles, Model Ts, MGs V8s, Americana and Italian supercars. Yve and partner Chris had two great cars on show – her lovely red Cobra and his very fast-looking Lola track car.
I could spend all day looking at machines like this but alas we needed to move on. We drove back to the Pitstop to get our things and say our goodbyes. What a lovely weekend!
What I haven't really talked about here is the thing that really makes an event like this so good… I don't mean the great cars, the music or even the food. I mean the company of some wonderful people. Thank you all, for being part of this excellent club!