Queensland's Holden Sporting Car Club hosted the final round of this year's Inter Club Challenge.
Words and Photos by Phil Hart.
The timing of this event clashed with the Noosa Hillclimb, and, while all of the serious boys and girls were attending Noosa with its tricky and sometimes treacherous course, I was the sole LCQ entrant. The far safer Khanacross is similar to a Motorkhana but speeds are a little higher requiring up to 3rd gear to complete the courses.
Entrants were split up so that two courses could be run simultaneously. With 44 entrants overall, this meant that there was little time to stand around and spectate. Holden Sporting Car Club members as well as Porsche Club members made up the bulk of the entrants, and, even though I was not the outright winner on the day, I have a warm fuzzy feeling knowing that I did at least keep all thirteen Porsche Club entrants in check.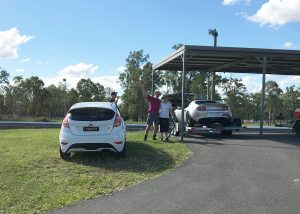 After two years of Inter Club Challenge dominance, it appears that the Porsche Club Queensland have blindsided us this year. Congratulations to them.
I think that Lotus Club Queensland should regroup in 2018 and show them what "adding lightness" can achieve.
Thanks must go to Mary Caplet and Keith Butcher for a well-run and enjoyable event.